You only need to check out the raft of five-star hotels opening across the Pearl River Delta and beyond, to realise the south of China is changing fast.
Cities such as Guangzhou are growing away from their manufacturing roots to become truly modern places to do business. Walk along the streets of economic powerhouse Shenzhen and you'll encounter cutting edge bars, restaurants and shops. Meanwhile, smaller, outlying cities in the region such as Huizhou and Zhuhai are also growing rapidly.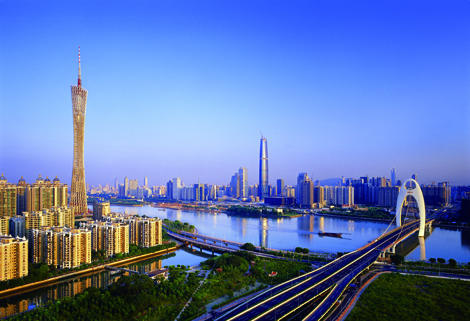 The Pearl River Delta is one of the most vibrant economic regions in China, with high annual growth rates that account for almost 10 per cent of the country's GDP, and a quarter of its exports.
In addition to the presence of Fortune 500 companies from across the world, the cities are also some of the best places in the country to start businesses, due to their efficient transport infrastructure both for passengers and cargo, strong manufacturing hubs, and rich local investors.
As start-up companies and traditional firms benefit from this nimble business environment, there are vast opportunities for meeting planners and event organisers in the region.
Things to Remember
Guangzhou's corporate events and business meeting scene is rapidly expanding and changing. In order to stay ahead of the game, meeting organisers must be aware of the latest trends in the 21st century business world.
International events management company Riviera Events has become accustomed to handling demanding requests from a wide range of clients. Luckily, the Guangzhou team has a wide selection of exciting venues to choose from.
Marketing manager Louise Cronin says, "New venues and hotels are popping up frequently – we are spoilt for choice." But putting on a cutting-edge event in China is not without its challenges.
"Guangzhou is expanding and it is crucial to capitalise on that and find the gaps in the market that present the most opportunities," Cronin says. "Our in-house talent management team brings fresh new talent to Guangzhou, so we can suggest awe-inspiring performances to our clients which captivate the audience."
As the market develops, it is also suffering from growing pains: "On occasion it is necessary to educate some of our clients on how event management works."
"Expecting amazing performances and production does involve intricate logistical planning and ultimately, spending some money. Without a doubt this is a problem that is not just specific to the south of China, but it takes a little more effort to make some of our clients understand."
Huang Yiyi, general manager of Fengteng Meeting Organising Company, says the market has shifted in recent years. As government officials cut back spending on lavish corporate events, so private companies have increased their reliance on meetings, he says.
"Ten years ago only a few industries would use business meetings as a tool for advertisement. This is now an accepted means of promotion."
He adds that companies also require a wraparound service for their guests, while in the past the event planning company may only have provided a venue and catering. Now Huang is frequently asked for add-ons, including flights, tourist activity arrangements and welcome gifts.
Huang's team is also increasingly asked to provide team-building events for modern businesses, both Chinese and foreign. For t hose planning business events in China, there are some simple rules to follow, say the experts. David Higgins, general manager of China Links Travel, suggests the best piece of advice he ever had was to avoid trade shows.
"Make sure you time your event to avoid when trade shows are on as accommodation and venue availability become limited and prices can rocket," Higgins says.
Cronin adds that the production of an event depends heavily on sourcing reliable suppliers. "Having a list of artists and suppliers who are dependable and building a good relationship with them is key."
A recent event that went well, she says, was the grand opening of the Hilton Foshan. "It presented many challenges as the ribbon cutting ceremony involved a performance from synchronised swimmers in the aquarium in the hotel lobby. The objective was to produce an unveiling moment which had never been seen before."
"Traditional Lion Dancers performed and upon finishing, over 200 people fell silent in anticipation. Then a 25-metre long curtain slowly unveiled mermaids who elegantly danced in the aquarium amongst the fish."
Hotels and venues
Guangzhou Opera House
This stunning structure by British architect Zaha Hadid on the bank of the Pearl River has become a go-to glamour venue for high-profile meetings and events since it opened in 2011.
Situated in Guangzhou's central business district, it is a hub of creative activity, staging everything from opera to musicals. In addition to the 1,804 seat theatre, the venue has a multifunctional lounge called the Experimental Theatre with 443 seats, high-quality visual and sound equipment, and a stage, which has become hugely popular among local business people looking to impress.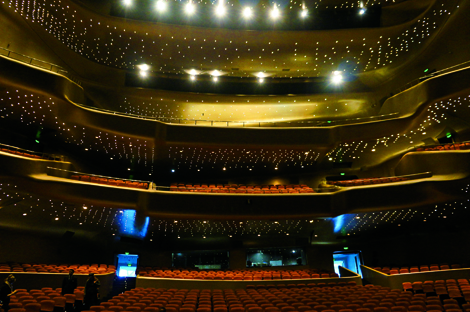 It can be reconfigured to function as a meeting room, or theatre. The audience seating arrangements and stage position can both be changed according to the needs of an event, so it's a versatile space.
A: No.1 Zhujiang West Rd, Tianhe, Guangzhou
T: +86 20 3829 2286
W: gzdjy.org
W Guangzhou
Opened in April 2013 as the first W hotel in mainland China, the venue features nine meeting and event spaces that all offer world-class AV facilities, plus the hotel's unique Sensory Set Up.
This branded event concept offers clients the opportunity to include mood music, aromatherapy scents, thought-provoking place cards, creative catering, retro candies and inspiring games for their meetings.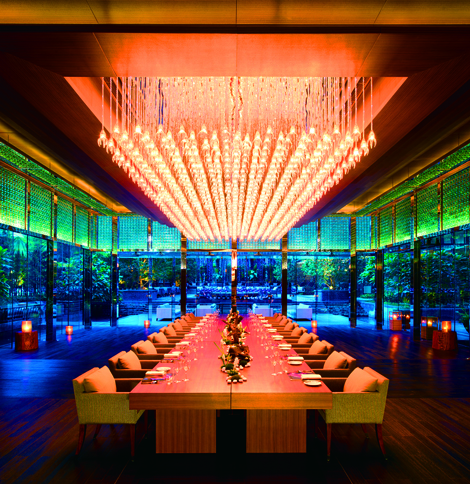 Thus far the hotel has welcomed a glittering who's who of international and local celebrities, including actors Daniel Wu and Gao Yuanyuan, fashion and design luminaries Yohji Yamamoto, Mao Jihong and Stanley Wong. Also, the events team hosted the 6th Audi Summer Concert for 400 of Audi's VIP guests and the media, with live Jazz performances by music artists Diana Krall, Li Quan and Tia Ray in the Great Room, in 2013. The expansive 638 sq metre Great Room boasts the highest ceilings in the city, while Verve, a glass house on the hotel's fifth floor garden, can accommodate up to 120 guests banquet-style or 48 in a U-shape set-up. The connecting outdoor garden stretches over 470 sq metres and houses a built-in bar counter, stage and seating area.
W Guangzhou is a fantastic venue for press conferences, fashion runway events, innovative product launches, music happenings and glamorous parties. Anything that invokes vibrancy, energy
and originality.
A: 26 Xiancun Rd, Tianhe, Guangzhou, Guangdong, China
T: +86 20 6628 6628
Four Seasons Hotel
Set in Guangzhou's tallest building is the new Guangzhou International Finance Centre (GZIFC), an iconic part of the city's skyline.
As well as offering great views of the Pearl River Delta, the top 30 floors of this soaring tower boast an ultra modern and bright interior. It's a combination that infuses all events with a sense of positive modernity.
Events were booked well in advance of the hotel's opening back in 2012, says the director of catering Ginny Khaw. "People in Guangzhou really like things that are new, but more often they are drawn to the reputation of the Four Seasons. They trust us."
Just a 45-minute, 30km drive from Guangzhou Baiyun International Airport (CAN), the hotel can accommodate banquets from ten to 720 in three ballrooms: Pearl Ballroom, Grand Ballroom, and Onyx Ballroom. All are lavishly appointed for social occasions, with built-in functionality to host conferences and meetings and an adjacent VIP room, ideal for speakers and visiting dignitaries.
Over the past two years, in-house meeting planners have transformed these spaces into everything from an Alice in Wonderland-style backdrop to that of a British business district, complete with London buses and Big Ben.
Eight smaller meeting rooms are located on the first five floors of the IFC, along with the hotel's business centre. In addition, 11 private dining rooms offer space for ten to 32 persons.
A: 5 Zhujiang West Road, Pearl River New City, Tianhe District, Guangzhou, 510623
T: +86 20 8883 3888
Redtory Art District, Guangzhou
The Redtory building has a unique history that makes it perfect for artistic, offbeat and quirky corporate events and meetings. The name refers to the building's former industrial function in the 1950s, meaning "red" and "devoted". It also connotes the red brick structure.
Located in the central art district, the building was originally the Guangdong Canned Food Factory. When the company decided to relocate, the Redtory art and design factory was born. Home to over 100 design and creative companies, the venue has eight exhibition halls, with a maximum capacity of 800 people.
Recent events include photographic shows and themed product launches. While there are six cafes and restaurants inside Redtory, the space doesn't have a catering team. Therefore it's suitable for more quirky events, rather than ceremonies or business meetings.
The team describe the space as "new Oriental", a style that fuses Eastern arts and modern design to create a distinctive, romantic and cosy ambiance, which offers clients an elegant, unique meeting space.
A: 128 Yuancun Siheng Lu, Tianhe District, Guangzhou. Ten minute walk from Yuancun metro station
T: +86 20 8557 4417
Barefoot Guesthouse
A fantastic place for informal teambuilding retreats, Barefoot Guesthouse is a stone's throw from Xichong beach, near Shenzhen. The aim of the guesthouse is to provide a friendly, affordable, enjoyable access point to the beautiful Dapeng Peninsula.
So whether business groups want to go hiking, biking, surfing, golfing or swimming, this can all be arranged as part of a corporate retreat from the city.
The house has a spacious front yard for informal team events, such as outdoor barbeques. While on the beach, just a ten-minute walk from the guesthouse, activities include laser tag and jet skiing. The hostel's capacity is anywhere from
20 to 28 people, depending on room sharing, though staff say this will increase later in 2014.
The easiest way to reach the hostel is by private car, which can be arranged from anywhere in Shenzhen. Prices start from RMB300 for a six-seater car.
A: 167, Heshou Village Gate 3, Xichong Beach, Nanao, Shenzhen
T: +86 139 2687 9002
W: party@barefootsz.com/barefootguesthouse.com
Langham Place, Guangzhou
Guangzhou is home to the twice-a-year Cantion Fair which draws thousands of international buyers to the Haizhu district of the city. The months of April and October sees hotels around the city fully booked, while prime spots near the fair's main venue enjoy advanced bookings. The Langham Place, Guangzhou is the latest luxury offering in Haizhu with a sleek design rivalling the exteriors of properties in the rejuvenated area of Tianhe on the banks of the Pearl River. The 500-guest room hotel features the 2,800 sqm Great Hall, the 760 sqm Grand Ballroom, on the third level and five flexible meeting rooms on the fifth level. The cutting-edge design of the property's edifice is matched by elegant interiors.
A: 638 Xingang East Road, Haizhu District, Guangzhou, 510335, China
T: +86 691 893 6666
W: guangzhou.langhamplacehotels.com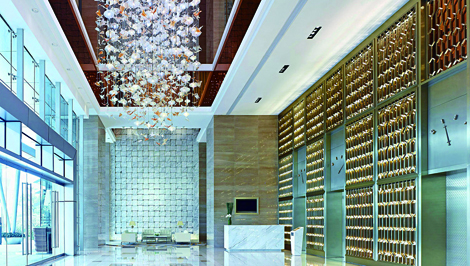 Mandarin Oriental, Guangzhou
One of the latest luxury additions to the Tianhe district, the Mandarin is linked directly to the Taikoo Hui shopping, office and residential complex, which helps set the tone for high-grade buildings in the city. The hotel, with 233 guest rooms and suites forms a network of Mandarin Oriental properties in Taiwan, Hong Kong and Macau aimed at the high-end and elegant. The hotel is seen as pivotal in establishing a foothold in the luxury segment of the Pearl Delta's meetings industry. East meets West elegance is also the standard for meeting facilities at the Guangzhou property with a 750 sqm ballroom among the premier spaces.
A: Mandarin Oriental, 389 Tianhe Road,
Guangzhou
T: +86 20 3808 8888
W: mandarinoriental.com.cn/guangzhou