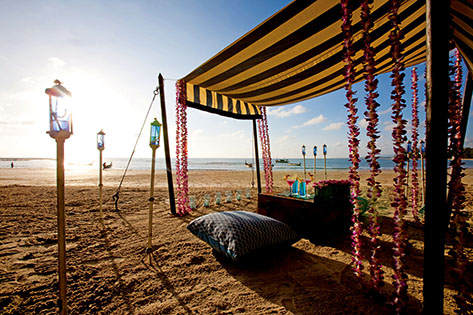 THE SLATE, PHUKET
Where? Just down the road from the international airport.
Why go? For The Slate's fine array of villas and suites, trio of pools, and half-dozen excellent eateries. Add the Coliseum Steps, crafted from six tiered grass terraces, which step gently down to a decorative stage and water feature, and you have a unique and dramatic stage for outdoor events.
For groups The Slate is very much somewhere to develop the corporate mind and body. Coqoon spa does what it says on the packet in a highly attractive garden setting, however there are also group fitness activities – yoga, pilates, intense stretching, and circuit training. Instruction in muay thai may well be the ideal solution for sales teams who are falling a little short of their targets.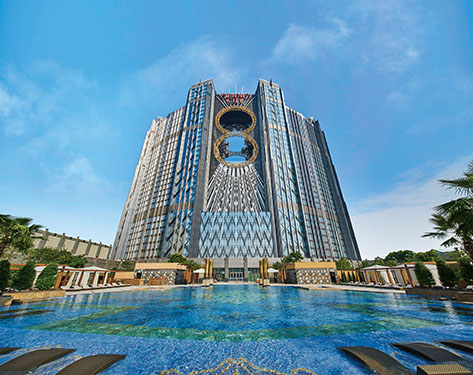 STUDIO CITY, MACAU
Where? At the southern end of the Cotai Strip.
Why go? This is the one for big groups and major events, as it's stuffed with facilities. Plus besides Studio City, there are dozens of other hotels and resorts, all stretched out either side of Macau's entertainment boulevard. While there are gaming facilities here, the emphasis at this 1,600-room property is on entertainment, and there are also some 30 food and beverage outlets – some formal but many scattered along a cleverly designed food street.
For groups There's plenty of formal stuff: ballroom, meeting room and a – gulp – 5,000-seat multipurpose entertainment facility. Throw in the 4D Batman flight-simulation ride, figure-of-eight Ferris wheel, and an on-site TV studio, and you've got the makings of a very entertaining, full-on MICE event.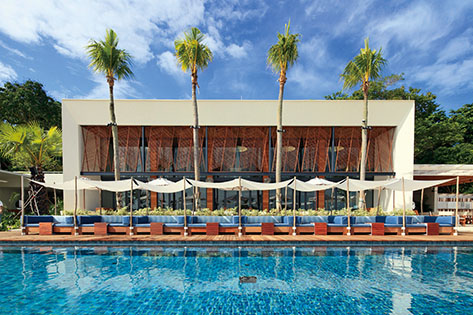 TANJONG BEACH CLUB, SINGAPORE
Where? As might be supposed, on the beach at the southeastern end of the sun-and-fun island, Sentosa.
Why go? Although "beach club" might sound like being a bit too relaxed, TBC rolls out a neat MICE package in exceptionally pleasant surrounds. There's space to cater events for up to 2,000 people, together with the necessary tech back-up, and the kitchen does a fine line in coastal cuisine, serving vegetarian and halal as required.
For groups Could anyone really resist booking the Dunk Your Boss machine? Other fun stuff includes dragon boats, tug of war, and a range of beach sports from cricket to Twister to sumo. A photo booth and a magician complete the eclectic line-up. TBC can also whistle up bands, DJs and similar artistes.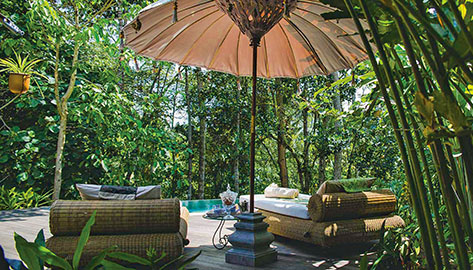 SANDAT GLAMPING TENTS
Where? A short drive outside the Balinese town of Ubud.
Why go? When is a tent not a tent? This little resort provides the answer, with eight luxury pavilions (air-con, ensuite bathrooms, beds swathed in mosquito netting), each with its own quirky
design. As accommodation is limited, this would be for a select group of executives only. The kitchen conjures up Balinese, Indonesian and – a tribute to the owners – Italian dishes with aplomb.
For groups As it's an intimate resort with non-run-of-the-mill sleeping arrangements, everyone immediately has something to talk about, thereby breaking the ice. Activities include cycling expeditions, rafting trips, temple visits and cooking classes. Less frenetic, there's the option of spa treatments, yoga and – ideal for a corporate retreat in Ubud – meditation.
LAGUNA LANG CO, VIETNAM
Where? On the coast, roughly halfway between Hue and
Da Nang.
Why go? This is one of the most stunning parts of Vietnam, and Banyan Tree supplies everything that might be expected of a five-star, beachside resort. Forty-nine villas provide the
accommodation, and an 18-hole Nick Faldo-designed golf course is just around the corner. A gala beachfront dinner at Azura, the Mediterranean restaurant, is a sure-fire success.
For groups Hue, Da Nang and Hoi An all provide ample diversion on day-long expeditions. The neighbouring sister hotel, Angsana, provides extra space, although Banyan Tree sports its own
ballroom and supporting meeting facilities. The resort's list of supervised teambuilding activities runs to 30 items, and a 280-hectare site allows plenty of room to spread out.
banyantree.com/en/vietnam/lang-co
RITZ CARLTON, SANYA, CHINA
Where? Yalong Bay, more or less at the very bottom of Hainan Island.
Why go? The brand speaks for itself, naturally, but this seaside resort – with just over 500 rooms, suites and villas – makes for an exceptionally well-designed retreat. There's plenty of space for outdoor events, including the garden, beach and poolside.
For groups The Ritz-Carlton makes much of locally sourced ingredients and traditional recipes, rolling them out at gourmet dinners or at breaks between meetings – serving fresh coconut instead of coffee, for example. Main menu items include grouper, mango clams and lamb, either from Hainan or cooked according the Hainanese lore. More actively, there are numerous well-appointed golf courses nearby, and plenty of opportunity for adventurous stuff inland, although the national parks tend to be well on the beaten track.
ritzcarlton.com/en/hotels/china/sanya