A FINELY honed, efficient, globally connected business events destination, Singapore has long drawn groups for its safety, outstanding infrastructure, and ease of business. There is also an endless promise of renewal, with new ideas, venues and attractions.
This modus operandi has helped the Lion City handsomely grow MICE arrivals – in 2018 Singapore welcomed 2.9 million business travel and event visitors, an increase of 12.1 per cent compared with 2017 – and snap up accolades like topping Cvent's Top 25 Meetings Destinations in Asia in 2019 for the fourth year in a row.
More on this: Discovering authentic Singapore
Additionally, the city's strong presence of regional headquarters for professional services and tech industries has helped it capture some big contracts. These include the 18th Asia Pacific Life Insurance Congress 2021, the SAP Field Kick-Off Meeting 2020 and 2021, and the first ever satellite event for Cologne-based Gamescom, taking place in Singapore in October 2020.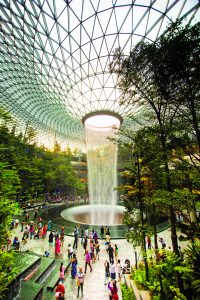 JEWEL @CHANGI
The most high-profile opening of 2019 was Jewel, a glass-aluminium-steel complex at Changi Airport that cost S$1.7 billion (about US$1.2 billion) and has restaurants, bars, shops, a cinema, full supermarket, hotel and the world's tallest indoor waterfall.
Jewel is also home to three event spaces: the Atrium, which has been used by auto brands and credit card companies; an area within Changi Experience Studio suitable for corporate training, functions and workshops, and Cloud9 Piazza that can hold up to 500 attendees. With the opening of a Yotelair at Jewel, there are now 900 rooms in the transit areas of Changi's terminals.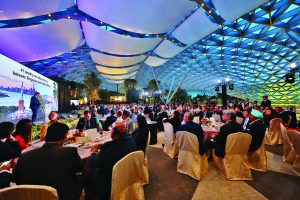 JURONG & ORCHARD
On the west of the island, the Jurong Lake District will witness a large development to be completed by 2026, planned to be the biggest mixed-use business district outside the city centre, with attractions, hotels and meetings and event facilities.
The 2.4km stretch of Orchard Road, one of the city's iconic thoroughfares, will get a new lease of life following government plans to green parts of it, make sections car-free, and add arts and cultural offerings while also enhancing services on side streets. Among the changes will be the transformation of a car park on Grange Road into a dynamic 4,500 sqm event space (it has already held pop-up markets and a car road show during a trial period) in the heart of the shopping district.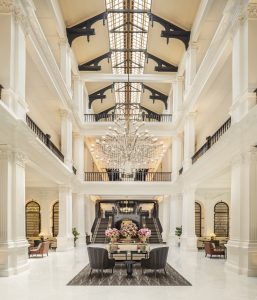 RAFFLES REFRESHED
After shuttering for almost two years, Raffles Hotel reopened in September with updated rooms, gleaming interiors, and upgraded meetings facilities. Sister Accor property Fairmont Singapore, adjoining Raffles Convention Centre, is also entering a new era after an 18-month transformation of 403 rooms in its south tower.
Far East Hospitality will also open Clan Hotel in the second quarter of 2020 by the business district. The modern 324-room property will be driven by experiential travel, offering customised in-room dining, personalised precinct tours, photo walks, alleyway barber and shoe-shining services among lures that capture the neighbourhood's charm.
A new 338-room resort to open in 2023 in Mandai, in the north of the island near Singapore Zoo, will see buildings integrated into the surrounding nature. The Banyan Tree-branded property will feature function spaces and facilities for meetings and events, while specially curated activities will promote environmental awareness.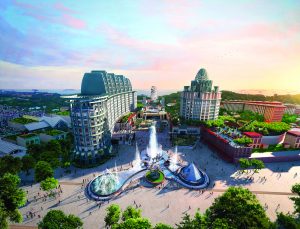 SENTOSA
Over on Sentosa, Far East Hospitality has unveiled a trio of hotels set next to each other. Village Hotel and Outpost Hotel are both open, the former suitable for families, the latter only for adults. The Barracks is due to debut on December 1, housed in colonial buildings. The properties share facilities, such as four thematic pools and the events centre, a former British artillery barracks that today has meetings rooms and a ballroom that can hold up to 280 participants theatre-style.
The city's two integrated resorts – Resorts World Sentosa and Marina Bay Sands – announced S$9 billion of new infrastructure and attractions that will include a fourth tower at Marina Bay Sands, new hotels at Resorts World, a 15,000-seat entertainment arena and new areas at Universal Studios Singapore, and more dedicated spaces for conference and event groups.
HUONE
The Huone meetings and events venue near Singapore River likens itself to a hotel without rooms (it has 11 boutique meeting rooms in various themes and sizes).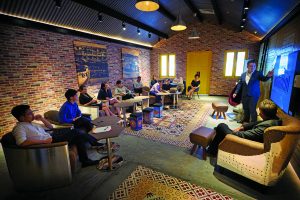 "It isn't actually a hotel, not in the traditional sense," CEO Ian Wu says. "What guests will get is the same kind of welcome you might receive in a five-star hotel, an extremely personalised experience. You set the agenda, we arrange every chair and table, the food and beverages, and any activities.
"All is done deliberately so the room and our service match the people attending and the purpose of the meeting."
The venue, whose name means room in Finnish, offers a fresh, fun take on meetings, with novel spaces like the Sandbox, Runway, and Igloo.