SEOUL is embracing the title of "global hybrid destination" after successfully hosting the Asia Pacific hub of the ICCA Congress for the second year in a row.
The Korean capital's convention bureau says its role as a hybrid meeting point will continue with the World Congress of Neurology (WCN) 2025 and World Congress of Audiology (WCA) 2026, in which 70 to 80 per cent of participants are expected to be from overseas.
Seoul Convention Bureau is also upgrading its 3D event hosting platform, Virtual Seoul, which will be released this month.
Backgrounder… Seoul joins Hybrid City Alliance
Seoul's Coex served as a regional hub for the hybrid 2021 ICCA Congress in Cartagena, Colombia, October 26-27, with four other hubs based in Abu Dhabi, Johannesburg, Nagasaki and Paris.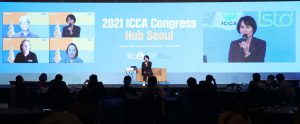 While the Seoul the overseas program was broadcast on the main screen for Korean ICCA members gathered at Coex, a hologram projection with the congress message of "Forward to the Future' opened the main program in Seoul followed by a keynote on "2022 Korean Trends and New Normal Convention Strategy".
Kim Jihyun, director of the Seoul Tourism Organisation, participated in a panel discussion for the Asia Pacific region.
More… Living with Covid, making up for lost time: Seoul seminar
Seoul's winning bid for the World Congress of Neurology (WCN) 2025 is expected to bring 5,000 participants to the city with a thousand for the World Congress of Audiology the following year.
A spokesman for Seoul Convention Bureau said the city would be ready to host the best hybrid events possible when these conferences take place. "It was shown that the global MICE industry acknowledges the importance of destinations being hybrid when the Hybrid City Alliance won the Best Marketing Award at 2021 ICCA Congress," he said, adding that online and on-site events will be "coordinated seamlessly".