ORGANISERS in the Malaysia Borneo state of Sarawak have been urged to hold more homegrown business events with the support of new incentive packages and a promotional video.
Sarawak's tourism, culture and sports minister, Abdul Karim Hamzah (below), unveiled the support at Business Events Sarawak (BESarawak)'s Tribal Gathering in Kuching.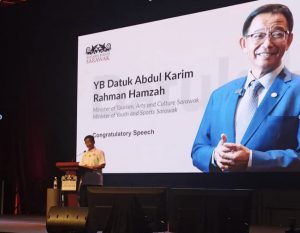 The "Tribe Homegrown Incentivised Package" is aimed at Sarawak-based associations and corporates and has two categories: conventions and corporate meetings/incentives.
Karim said 95 business events worth 208.8 million ringgit (about US$50.9m) in economic impact have been secured and are scheduled to take place from the fourth quarter of the year. The minister said that when the events take place in Sarawak they are likely to attract at least 112.9 million ringgit in delegate expenditure and 16,346 job placements.
More… Sarawak turns delegates into warriors
BESarawak's acting chief executive officer Amelia Roziman said the Tribe Collaborate Incentivised Package, which provides marketing support, and a new video would help industry partners to recover from the economic impact of Covid-19.
"Solid marketing and promotions will make a positive impact on Sarawak's business lead generation efforts," Roziman said, adding that a 179.2 million economic impact target along with 14,224 new job placements from 60 secured business events has been set.
Backgrounder… Sarawak rises as ICCA Asia Pacific hub
To apply for Tribe Homegrown for Conventions Category, contact Donny Tan. To apply for Tribe Homegrown for Corporate Meetings & Corporate Incentives, contact Crystal Phang. To apply for Tribe Collaborate, contact Jason Tan.
Main picture: Sarawak state government minister Abdul Karim Hamzah beats a traditional drum at the opening of BESarwak's Tribal Gathering on March 3.