JEJU'S convention bureau bosses are seeking to attain a "champion" spot for the South Korean island when it comes to competing as a business event destination in Asia, writes Martin Donovan
Jin Bae Kim, secretary-general of Jeju Convention and Visitors Bureau, said a new convention centre would complement the existing ICC Jeju by hosting more conferences, smaller exhibitions and events such as product launches.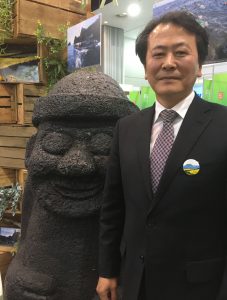 The centre in Jungmun tourist district along the island's southern coast is being built across from ICC Jeju and is expected to open in 2022.
Kim said the new venue, surrounded by natural scenery and near resort hotels, would help the bureau position Juju as a more competitive prospect for international organisers, particularly from the target markets of China and Southeast Asia.
"In three years, we are planning to be champions in the MICE industry," Kim told MIX through an interpreter after an opening ceremony for the Jeju MICE Expo in November.
"Since there is limited accommodation for [business event] visitors, we are planning the new convention for 6,600 visitors, 300 exhibition booths and banqueting facilities," he said.
Jeju is already a popular holiday destination for Koreans heading to the island's resorts with the 50 minute flight from Seoul-Gimpo being the world's busiest route.
Asia Pacific's largest Grand Hyatt is set to open in early 2020 in Jeju City housed in what will be the island's tallest building. Further inland, the Shinwa integrated resort has opened the Jeju's only convention centre directly linked to hotels.
More about Jeju – Rugged New Horizons
Kim, however, said that Jeju's natural heritage with geoparks, a Unesco-recognised biosphere reserve and Hallasan, South Korea's island, represent a unique selling point, particularly when targeting conferences based around science and ecology.
He added that the 30-day visa-free access for most passport holders and easy flight access from Japan, Southeast Asia and Singapore has raised awareness of Jeju among group organisers from those destinations.
Among those organisers was Leon Cahyo Sarwano, of Valerie Tour and Travel, who is based in Surabaya, Indonesia, and one of the Southeast Asia buyers at the MICE expo in ICC Jeju.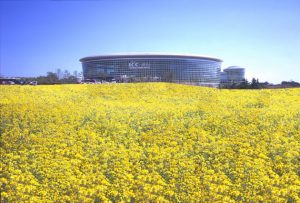 "I first started sending groups to Korea and Jeju who were FIT [families and independent travelers, small groups and then incentives and I want to develop more on Jeju next year," Sarwano said.
Commenting on the annual Jeju MICE Expo, which has been held since 2015, he said: "I found more sightseeing options this year and more sellers coming the MICE expo – much better than in previous years."
Kim, of Jeju Convention Bureau, added that the provincial government was also planning to achieve carbon-free status for the island by 2030 with the use of renewable energy and electric vehicles.
Tourism represented almost three-quarters of Jeu's GDP, said Kim, and this was hit during a diplomatic dispute between Beijing and Seoul over the placing of a US missile-defence system in South Korea. Chinese group travel and MICE delegations had plummeted in 2017 with numbers down by 80 per cent in Seoul.
"Considering the industrial structure and the fact that Jeju is an island, it has a very specific industrial structure, especially with tourism being 70 per cent of GDP on Jeju. That's why we are focusing on having more international conferences and conventions related to the fields of hi-tech and software."
The fifth edition of Jeju MICE Expo, held November 13-14, 2019 saw 100 international buyer representatives meet 69 local suppliers in a total of 1,176 business meetings, according to the island's convention bureau.