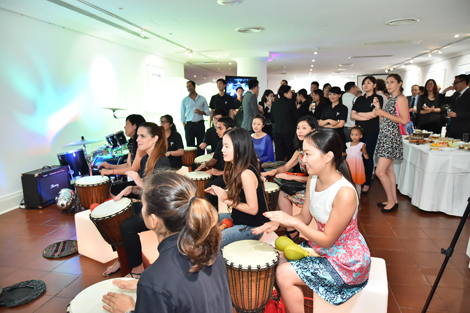 With less than a year until the scheduled opening of the Hong Kong-Macau-Zhuhai bridge, Macau is breaking ground as a destination for incentive travel – whether large or small.
Aside from improved access to the peninsula, Macau has garnered a reputation among companies that need to host incentive delegates in the tens of thousands, with hotels on the Cotai Strip offering a combined 9,000 rooms and a capacity for 15,000 in Cotai Arena.
The growing expertise of service providers in Macau, the city's distinct local heritage and an increasing range of activities are meeting the requirements of incentive travel planners.
While Macau provides a unique blend of Sino-Portuguese history reflected in the historic city centre's Unesco World Heritage status, there is also the excitement of an entertainment hub and options for relaxation whether in the countryside or the heart of the city.
Rhythm
Luxury retailers are first stop for many visitors, however Macau's appeal also lies in the melting pot of cultural activities on offer. Doc DMC provide destination management services within the region, tailoring itineraries that involve everything from culinary tours to dragon boat racing, tai chi and historic treasure hunts.
Doc DMC's sister company smallWORLD Experience has been facilitating teambuilding activities in Macau since 2008, managing events, entertainment and educational activities for groups between ten and 3,000 people. The company recently celebrated its 6th anniversary with an event at the Military Club of Macau, hosting 150 guests from the business events industry. During the event, smallWorld showcased the company's signature experiences, such as teambuilding company Human Rhythm's drumming icebreaker and Airstar light solutions, who provide inflatable halogen balloons, LED cones and lit domes for events.
With 3,896 rooms, the Sheraton Macao Hotel Cotai Central has Macau's largest concentration of hotel rooms and has a dedicated team of meetings planners for visiting groups. Flight Centre held its annual Global Gathering at the hotel in July 2014 under the theme 'Monster Macau' and enlisted Black Eyed Peas frontman and D.J. Will.I.Am and singer Jessie J for the event's entertainment.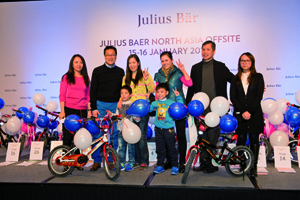 Team activities
Children's bicycles were the centrepiece of a teambuilding initiative coordinated for Swiss private bank Julius Baer by smallWORLD DMC. One hundred delegates from the bank's North Asia office were assembled at the Conrad Hotel, divided into groups and set against each other in a contest to assemble 26 children's bicycles. Over the next three hours, the teams navigated a system that saw points added for every successful stage of the assembly, and deducted every time they asked for assistance. Teams had to decorate their bikes, create a logo and name them, receiving extra points for most innovative names and decorations.
Once all bicycles were successfully assembled, they were donated in an official ceremony to children supported by Sheng Kung Hui Macau Social Services.
For golfers, Macau boasts a range of courses, from the 175 hectares of reclaimed land at Caesar's Golf Cotai to a more historic feature at the long-established Grand Coloane Resort Macau. Delegates can enjoy a lesson on the green or tee off either side of meetings with the Macau Professional Golfers' Association, which has connections to international and domestic golfing events and offers coaching. Private access to courses can be arranged for groups, as well as lessons from a professional.
Macanese cuisine is up there as one of the peninsula's top draws, especially for those who remember Macau during the region's colonial fervour. Fernando's is famous for its signature Portuguese dishes: an established fixture that both locals and visitors from Hong Kong and abroad enjoy. For groups who do prefer culinary pursuits, cooking workshops can be arranged where guests source ingredients from local markets, and create traditional snacks such as the well-loved Portuguese egg tart or savoury renditions such as Portuguese seafood rice or Lacassa soup.
It's never difficult to rouse interest for an activity centred on wine, and Doc DMC runs a wine making academy for groups between 10 and 200 people. Over the course of two hours, delegates are tutored on grape varieties and the blending process while musing over marketing strategies, the importance of brand development, and label production. After a glass or two, Macau's nightlife becomes much more appealing, and there are spectacles galore that have gained a fair standing in the region, such as contemporary dance show The House of Dancing Water and visiting acts such as Cats due at The Venetian in March 2015.
Keen sailors are included in Macau's entertainment offering: tours of the peninsula are offered by Hong Kong-based yachting society Riviera Orientale, who transport groups to Macau by luxury yacht, with accommodation provided overnight on board. Yachts can be booked for landmark events such as the Macau Grand Prix while sailing trips around Macau's coastlines can be arranged for groups keen to see the city's sights off land.
More adventurous teams might be keen to visit Macau Tower, home to the world's highest bungy jump, at 233 metres above the ground. New Zealand adventure company AJ Hackett provides activities that can be packaged as teambuilding days, including the popular Skydrumming activity which combines a walk around the outdoor perimeter of the observation deck while teammates drum in time to an adrenalin inducing beat.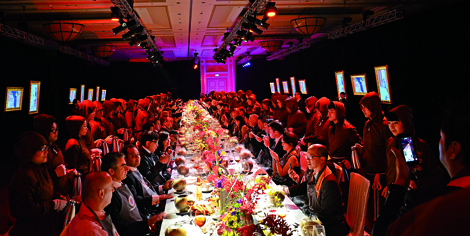 Case study
The Sheraton Macao hosted the Balliage National de Macau Annual Induction Gala Dinner, called Chaîne des Rôtisseurs, an evening that welcomes new members into the gastronomic society founded by Louis IX in 1248. The Macau branch of global DMC MCI created a storyboard that tied together the event's cuisine, choice of wine and performance. Themed 'Primal Modern Macau' the event aimed to explore the cultural origins of the territory curating a gallery out of the room with 13 gold-framed LED screens from local artist, Konstantin Bessmertney.
Music during the evening was a blend of Portuguese Fado, jazz, and an all-female, four-piece string quartet appeared during the first course to regale diners with classical pieces. Spotlights illuminated only the dinner table and artwork, while coloured light fixtures rotated to complement the dish served. It was dessert however that stole the show, served by waiters in hooded robes to the dramatic chiming of a xylophone.
DOC DMC
Tel: +853 2872 3510
smalLWORLD EXPERIENCE
Tel: +2888 5500
SHERATON MACAo
Tel: +853 2880 2000
RIVIERA ORIENTALE
Tel: +852 2677 7791