SEOUL has long been putting the best foot forward when it comes to the business-event visitor experience. Now it is making event greater strides as hiking gains popularity as a healthy activity and a unique way of building teams.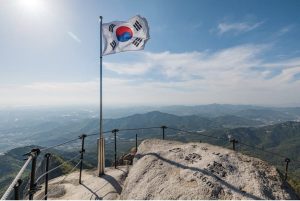 The Seoul Hiking Tourism Centre officially opened in September in the Gangbuk-gu area of the city at the foothills of the picturesque peaks of Bukhansan, which rise over one of South Korea's splendid national parks. The centre provides information on a range of trails suitable for all levels of walker and it opens as more business travellers and event delegates turn their attention to healthier lifestyles and post-conference activities with access to fresh air and scenery.
Delegates do not have to pack hiking boots or other outdoors wear as they prepare their journey to Seoul. The hiking tourism centre provides boots, shirts and pants free of charge to visitors from overseas. Multilingual help is also at hand with guidebooks, maps and more material provided to set groups on their way.
The interiors of the building, which is five minutes from Bukhansan Ui subway station, have been designed to provide changing and fitting areas in addition to zones where groups can prepare for the hike and rest when they return.
A joint survey carried out by Seoul Metropolitan Government and Seoul Tourism Organisation asked 1,092 people from seven countries and regions their views on outdoor activities. Trekking and trail walking ranked highest but a lack of information facilities and information prior to the trip among many destinations was also cited. As a result, the Seoul Hiking Tourism Centre now stands as one of the most innovative visitor economy initiatives and there are plans for similar facilities.
Walks of a different kind can be enjoyed at the royal palaces of Gyeongbokgung and Changdeokgung where entry is free of charge if groups are wearing traditional Korean costumes modelled on the regal courts of yesteryear.
Seoul Hanbok Café is one of the outlets near Gyeongbokgung Palace where your groups can select the garments of royalty, noblemen, scholars, soldiers, maidens or courtiers. The sight of foreigners strolling around the palace grounds is a pleasing one to many Koreans visiting Seoul for the day and is also a fine way of bonding groups with the option of exclusive nighttime visits.
Blue House – The landmark housing the former presidential offices and meeting rooms is now open for group tours after the current president, Yoon Suk-yeol, decided to relocate his offices to the centre of Seoul. The grounds surrounding the blue-roofed Cheong Wa Dae – its official name – feature the State Guest House, a favourite venue to host world leaders. The venue is also available for private events for up to a hundred delegates.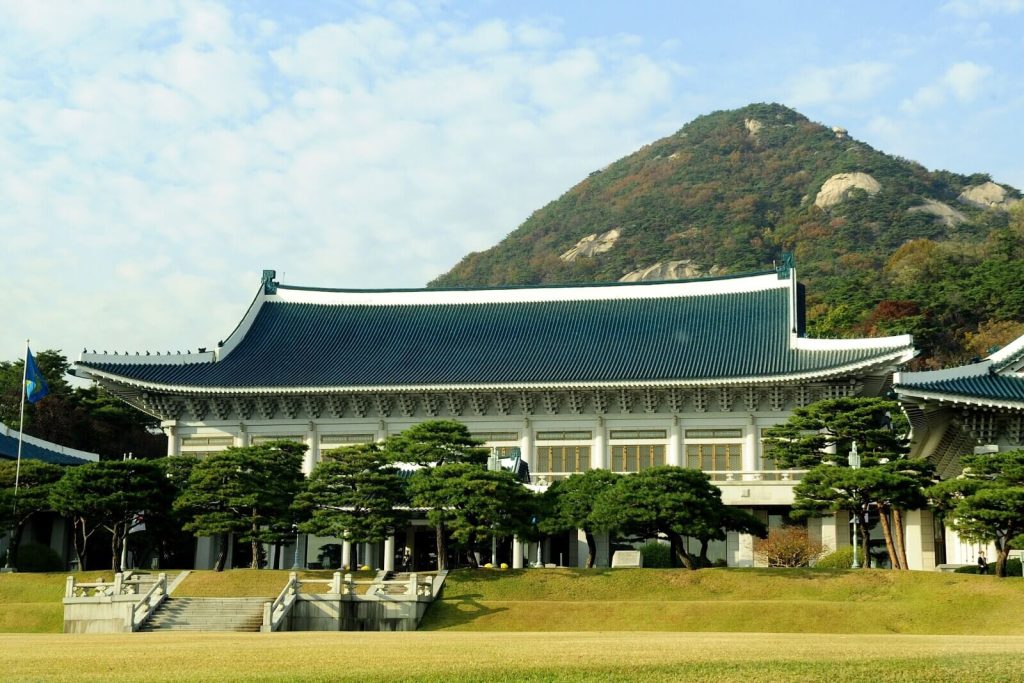 The site on which Cheong Wa Dae was built dates back centuries and has been the backdrop for political rule, intrigues, downfalls and even armed skirmishes, but since May 2022, the scene is one of people touring through the halls of the Blue House, enjoying leisurely strolls around the park and ideal surroundings for business events.
Samcheonggak – This resort in the leafy, hilly outskirts of Seoul was once a favourite spot for presidents and senior government officials and remains a quiet mountainside retreat not far from the Blue House. The restaurant offers traditional Korean cuisine, private dining and a performance room. The property has been revitalized and, like the Blue House, Samcheonggak's heritage is imbued with political – and dramatic – intrigue.
TOWERING LUXURY
Korea's tallest building, the Lotte World Tower with its impressive observation facilities that cater to groups, is in good company. Admirers of modern architecture will find that Seoul can hold its own when comparing the towers that rise above Seokchon Lake in the plush Jamsil district.
Sofitel Ambassador Seoul Hotel & Serviced Residences, located in one of the KT Songpa twin towers, is a neighbour to Lotte World Tower with the surrounding buildings representing a new look to the city.
A greened outdoor events space at the Sofitel Ambassador adjoins the luxury hotel's meetings and events spaces to give delegates a fine venue for cocktails before a banquet or for post-conference sundowners. Grand Ballroom Vendôme can seat up to 320 guests and its 628 sqm floorspace can be divided into three sections. The third floor Bastille Room provides views of Seokchon Lake seats up to a hundred while Concorde Room can set up to 60 and is considered the ideal venue for VIP meetings.
Five restaurant and bars include what will be for lounge aficionados the crowning glory of the Ambassador in the form of Latitude32 – The Roof Bar.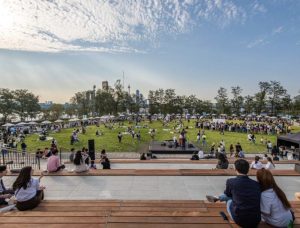 Located in the middle of the Han River, Seoul's main waterway, is Nodeul Island where a music-themed complex with studios, hi-tech theatres, chic coffee bars and a village atmosphere opened in late 2019. Nodeul can be accessed from a parking area on the Hangang Bridge with visitors entering the facility via open-air areas which double-up as art-installation and performance venues.
The open spaces can also provide a fine picnicking spot for groups and a contrast from the hi-tech interiors of the conference facilities with Nodeul's cafes also offering F&B options.
Continuing the island theme, Sebitseom consists of three manmade islands one of which is home to a convention hall with adjoining banqueting space at Villa de Noche, a European classic-style lounge and dining area with a private balcony. Floating Island Convention and other parts of the facility provide a fine location for sunset cocktails, but the business of the day can be conducted across the foyer in the Convention Hall which has an 18-metre-wide screen with backdrop curtains that can be opened to give panoramic views of the Han River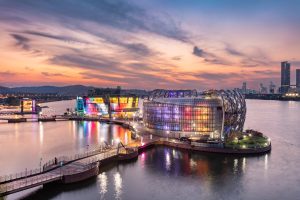 ACTIVITY: A two-wheeled opportunity for team bonding and exercise is conveniently located ashore as delegates come ashore from Sebitseom. Ttaraeungi is one of Seoul's app-based bicycle-sharing services with stands dotted around Seoul and right by the Floating Islands.
Dedicated cycle paths run alongside walkways for pedestrians with views of the Han River. More pathways are being developed as Seoul embraces a model of health and activity for citizens and business event visitors alike.
PLUS CITIES SUPPORT
Seoul Convention Bureau's 2022 PLUS Seoul's support for organisers of international business events covers conferences, corporate meetings and incentives, and meetings technology support, safety and more. For details on eligibility for financial and other support download the brochure through the SCB website.
The next instalment highlights three of Seouls's partner cities to the south of the capital: Jeonbuk,  Gwangju and Gyeongsangnam