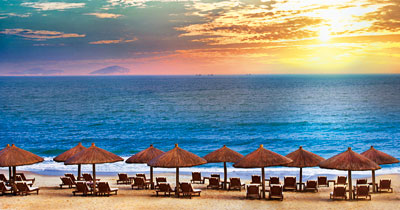 Hainan Island has come a long way, from a place shunned and feared to a jewel of China's tourism industry.
During the Tang and Song Dynasties (618-907 AD and 907-1279 AD respectively), the island in the South China Sea was a godforsaken nightmare, a terrifying place of exile for criminals and disgraced government officials. No one wanted to be sent to Hainan.
Today, its palm-fringed coastline and powder-soft beaches are home to a plethora of luxury resorts, and its turquoise waters are filled with Chinese and international tourists. Hainan, the nation's only significant tropical island, is now referred to as the "Chinese Hawaii".
The catalyst for the change in fortunes came in the 1980s when China's leader Deng Xiaoping's economic reforms established a number of coastal "special economic zones", with Hainan, only 30 kilometres off China's south coast, being the largest of the lot.
Despite it's size – it is a province on it's own and covers close to 33,000 sq km – most visitors see only the tourist centre of Sanya, on the southern tip of the island. The capital city of Haikou, where all the politics, trade and commerce take place, is located in the north. The northern and southern halves of the island also have markedly different climates, with the south winning out when it comes to suitable beach days.
Though Haikou does attract business gatherings in increasing volume, Sanya remains the number-one spot for organised events and is consistently voted China's most preferred business events destination, particular for high-end incentive trips. At least 30 per cent of Sanya's tourism revenues are derived from business-related events and activities.
Hainan's clear air is a big draw, especially in a nation whose crowded cities are blighted by dangerous levels of pollution and traffic gridlock. Then there's the business traveller's preferred recreational pastime: golf. Hainan boasts close to 30 championship golf courses, including seven courses within a one-hour drive of Sanya.
But it is the island's pristine beaches in Yalong Bay, Dadonghai and Haitang that have made it famous. Add fine dining and excellent seafood, spas and hot spring resorts, rainforest excursions, world-class wind and kite-surfing, a modern international airport and Hainan delivers the meeting planner's dream choice of high-grade venues.
Sanya, with a population of less than 700,000, is home to more than 100 internationally and locally branded hotels and resorts. It is claimed that Sanya has a greater density of high-end hotels than any other Chinese city, including the capital Beijing and the financial hub Shanghai. Virtually every major global hotel chain now has a presence in Sanya. Competition for the business events dollar is therefore fierce, ensuring event planners get a lot of bang for their buck.
What follows is a taster of ten quality properties just to whet the appetite. There are many others worth researching and evaluating.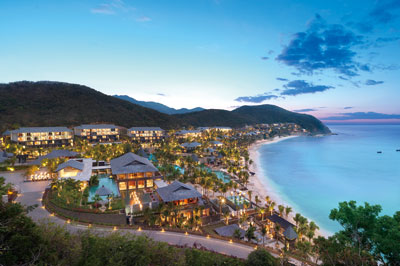 Yalong Baywatch
Sanya's Yalong Bay has a 7.5 kilometre crescent of white-sand beach backed by rainforest covered mountains that might have been plucked straight from a traditional Chinese shan shui (brush and ink) painting. The MGM Grand Sanya is a perennial favourite with meeting planners, and the lavish venue has rolled out the red carpet for numerous Fortune 500 clients in recent years.
With 675 guest rooms, suites and beachfront villas, and the promise of Vegas-style hospitality, the resort's 4,000 sqm of flexible meeting space can be adapted for events of every type and size.
The MGM Grand has three ballrooms. All are pillar-free, and the most spacious is the impressive 1,260 sqm Monarch Ballroom that can welcome 1,500 guests theatre style, 730 in a classroom format and 660 for banquets. The most modest is the 338 sqm Commander Ballroom, which accommodates 360 in a theatre setting and 180 in a classroom or banquet layout. Each ballroom has its own pre-function area.
MGM Grand's function rooms range from the 97 sqm Silver Line Board Room, which works well for exclusive corporate summits, to a 126 sqm space to cater for between 45 and 110 guests depending on layout. Any part of the resort can be employed as a beautiful backdrop to events, from the property's relaxing gardens and generous banquet rooms to a variety of wining and dining outlets.
Also in Yalong Bay, the consummately professional Sanya Marriott Yalong Bay Resort & Spa features 452 elegantly appointed rooms that offer commanding vistas of the ocean, the property's white-sand private beach and a ten-hectare tropical garden.
The resort features nine meetings spaces over a total of 1,550 sqm. Biggest of the bunch is the 835 sqm pillar-less Grand Ballroom (divisible into five sections) that has a capacity of 900 guests for receptions and 600 for banquets. The 300 sqm Herb Room can handle 200 persons theatre style, and 140 in a classroom layout, while the Palm, Jasmine, Ocean, Peninsula, Gingko, Vanilla and Ocean Front Chapel spaces (the latter primarily employed for weddings) can cope with between 40 and 100 guests for receptions. The hotel also boasts substantial outdoor meeting areas, including its Beach Lawn and Fountain Square, as well as a 450-metre beach.
Another respected Yalong Bay venue is The Ritz-Carlton, Sanya. The luxury hotel's success reflects its reputation as a must-consider venue when eyeing up Hainan for board meetings, product launches, conferences and training events, with its 1,700 sqm of prime meeting space set over two floors.
The Ritz-Carlton's largest venue is the stately Golden Harvest Ballroom. Its 900 sqm footprint can be divided into four separate rooms via soundproofed walls and can cater to 900 for receptions and more than 500 for banquets and classroom-style gatherings. Nine more modest meeting rooms of varying sizes complete the property's business events offering, in addition to outdoor spaces ideal for sizeable get-togethers include garden, poolside and beachside choices.
The resort's creative themed events have proven popular with business events professionals. These have included a popular Hawaiian Luau Night and an informal "Black Tie, Bare Feet" dining experience where the dress code was black-tie, blazer and snazzy Bermuda shorts.
At the most westerly end of Yalong Bay's waterfront, The St. Regis Sanya Yalong Bay Resort's multi-function spaces comprise of 2,133 sqm available in a range of versatile layouts. With inspiring views of the nearby marina and ample natural light, the resort's cavernous Astor Ballroom stretches across 816 sqm and has a seven-metre-high ceiling. It may be divided into two sections.
Open-air options include the manicured Central Lawn at the heart of the resort, with 1,000 sqm encircled by burning torches after sunset. The 2,000 sqm Beach Lawn is surrounded by coconut palms and enjoys an ocean view and refreshing sea breezes. A variety of smaller rooms are at hand for medium-scale and more intimate assemblies.
Also at the western end of the bay, the Hilton Sanya Resort & Spa, with its sculpted grounds, has played host to many grand galas and meetings since it opened its doors in 2006. The resort's 11 function spaces and meeting rooms set over two floors are named on a gemstone theme, and the most commodious is the 900 sqm Diamond Ballroom that can welcome 1,000 people for receptions. The property's cosiest gathering spot is the 34 sqm Ruby Room.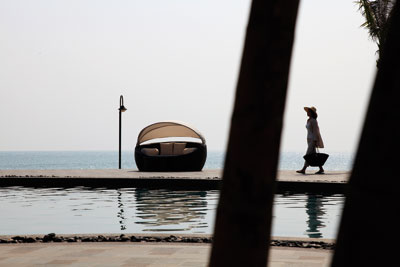 Paradise-Island Hopping
Postcard-perfect Yalong Bay has traditionally been the premier location for meetings within Sanya, but there are also excellent options along the coast for planners demanding some distance from the package-tour hordes.
Located closer to Sanya City itself, within striking distance of the flourishing coastal community of Dadonghai, and set amid 12 hectares of tropical gardens, Mandarin Oriental, Sanya's 195 guestrooms, 68 pavilion rooms, 18 suites and 15 duplex pool villas combine contemporary decor with ethnic influences. Such creative attention to detail has been extended to its exceptional business events venues.
Roomiest is the 520 sqm Coral Bay Ballroom, which basks in a wealth of natural light and vistas of rolling inland hills. The ballroom can cater to 450 for cocktails, close to 400 for banquets and 240 in a classroom environment. Five further function rooms, each set within its own pavilion, can accommodate between ten and 22 people in a boardroom environment, and 40 to 100 people theatre style. The beachfront resort also provides an excellent setting for outdoor gatherings via eight bloom-filled garden and poolside locations.
Beautiful Haitang Bay, which has been dubbed China's "national seashore" by the local tourism administration, is north-east along the coast from Yalong Bay and is now undergoing rapid development, largely due to space restrictions for new resorts at more established locations. The expansive bay features an interconnected network of top-notch hotels and resorts nestled in convenient clusters. Many properties house substantial business events facilities, with ballrooms ranging in size from 300 to 1,500 sqm.
One of the most notable properties at Haitang Bay is the modern and uber-stylish 448-room The Westin Sanya Haitang Bay Resort, which first opened its doors in late 2013. The property possesses 11 function rooms with an impressive total floor area of 2,700 sqm, including the opulent Grand Ballroom (1,200 sqm) that can accommodate close to 1,000 guests for receptions and more than 700 for banquets.
The nearby Kempinski Hotel Haitang Bay Sanya, with its 399 rooms, suites and residential-style villas, offers an extensive selection of 14 business events facilities, claiming its Vienna Grand Ballroom to be "the grandest ballroom on the island" with 1,500 sqm of floor space capable of handling up to 1,400 people in theatre style. The ballroom is equipped with state-of-the-art audio-visual technology and an 11-metre-high ceiling to create a sense of space and luxury. The ballroom is available as a stand-alone venue with its own vehicle access, ensuring a lavish yet private atmosphere for a wide range of special events.
The Kempinski's other meeting rooms are ideal for smaller meetings and can accommodate between ten and 100 people. The rooms range in size from 24 to 168 sqm, and are positioned on either side of a unique seawater river. Meeting attendees can arrive in high style via the property's unique dragon-boat gondolas.
The sprawling and beautifully landscaped InterContinental Sanya Haitang Bay Resort offers a spacious Tian Fang Grand Ballroom that can deal with close to 1,000 guests for theatre-style events, 600 for banquets and 500 in the classroom. A range of other meeting rooms are equipped with state-of-the-art technology and lighting.
Finally, located further along the coast and with inspiring views across Clearwater Bay, as well as the topographical challenges of the championship golf course on its doorstep, Raffles Hainan, with its Bali-influenced architecture and interiors, boasts a magnificent ballroom of 790 sqm that is able to accommodate 500 guests for banquets, as well as seven private meeting rooms. The Raffles' signature Pavilion space has played a major role in several successful product launches.
NEW INCENTIVE HOTSPOTS
Mission Hills Lan Kwai Fong
Located in Haikou, a 15-minute drive from Haikou Meilan International Airport is Mission Hills Lan Kwai Fong, a newly-opened entertainment and leisure development from Mission Hills and Hong Kong businessman Allan Zeman, creator of the Lan Kwai Fong nightlife district in Hong Kong. For planners looking for unexpected and unique incentives, there are ten Schmidt-Curley designed golf courses, more than 300 international brand name shops, 168 natural hot-spring spa pools, a bowling centre and a simulated car-racing centre.
Yum Siew Wah, vice president of hotel operations, says, "The idea was that Mission Hills would be the daytime club where you could find everything from golf to mineral springs, while Lan Kwai Fong would offer all kinds of night-time activities, including nightclubs, bars and restaurants."
Movie-Themed Town
Mission Hills has also opened the Feng Xiaogang Movie-Themed Town, a cinematic attraction inspired by the towns and streets of famous Chinese director Feng's classic film scenes, which include Aftershock and A World Without Thieves.
"In addition to its unique movie theme, this development will feature numerous dining, entertainment, shopping, cinema, cafe, bar and hotel facilities. The combination of iconic movie scenes, and 24-hour dining and shopping districts further establishes Mission Hills Haikou as a leading business, entertainment, cultural and leisure destination in China," adds Yum Siew Wah.
Haitang Bay International Shopping Centre
Visiting delegates looking for some retail therapy will be able to purchase international branded goods at prices around 30 per cent lower than the mainland when the new Haitang Bay International Shopping Centre opens later this year. Located in north Haitang Bay, the project covers a total land area of 552,000 sqm, and is set to become the largest duty free shopping mall in the world.
Construction of the project has been divided into three phases. Phase one, the duty-free shopping centre, covers a construction area of 192,600 sqm, including 70,000 sqm dedicated to commercial services. Phases two and three include a luxury brand exhibition area, a cultural and entertainment centre and a designer hotel.
GREAT ESCAPES TO THE GREAT OUTDOORS
Sanya's premier attractions are undoubtedly its immaculate beaches, many stretches of which are attached to resorts and therefore exclusive to guests. Many visitors, especially to Yalong Bay, barely leave their resorts thanks to the exceptional spa and pampering options, fine-dining opportunities and entertainment options they find at their fingertips. For the more adventurous, however, there are numerous attractions further afield that make for intriguing half-day or day-long excursions when time permits in the event schedule.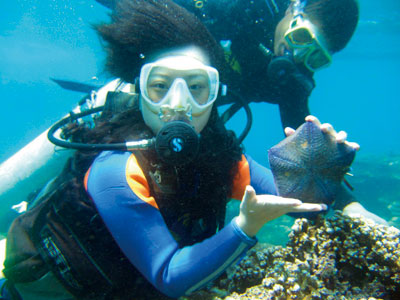 Scuba-diving and water sports
China is not overly blessed with world-class opportunities for water sports despite the length of its coastline, making Hainan all the more exceptional.
Like Phuket in Thailand, the island's waters have suffered environmental degradation due to heavy development and overfishing. The coral reefs around Sanya cannot, at present, compete with those of Cebu in the Philippines or Kota Kinabalu in Malaysia.
Efforts to correct that have witnessed the recent establishment of protected marine eco-parks around Sanya, however, and the scuba-diving scene is growing steadily with the establishment of PADI-certified schools catering to both newbies and experts. Other action options include lessons and hiring of equipment for windsurfing, paragliding and sailing, as well as jet skis. Many resorts have their own gear and experts on hand, and can arrange specialist trips further afield.
Wuzhizhou Island
Most visitors to Yalong Bay that manage to drag themselves away from their resort's multiple swimming pools usually enjoy a lightning getaway to beautiful and compact Wuzhizhou Island in Haitang Bay. Boasting 5.7 km of pristine coastline, the island is one example of the initiatives underway to protect Hainan's natural wonders, with a newly established marine ecology area.
On dry land, more than 2,500 varieties of exotic plants – many of which are rare – have been noted on Wuzhizhou, including the Canary Islands dragon tree. For domestic visitors, the butterfly-shaped island is a place of romance, and a favourite with honeymooning couples.
Nantian Hot Spring Resort
The Nantian Hot Spring Resort is a five-star complex easily accessible by car or taxi from anywhere in Sanya, and its many pools – said to be abundant in minerals and beneficial to health – are a relaxing way to rejuvenate after long hours in the boardroom. A popular diversion, especially among younger Chinese visitors – are the tanks of "doctor fish" that nibble away at dead skin on the feet. A vast array of aromatherapy treatments and massage packages are also on offer.
Yanoda Rainforest
The Chinese government has committed to spending almost RMB 4 billion (US$644 million) on protecting Sanya's Yanoda Rainforest, where 54 sq km out of a total 120 sq km comprise the Yanoda Rainforest Cultural Tourism Zone. The rainforest is popular with hikers.
Five Officials Memorial Temple
Those with a desire to visit the north of Hainan will be pleased to note that super-fast bullet trains put the island's capital Haikou less than two hours from Sanya. One of the city's most visited cultural attractions is the Five Officials Memorial Temple (Wu Gong Ci in Mandarin), and its complex of ancestral halls and lush gardens sprawls across 2,800 sqm.
Established during the Ming dynasty, the temple is dedicated to five disgraced officials who were banished to Hainan during the Tang dynasty for criticising the government. Ponds filled with lilies and carp, and crossed by ornate stone bridges, welcome visitors to the main building – the two-storey Five Lords Ancestral Hall – that houses statues of the unfortunate officials. It is said to be the first building in Hainan.
CONTACTS
MGM Grand Sanya
Tel: +86 898 8863 9999
Email: reservations@mgmgrandsanya.com
Sanya Marriott Yalong Bay
Resort & Spa
Contact: Yoko Fung (Hong Kong)
Tel: + 852 2192 6000
Email: yoko.fung@marriott.com
The Ritz-Carlton, Sanya
Contact: Ella Wang
Tel: + 86 898 8898 8888
Email: ella.wang2@ritzcarlton.com
The St. Regis Sanya Yalong Bay
Contact: Dorothy Zheng
Tel: + 86 898 8855 3021
Email: dorothy.zheng@stregis.com
Hilton Sanya Yalong Bay Resort
& Spa
Tel: + 86 898 8858 8888
Email: sanya@hilton.com
Mandarin Oriental, Sanya
Contact: Teresa Zhou
Tel: + 86 898 8820 9999 ext. 6820
Email: teresaz@mohg.com
The Westin Sanya Haitang Bay Resort
Tel: + 86 898 8865 9999
Email: westin.sanyahaitangbay@westin.com
Kempinski Hotel Haitang Bay Sanya
Contact: Joyce Yang
Tel: + 86 898 8865 5555
Email: joyce.yb@kempinski.com
InterContinental Sanya Haitang
Bay Resort
Contact: Owen Sui
Tel: + 86 898 8865 8888
Email: Owen.Sui@ichaitangbay.com
Raffles Hainan
Contact: Tim Xue
Tel: + 86 898 8338 9888 ext 6600
Email: tim.xue@raffles.com