ASIA'S largest luxury show drew to a close on Monday with the Hainan Expo paving the way for a new era in Sanya tourism and China's only island province to become an international free port.
The four-day Hainan Expo, also called China International Consumer Products Expo (CICPE), was organised by the Ministry of Commerce and Hainan provincial government, to promote the island as global tourism centre and the resort city of Sanya as a duty-free retail hub.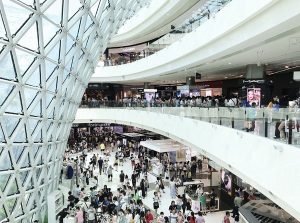 Sanya has been earmarked for more tourism attractions and as a centre for recreational yachting with the "aspirational" activity being widened across China's leisure market.
Switzerland was guest of honour at the event with high-end brands from Europe and the US exhibiting across 80,000 sqm at Hainan International Convention and Exhibition Centre in the provincial capital Haikou.
Among the exhibits making its debut at the expo was Faberge egg, or the Centenary Egg, which is handcrafted in 18K gold, weighing up to 10kg with a 57-edge black diamond and valued at 250 million yuan (about US$37.7m).
More on Hainan… Hinterland and Haikou
Two limited-edition Lamborghinis priced at tens of millions yuan each were also on display for nearly 1,500 domestic and foreign exhibitors from some 70 countries and regions.
Strict Covid-prevention measures along with logistical service support were implemented to ensure safety at the event.
Han Shengjian, director of the Hainan International Economic Development Bureau, said exhibits entering Hainan by air or sea underwent a disinfection process with teams for epidemic prevention and control and medical security positioned at the exhibition halls and related hotels.
Backgrounder… Tourism chiefs vow to promote Sanya as a conference city
Hainan is regarded as an important stop on the ancient "Maritime Silk Road' and has established close international trade relations. The island province has been accelerating the construction of Hainan Free Trade Port and an international tourism master plan, which was launched in June 2020 to create a better business environment and attract more international brands.
Sanya Tourism Promotion Board is reimagining the city as a travel hotspot with new activities and themes designed to appeal to different tourism segments. The board has launched "Wonderland Sanya", a campaign that seeks to attract young travellers to explore Sanya's unique and vibrant possibilities across the five areas of food, travel photography, culture, outdoor activities and luxury hospitality. Also, the board recently partnered with Tencent's Game for Peace to host a themed carnival, making the city's Haitang Bay a new landmark of e-sports culture with a "cultural tourism + video game" crossover approach.
Sanya is also promoting a yacht timeshare model to broaden the activity's appeal to tourists and supporting the development of the "cruise yacht industry".
Main picture: Hainan IEDB