Betel Nut Park
This eco theme park embraces two ethnic minority villages, Li and Miao, and a stretch of jungle that includes fun activities like a zip wire – all spread over a lush valley 30km northeast of Sanya.
What's it like? The minority villages are artificial, but have been put together with some sensitivity and a relative lack of kitsch. Ethnic villagers tend traditional wooden looms outside the houses, and they have become inured to being photographed. There are plenty of restaurants with tables for scores of diners, and the souvenir shops have some worthwhile mementos.
Atmosphere As at every theme park in mainland China, yours won't be the only group there. Selfie sticks, loud hailers, themed T-shirts and hats are all part of the general brouhaha. Caucasians may find themselves the object of friendly curiosity, but this all adds to the fun of the excursion.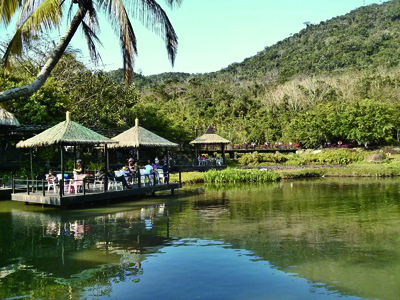 Yanoda Rainforest Park
A day's soft adventure is the pleasantly attractive bait at this unique 45 sqkm park an hour or so outside Sanya. Freelance wandering is not an option as groups are strictly supervised and even bussed to and from the park's trailheads.
What's it like? One of the most exciting hikes leads up a series of waterfalls, whose rocks have been cut into staircases and studded with handholds. Hikers are issued with rope-soled shoes and given a detailed environmental briefing prior to setting out. Drinks stalls and wifi along the way ensure this is not exactly a wilderness experience. Expect to get wet, whatever the weather.
Atmosphere As per Chinese theme parks' default setting, this is very much mass entertainment, with thousands of visitors daily. There are numerous restaurants for which large groups of customers are the norm. Note that there is no exit from the park except via the gift shop.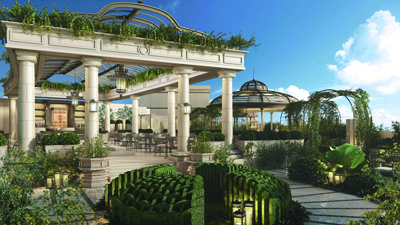 Greener meetings
Almost every good hotel caters to MICE. The Langham, Haikou has adopted an imaginative angle by emphasising the environment. Apart from anything else, this provides a useful prompt for meetings organisers who want delegates to take a fresh look at the way they work.
What's it like? The hotel is one of the most luxurious in Haikou, and the meeting spaces follow suit. Sustainability is the key, with innovative offerings like filtered rather than bottled water, and banquet menus featuring locally grown organic ingredients. The hotel also maintains an online event carbon footprint calculator with carbon offsetting options to measure and correct the real environmental costs of meetings.
Atmosphere Set slightly back from Hainan's northern shore, The Langham's elegant and spacious design makes for a relaxing meeting venue.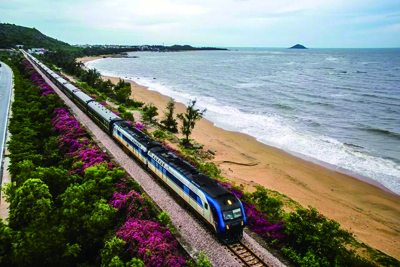 Circle line
China's high-speed rail network is one of the country's modern wonders, and the line that rings Hainan is so far the only one in the world to circle an island.
What's it like? Travelling at up to 300 kilometres-per-hour, the "Gaosu Tielu" takes as little as 90 minutes to zip from Haikou in the north to Sanya in the south, and vice versa, stopping at up to a dozen stations en route. It certainly makes a change from going by road, and there is no reason why carriages couldn't act as mobile breakout session venues.
Atmosphere Seating is comfortable – especially in first class – inexpensive, and you don't have to be a train buff to appreciate the ride. A sample day's itinerary might see groups travelling to visit the deer reserve near Dongfang on the west coast roughly halfway between Sanya and Haikou, and returning by the same route in the late afternoon.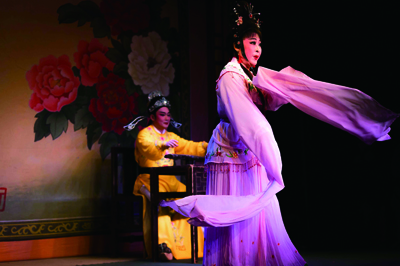 A Night at the Opera
A good chance for delegates to get to grips with local culture, Hainanese opera has developed gradually over the past 300 years. The island is now home to more than a dozen professional troupes.
What's it like? The major venue is the Hainan Provincial Qiong Opera Theatre in Haikou. Performances are noisy, lengthy, and usually trace the fortunes of five traditional characters: handsome male, elegant female, an eccentric, a bearded villain, and a supernumerary who acts as chorus.
Atmosphere Love it or hate it, everybody's got an opinion about Chinese opera. One of the more appealing aspects is that the audience is not expected to sit in total silence. Making a discreet exit when you've had or heard enough is perfectly acceptable. Perhaps the opera is best combined with dinner at one of the city's excellent seafood restaurants.