Sanya government and tourism officials are promising a new era that will see the Chinese coastal city become an increasingly attractive destination for international conferences and incentives.
The pledge came at the First International Island MICE Forum in Sanya on September 1, which was held the day before a MICE procurement conference to be attended by suppliers and buyers from across China.
The event also saw Sanya announcing its membership of ICCA (International Conference and Congress Association) as part of a move to raise the profile of China's only tropical city among international meetings organisers.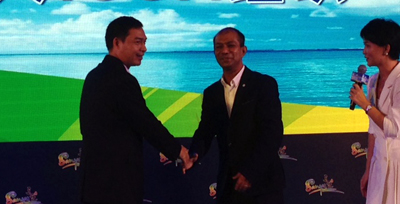 Noor Ahmed Hamid, ICCA's Asia Pacific regional director, told the forum that though Sanya has held major conferences such as the Apec and Brics summits, there were five conferences in 2015 that met with ICCA's criteria for international conferences. This put Sanya at 85th place in its first entry into the ICCA rankings table, but represented a strong early start as a conference destination.
Sanya, in the south of Hainan island, has seen a steady rise in luxury hotels with tourists from across China flocking to resorts. Russia has been Sanya's strongest market outside Asia, but the fall of the rouble and international sanctions since conflicts in Crimea and Ukraine has seen a decline in visitor numbers.
Hainan tourism chiefs told the forum that Sanya will be positioned at high-end meetings and incentives, including international associations.
Fan Mu, director general of Sanya Tourism Development Commission, says the city is joining ICCA to learn more from successful convention cities and to reach out to international planners. He said corporate meetings and association meetings will be targeted as Sanya seeks to diversify its tourism sector from one mainly focused on leisure.
Fan says there are 265 high-quality hotels in Sanya with 56 of them being international brands. He says this shows that the city has the hardware to serve meeting planners, but officials want to ensure standards of service and expertise are raised to meet the requirements of international groups.
The forum heard that further infrastructure investment will be made with expansion work at Sanya Phoenix International Airport making progress.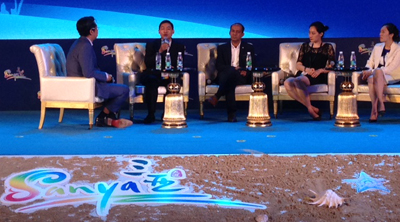 Hainan is also looking to its strong provincial airline, which has investments in hotels, to help establish the Sanya brand internationally.
Hainan island has a strategic significance for China with naval and space exploration bases alongside medical care facilities for the country's top leaders.
Sanya and the rest of Hainan will also play a strong role in the "Maritime Silk Road" – part of China's plans to extend its trade and strategic ties with neighbouring Asian countries. Following the forum at the Beauty Crown Hotel, the Sanya MICE event continued on Friday in Haitang Bay with buyer-supplier table top sessions at Wanda Vista Resort Sanya.