A COMBINED effort by Gold Coast's main conference venue, the city's visitor promotion agency and Australia's experts in applying artificial intelligence to process data like humans do, has won the bid for the world's top conference on this field of biotechnology.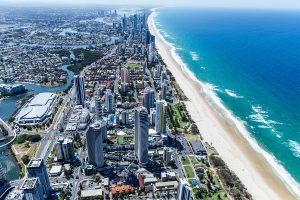 The International Joint Conference on Neural Networks (IJCNN) is a significant win for the Gold Coast, set to bring over 500 professionals, researchers and academics who will meet for six days in June to discuss machine learning, computational neuroscience, neuroengineering and more.
"Prestigious conferences such as IJCNN 2023 not only bring economic benefit to the city, but also the opportunity for collaboration, capacity building and knowledge sharing," said Adrienne Readings, general manager, Gold Coast Convention and Exhibition Centre and chair of Destination Gold Coast.
"As a leading centre for technology, engineering and science, with our world-class hospitals, three universities, the Gold Coast Health and Knowledge precinct, the Gold Coast attracts valuable business events in these fields."
More… Medical specialists eye Gold Coast
The international bid submission was led by Professor Brijesh Verma, general co-chair of IJCNN 2023 and was supported by Tourism Australia, Tourism and Events Queensland and Destination Gold Coast.
Tourism Australia managing director, Phillipa Harrison, said IJCNN 2023 was another international event been secured for Australia with the support of the Business Events Bid Fund program.
"Business events are such an important part of our visitor economy and, with the support of the Bid Fund, it is great to see we are continuing to build a strong pipeline of future events for Australia," Harrison said.
"The Bid Fund helps to secure these events in the critical bidding phase and, to date, has played a role in Australia winning 89 events with a combined value of about AUD688 million, including this upcoming event on the Gold Coast."
Backgrounder… Let's meet in Gold Coast
Selina Sinclair, Destination Gold Coast's head of business events, said some of the world's leading innovative businesses are based in Gold Coast.  The city is also a hub for cutting-edge technology and skilled academics in computer science and machine learning.
"The Gold Coast is making waves in the engineering and science industries and we're excited to host the International Joint Conference on Neural Networks in June," Sinclair said.
"Our success in capturing business events, especially international association conferences, play a vital role in further propelling innovation, professional development and knowledge exchange in their respective sectors and industries while showcasing the appeal of the Gold Coast as a destination of choice to a new, multinational audience."