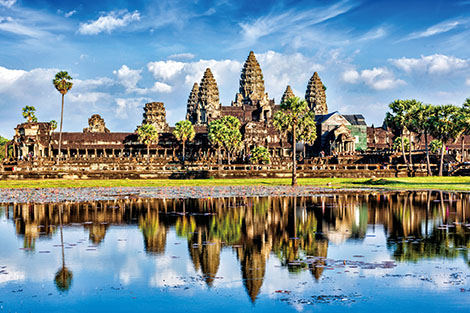 SIEM REAP has weaved its charms on event planners who have worked their local connections to bring international groups to the wonders of Angkor Wat – but new hotel openings show that there is more to come. There has been a well-trodden path to the ancient temple from tourists and even corporate groups that have held galas with the Angkor Wat ruins as a backdrop.
Among the creative event specialists to pull off corporate itineraries and galas in Cambodia, Vietnam and Myanmar is Darren Kerr, of Factor168. Kerr's production at Angkor Wat for a US cloud technology firm featured an evening with opera singers emerging from the alcoves of temple walls.
A French cosmetics brand also enlisted the Hong Kong team at cievent for a four-day incentive based around the Unesco Heritage site with on-the-ground support from Buffalo Tours. Kerr and others note how Siem Reap is a destination not only for clients seeking Angkor Wat's "lost treasure" allure, but also as another alternative to established cities for corporate retreats or unique events.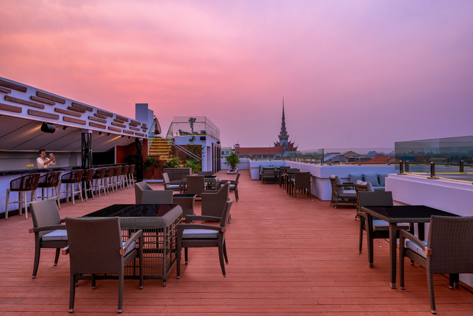 Accommodation varies from the budget hotels around Siem Reap's old French Quarter to the high-end Raffles, Le Meridien and Park Hyatt. Marriott International opened Courtyard by Marriott Siem Reap Resort in September 2018, while another Courtyard in the capital Phnom Penh is due to open in January 2019.
On the Courtyard's Upper Deck (above), telescopic viewfinders are provided pointed at Angkor Wat's towers about 8km away. The rooftop venue also features DJs and musicians and has become a local favourite for cocktails and dinner. The Upper Deck also recently hosted a charity fashion show.
Take 5 – Fun incentives in Siem Reap
Alongside its luxury offerings, such as spacious balconies overlooking the hotel's pool, the Courtyard is seeking to elevate Cambodian cuisine through head chef Chanrith Van and its Lok Lak all-day dining restaurant. Events are also set to be a mainstay with the Courtyard selected as one of the secretariat and registration bases for the Angkor Wat International Half Marathon in December.
Pool parties have also been held with some of Cambodia's leading celebrities as guests. One side of the ground-level pool area leads to the hotel's Think Spaces, consisting of five meeting rooms with a central area for coffee breaks, or the choice of an outdoor space.
More on Cambodia: Rory Hunter – the business of helping
There is a separate driveway and parking for the entrance to the 410 sqm Grand Room, the first in Siem Reap to have natural daylight thanks to wall-to-ceiling facing the west side of the city.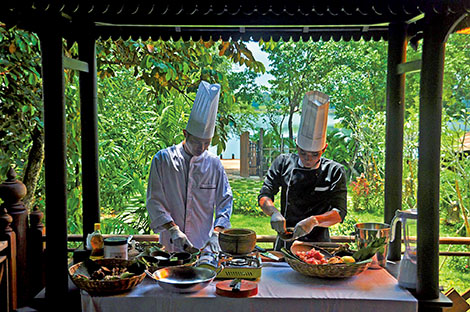 ITINERARY
Courtyard by Marriott Siem Reap has teamed up with several partners in the city to offer tours, dining experiences, golf, CSR and community outreach.
Angkor Wat at sunrise
An early start is recommended both to beat the crowds and get the best from a visit to a complex that took hundreds of years to build. Also leave time to view the amazing Ta Phrom and Angkor Thom. Filmmakers and tourists can't get enough of the ancient wonders, but visitors must purchase tickets and official temple guides area available.
Loi Lak Cooking Classes
Under the guidance of chef Chanrith Van (above), groups staying at the Courtyard by Marriott Siem Reap can be introduced to Cambodian cuisine starting with the good humoured hustle and bustle of a local market. Teams then gather at the hotel's Lok Lak restaurant to create dishes that the rest of the world will soon be learning about and craving.
Golf
Since opening in 2008, Angkor Golf Resort (below) has been praised as one of Southeast Asia's hidden gems with a design by the legendary Nick Faldo. Prize presentation areas are available for group use as well as the clubhouse bar and restaurant.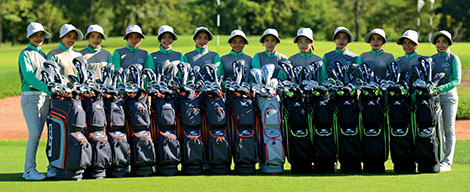 Sala Kdei
Follow the temple tours with a Khmer breakfast at Sala Kdei, a traditional wooden house on the banks of the Sra Srang river. Sala Kdei also serves as an event space and brings Khmer design and hospitality direct to groups.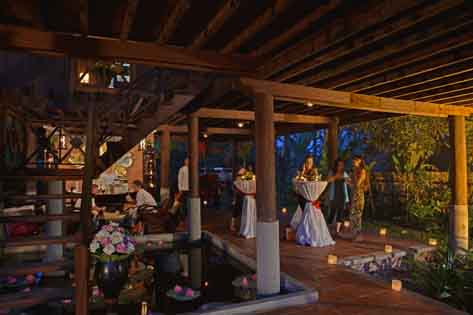 The venue is the brainchild of Tan Sotho, the tour guide turned hotelier who helped pioneer tourism as Cambodia reopened after years of war. In 2014, she opened Montra Nivesha, a boutique hotel near Angkor Wat, and is the managing director of Hanuman Travel, which has been described as one of the world's "top fixers" when leading lights in film and TV such as Angelina Jolie, Gordon Ramsay, Jeremy Clarkson and Oliver Stone visit.
Groups of up to 150 people can be catered for at Sala Kidel with lunch dinner and buffets available as well as breakfasts after early temple tours. Folk music and other entertainment can be added such as puppet shows, traditional storytelling and dance.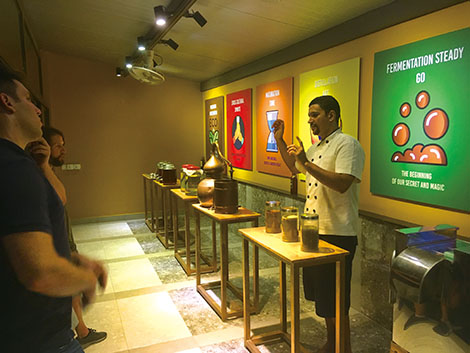 Sausage and rum
About a 15-minute drive from the Courtyard is Georges Rhumiere & Restaurant, which as the title suggests is a French-style eatery, strongly associated to rum. So strong that there is a mini distillery in a showroom next to the main dining room where Sebastien Fevrier (above) takes groups through the history of the beverage from its sugar cane origins to the flavours he infuses.
Fevrier's main role, however, is masterminding the kitchen at Georges where Creole fusion dishes are the speciality, including sausages made from a family recipe and other dishes from his native Reunion island.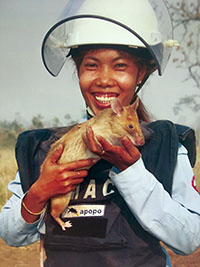 HEROIC RODENTS
Scars from Cambodia's wartime past remain, but among the most tragic legacies is unexploded landmines around rural villages. Landmine clearance is ongoing, and among the heroes of this lifesaving endeavour are a species of giant pouched rats that are bred in Tanzania by an NGO called APOPO.
The rodents start digging earth when they detect the scent of explosives and they have the same distinct sense of smell when used in labs to locate the presence of tuberculosis.
APOPO is headquartered in Belgium and with a visitor centre in Siem Reap where a team of experts coordinate field work.
The rodents are cared for by trained handlers who let them track sections of land. Once they start foraging, their handlers bring them back for a reward – usually a banana – and the spot where an unexploded device is suspected is marked with a flag before bomb-disposal experts move in.
Groups can visit the centre in Siem Reap where an exhibition tells the story of how Cambodia was practically carpet bombed during the Vietnam War. Mines were later laid as the Khmer Rouge retreated into the north of the country and by other warring factions.
Cordoned-off areas show how the mines remain either hidden or, in the case of unexploded shells, discarded above the ground. At another section groups can view the Hero Rats in action as they sniff and dig at buried landmines.