AUSTRALIA'S first face-to-face business exchange between buyers and suppliers of conferences and incentives since Covid has taken place.
Adelaide Convention Bureau is hailing its Destination South Australia as a success after  a total of in-person 110 attendees, including 33 local exhibitors and at least 27 event planners travelling to the state for the event. Some 11 delegates chose to join the event online.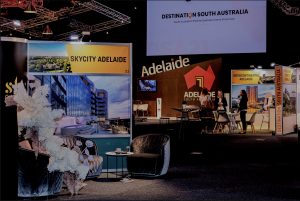 Covid prevention measures were in place at the business exchange and the welcome reception at Adelaide Oval Hotel, in addition to the destination dinner at Eos by SkyCity and post-event fam trips.
"What we witnessed in Adelaide was inspiring and rewarding both professionally and personally," said Damien Kitto, chief executive of the city's convention bureau.
Kitto said the event not only helped secure events business for the South Australia economy, but was also an "exercise in reassurance and confidence for those keen and willing to get on a plane and meet with their business event peers interstate".
The Destination South Australia event included a two-day tour around Adelaide with new hotels – Adelaide Oval Hotel, EOS by SkyCity, Crowne Plaza and Indigo – highlighted alongside government-endorsed Covid-prevention measures.
More… Ground-control Adelaide, calling space conference
"The fact [Adelaide Convention Bureau] has managed to have 85 per cent of our 2020 events postpone into this year and next rather than cancel… [shows] how excellent the Adelaide business event offering is," Kitto said.
Kitto added that his team was not being unrealistic. "We are sensible. We know 2021 has many road-bumps ahead for us and the economy, not least closed international borders remaining in place longer than we had initially anticipated.
"But we are moving in the right direction and we continue to illustrate to the world through continuing with future international bids such as for the 2024 International Astronautical Convention, and our present events such as Destination South Australia, that we are a destination which can be trusted to deliver the very best; including in health and safety."
Adelaide Convention Bureau's next face to-face business event is scheduled for mid-March.