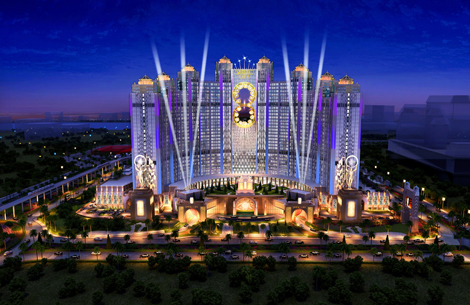 Already a haven for mega-meetings and incentives, Macau's Cotai is undergoing further transformation with a host of creative entertainment options coming online. These will give planners an even wider array of incentive ideas for their groups. A Batman-inspired digital ride, a giant ferris wheel, resident magic shows, and a 75,000 sqm resort deck are among the attractions being rolled out around the Cotai Strip; all with opportunities for incentive organisers as well as the family and leisure market.
The new developments come as major venues diversify their casino-led offerings in the face of plunging gaming revenues as the Chinese leadership combats corruption and lavish spending. Venues are being encouraged to create more family-friendly spaces, entertainment and enhance meetings and incentive travel.
Studio City
Melco Crown's Studio City, a cinematic-themed integrated resort, is due to open in late 2015.
Speaking to MIX at a screening of the resort's post-conference options, senior project manager for Imagination, Joanna Nordell Axelsson, said: "I believe Studio City is the new destination for families and MICE events – it's all about the experience and offering a total solution under one umbrella."
One of the resort's highlights will be the Golden Reel, a Ferris wheel in the shape of a figure eight set in the centre of the hotel's towers. Vice president of sales and marketing for Melco Crown Entertainment, Grant Johnson, says the wheel will also be available for events and conferences with private access offered during a two-hour period.
The fun doesn't stop there though, with a Warner Bros and DC Comics collaboration offering an immersive flight-simulation called the Batman Dark Flight. Johnson says groups of up to 72 can enjoy the digital ride before an event, where they will be met by Alfred the butler, who looked after Bruce Wayne's mansion in the comic series.
Joining the lineup of Macau's shows is the House of Magic, pitted as a hub for the world's leading magicians, hosted by illusionist Franz Harary. Live magic shows will be on offer, including Harary's resident show Mega Magic. Ibiza import Pacha nightclub will also debut in Macau, adding to the region's growing nightlife scene.
Paying tribute to the resort's Hollywood inspiration, a short film directed by Martin Scorsese will be unveiled at the Studio City launch, starring Robert De Niro, Leonardo DiCaprio and Brad Pitt. The film, which revolves around a Studio City storyline, will be produced by RatPac Entertainment's Brett Ratner, with Melco International CEO Lawrence Ho and chairman of Crown Limited James Packer as executive producers.
Alongside the cinematic and cartoon-themed attractions, the US$3.2 billion Studio City will have a 1,600-guest room hotel, a 5,000-seat events arena with broadcasting capabilities, 4,000 sqm of function space – including a 1,800 sqm pillarless ballroom – eight event salons and outdoor areas available for hire.
Hooray for Hollywood
Event space at Studio City reflects the resort's Hollywood-themed lustre, offering a 1,820 sqm Grand Ballroom and eight individual salons that offer groups break-out spaces and pre-function areas that overlook the pool deck. Many of the salons have outdoor terraces where coffee and lunch breaks can be hosted.
Cocktails can be enjoyed in the air aboard the Golden Reel, which will have 17 Steampunk-themed cabins which can each carry up to 10 people. Groups can also host teambuilding activities on the pool deck, with the option to follow with a Hollywood-themed Awards Night event complete with red carpet, dramatic lighting and stage design.
Themed event options include 'Chinese Dynasty' and 'Chamber of Shaolin', which will recreate ancient Chinese cultural landmarks such as the Forbidden City and feature shows by Shaolin Kung Fu performers respectively.
Wynn Palace
Casino magnate Steve Wynn has invested US$4.1 billion in the development of his second property in Macau. The 1,700-room Wynn Palace, due to open in early 2016, will be his first foray into Cotai. Efforts to diversify will be welcome, after the group saw a 49 per cent drop in net profit from US$275.9 million in Q4 of 2013 to US$139.7m in Q4 2014. Other big operators saw similar declines. There will be a casino within Wynn Palace, but US$3 billion of the total investment has been pledged to non-gaming developments, which will include an acre "performance lake", a cable car system around the lake, meeting facilities, retail space and luxury restaurants.
Sands Cotai
At a cost of US$2.7 billion, Sands China is developing a fourth property, The Parisian, which promises 3,000 rooms, gaming and meeting space, retailers and an enormous replica of the Eiffel Tower as its main attraction. While a 2016 opening date has been slated, a report by Morgan Stanley expects a date closer to January 2017.
At 4,000 rooms, Sheraton Macao is still Sands Cotai and the region's largest single hotel, and among the world's top 20 largest hotels. Unsurprisingly, event space at the Sheraton is versatile. The 4,891 sqm Kashgar Grand Ballroom can be partitioned into 12 smaller rooms with an additional nine adaptable function rooms on offer across two floors. Sheraton's outdoor space is unique for casual events, where the area around the Jaya and Sala pools offers ample space for cocktail receptions, barbecues and themed events with live food stations around the pool.
Galaxy
Two new properties at Galaxy Macau will also be a boon for planners, according to vice president of operations for the new JW Marriott and Ritz-Carlton Macau, Rauf Malik. He says that the spike in hotel capacity will be easy to fill.
"At the JW Marriott we have over 1,000 rooms and we'll attract a lot of MICE visitors because we are well-established in China. Increasing rooms in the Galaxy complex is a positive because we can offer additional brands for these groups. I don't see any issue with the increase in capacity, it's going to hand us our business."
The Ritz-Carlton, Macau has 254 premium hotel suites, marketed to planners looking to host managerial executives, with the JW Marriott as partner host to larger groups of accompanying associates. Adjoining the hotels is a new shopping arcade called The Promenade, which is home to 120 retail outlets including eight Michelin-starred and recommended restaurant brands.
A highlight of the new extension is the Grand Resort Deck, which now spans 75,000 sqm and features the 575-metre-long Skytop Adventure Rapids, with more than enough space to host large-scale outdoor events.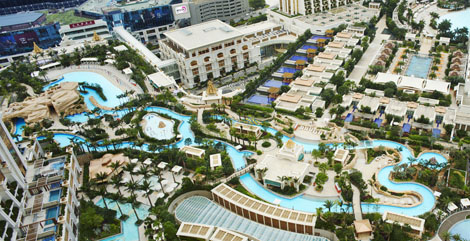 "We can host up to 3,000-4,000 people for a cocktail in different areas of the Resort Deck. We can offer a variety of teambuilding activities and event themes for large groups, tailored to their needs," says Malik. There is also a 3,000-seat venue within walking distance, Broadway Theatre, which can be used to host shows, events and sports tournaments as well as a 10-screen 3D Cineplex – UA Galaxy Cinemas.
Event maestros
Themed events are popular at Grand Hyatt Macau, where a range of indoor and outdoor venues are on offer, and easily tailored to group size and function. Ballroom setups include 'Shanghai in the 1930s', which features jazz musicians, waiters in vintage dress and a prohibition-style bar; 'Opulence Ball', with belle époque décor and classical musicians; and 'Modern Chinese', where backlit screens bathe tall Chinese tables in red light, offering an open show kitchen as its centrepiece. Lounge-style setups are available for meetings, and the casual Break-out Café provides an informal pit stop for delegates.
The Grand Hyatt Macau's events app gives organisers the option to communicate with delegates about specific events, offering a live poll to participants to evaluate services and offer feedback. Presentations can be easily shared with the hotel's new Clickshare system, which enables content to be shared from computer to screen without the hassle of a USB.
Mandarin Oriental Macau was named 'Top Presidential Suite in Macau' in the 2015 Hurun Presidential Awards for luxury. Spanning 337 sqm, the suite can be booked out for private events or meetings and includes (besides two bedrooms and a bathroom) two sitting rooms, a long boardroom or dining table and a separate study, which can be used for breakout meetings. Located on the 23rd floor, the suite has floor-to-ceiling windows that offer 270-degree views of Nam Van Lake and Macau Bay.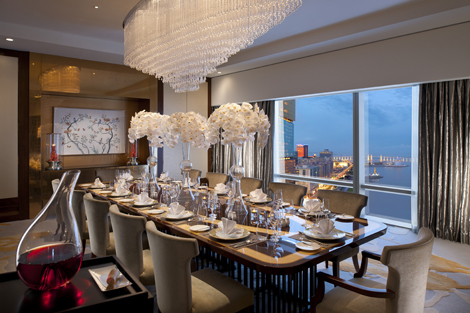 Banyan Tree Macau's poolside cabanas offer groups a casual meeting venue with the option to host breakouts on the pool deck with barbecue and cocktails. For larger events, a floating stage on the pool can be arranged for live performances.