VISITING business event groups now have a whole new locality within the heart of Sydney that provides planners with more options for conferences and incentives.
And there's more come as the city also looks to its west with a new international airport expected to help showcase the wonders of New South Wales beyond the business hub of Sydney.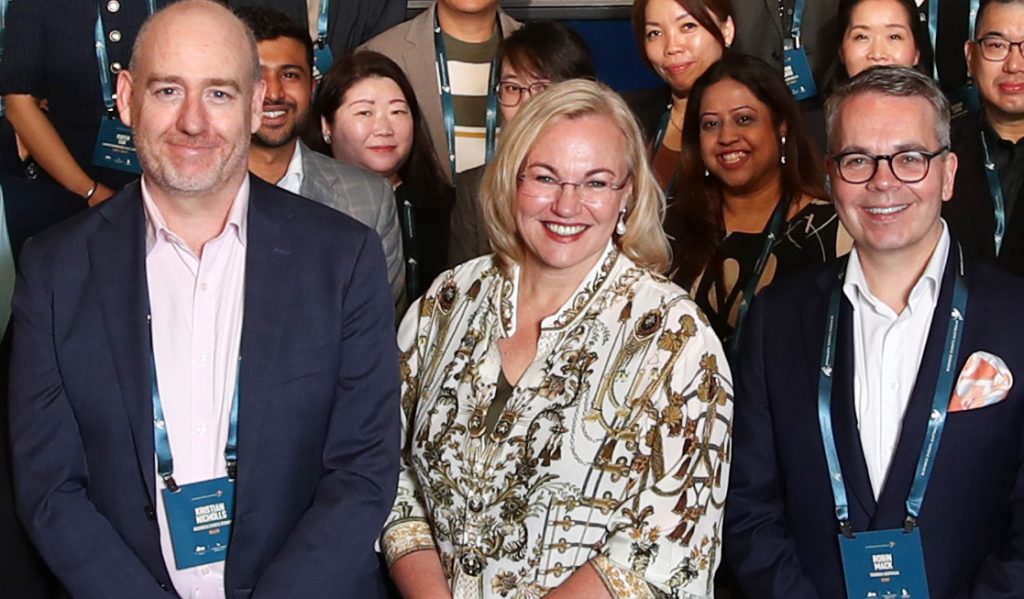 Following Darling Harbour's redevelopment, with ICC Sydney taking pride of place along its waterfront, the vision of linking the area with the financial district of Barangaroo and its adjoining parkland has been realised.
A contingent of buyers and media on the Business Events Australia Asia Mega Famil Showcase 2023 saw this new precinct up close earlier this month as they posed for pictures beneath the gleaming 75-storey tower housing Crown Towers Sydney. As Sydney's tallest building it presides over Barangaroo's restaurants, banking offices and moorings with luxury cruisers available for event hire.
The sights along Barangaroo and Darling Harbour may not have the legendary status of Sydney Harbour Bridge and the Opera House, but they provide yet another value proposition for event buyers when considering locations.
Kristian Nicholls, executive general manager with Business Events Sydney, said attractions for visiting event groups from Asia keep coming with Sydney Fish Market located behind Darling Harbour and, across to the other side of the city, a new international airport serving the Western Suburbs and New South Wales on its way.
Crown Sydney, left, towers over Barangaroo's financial quarter

NEW AROUND DARLING HARBOUR
Crown Sydney Hotel – The Pearl Ballroom on the Level 5 events space and holds up to 340 seated and 390 cocktails with the Epicurean restaurant located conveniently near the foyer. Corporate function areas extend to the Opal Suite, which seats 20 and 40 for cocktails, in addition to several private dining and meeting rooms.
W Hotel Sydney – This new addition to Darling Harbour is scheduled to open in October across from the ICC Sydney. The W's distinctive design will house 585 guest rooms and suites, and nine event rooms across 1,018 sqm of space with the Great Room seating 350 for banquets and 805 in a theatre setting.
The Jackson – Ever admired those floating "gin palaces" and wondered about holding an event on board? A superyacht named after Port Jackson provides four event spaces including a main deck that can seat up to 300. The floating venue offers the "ultimate Sydney experience" with dining and cocktail cruises past the harbour's iconic landmarks with gala dinners and special events featuring celebrity chefs and entertainment among the specialties.

"The redevelopment of Darling Harbour has been one of the very positive stories of the broader redevelopment of the precinct, including Barangaroo. To be able to walk from the new convention centre, waterfront, a lumbering route through the headland and then across to the Harbour Bridge and the Opera House is one of the most iconic harbour walks," Nicholls told MIX.
"It's opened up some opportunities – and it's a free walk. You can have the one of the most beautiful walks in the world and it costs you nothing. It opens more free time potentially for incentive programs."
Western Sydney International Airport is due to open in late 2026, 50km from the CBD, with a capacity to handle 10 million passengers a year without the time restrictions faced by Sydney Kingsford Smith Airport, 8km south of the city centre.

AROUND SYDNEY…
WINX Stand, Australian Turf Club – Known to Sydneysiders as Randwick, or the Royal Randwick Racecourse, guests can be greeted by mounted race officials, top-hatted doorman, trumpeter and even dancers before entering an events terrace with an adjacent indoor space that can be used for cocktails, gala dinners and even conferences. The course has a heritage stretching back to 1833, with one of the stands of yore still preserved, while the newer conference and exhibition venue provides a vantage point to view the home straight.
Art Gallery of NSW – Culture meets mindfulness with morning meditation and breakfast meditation before tours of the gallery's new building, which has become known as the Sydney Modern. There are free scheduled tours or private personally guided tours for a fee. Curated experiences for groups include a guide through the gallery's Aboriginal and Torres Strait Islander collection of art.
"The existing Sydney Airport is very busy and has a curfew. So there's some limitation in terms of [passenger] capacity it can bring, given the popularity of Sydney, particularly with the Asian markets," Nicholls said.
"From an events perspective, we think it's a really great opportunity. Not only will it enable more capacity and pricing, but it will also provide visit visitors with an almost flipped experience in Sydney where they come into Sydney and go regional first, and then come into the main CBD."
More… Sydney shines as it welcomes Asia buyers 
Group organisers will have the choice of bringing groups to Sydney CBD first or exploring further west into New South Wales before visiting the city.
"Typically, incentive groups and association delegates will come directly into the CBD and potentially, as part of the back end of their event, go regional. We can see programs being designed around the Hunter Valley and the Blue Mountains as the entry point into Sydney because of the Western Sydney Airport [location]… but then having the groups coming into the see the traditional icons."
 

MORE SYDNEY VIEWS
Harbourfront Seafood Restaurant– With views of Circular Quay's cruise-liner pier, the Harbour Bridge and Opera House, this eatery in The Rocks has one of the most sought after outdoor dining spaces in Sydney. Packages are also available for up to 60 guests in the private dining room while the Outdoor Terrace has a capacity for 180 seated.
The Calyx – An ideal way for groups to round-off a stroll through the Royal Botanic Garden Sydney is cocktails and canapes at a new venue in the grounds with ready access to trees and plants. The Calyx's indoor space can also be used for teambuilding or intimate product launches that can make use of the venue's lawn.
Taronga Zoo – This is a wildlife retreat located within a city where and events terrace presents enviable views of Sydney Harbour Bridge. Along with meetings and events space it has accommodation and tours of the facility that give an insight into the work of the Conservation Society Australia, particularly in conserving the Tasmanian Devil, a formidable beast, but nonetheless an endangered species.
The Gili Rooftop's terrace is ideal for sunset cocktails replete with those harbour views while N'galawa Terrace also gives views of the zoo grounds. The Dalang Ballroom can double up as conference space with the Heritage Boardroom hosts smaller meetings. Taronga also has a choice of three lawn spaces that have hosted concerts, cocktails and teambuilding.