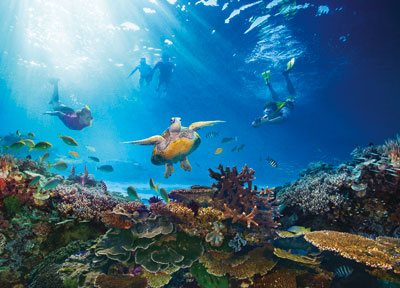 Break the monotony of the daily office routine and get pulses racing with an exciting, action-packed getaway. The natural and varied landscapes of Asia Pacific provide the perfect playground for adrenalin-fuelled activity. The Great Barrier Reef in Cairns, Australia, the mountain tops of Northern Thailand and the verdant rainforests of Kota Kinabalu, Malaysia are all world-class destinations for outdoor group activities, and also offer quality infrastructure for an incentive, team building or brainstorming trip.
Dive in Deep
The Australian city of Cairns provides access to The Great Barrier Reef, enabling you to take your group on an underwater adventure down under. In addition to its marine delights, Cairns is also an established conference and meeting destination – with the ideal facilities to support your getaway. Another popular access point for the godfather of all ocean reefs is the coastal village of Port Douglas, just an hour's drive from Cairns.
From either of these places your corporate group can experience and enjoy one of the seven natural wonders of the world in many different ways: by helicopter or seaplane, on a private charter yacht or glass-bottomed semi-submersible, or in an underwater observatory. When it comes to getting up close and personal with the watery wonderland and its inhabitants, delegates can choose to snorkel, dive, or go on a seawalker dive. You can either book these activities through your hotel, Business Events Cairns and Great Barrier Reef or Quicksilver group, which provides a wide range of reef experiences tailor-made to fit corporate groups.
The numerous hotel and resort properties of this area are experts at making the most of the seascape surroundings, providing a variety of high-octane activities. The newly renovated One & Only Hayman Island, offers kayaking, catamaran sailing, paddle boarding, windsurfing, paddle skiing, inflatable tube rides and wake boarding. Guests can also hop on a speedboat to Blue Pearl Bay or Langford Island, or set off on a deep sea fishing trip, creating an excellent bonding opportunity for your delegation.
"In recent years, several marlin in excess of 500 kilograms have been caught in our surrounding waters," says Ivy Kwan, vice president, global sales and marketing, Asia Pacific, at One & Only Resorts. "Escorted half-day fishing trips and charters are available to groups and One & Only Hayman Island offers both game and bottom fishing."
The Shangri-La, The Marina, Cairns, offers a similar range of water-based activities, including jet skiing, wind surfing, catch-a-mud-crab trips and white water rafting. A stalwart in corporate group hospitality, this Shangri-La property encourages large-scale getaways.
"We can tailor trips and activities for groups of any size. However we find ten or more usually have the most fun," says Anne-Marie Bennett, communications manager at Shangri-La, The Marina, Cairns. Rates are A$150 (US$141) per person for a full-day reef trip including lunch and snorkeling, and A$133 (US$125) per person for a half-day of water rafting (including transfers).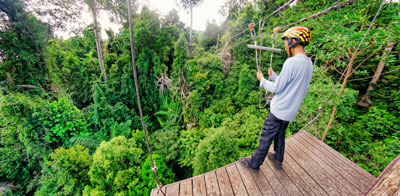 Explore the Jungle
Located on the northeastern tip of Malaysian Borneo, the oldest rainforest in Asia creates a dense canopy over the land. This ancient ecological hotbed provides the perfect environment for team exploration and adventure. Trekking through the oversized vegetation brings you in contact with a myriad of flora and fauna, including orchids and the peculiar migrating rafflesia. You can also encounter exotic wildlife, including macaques, bearded wild boars, sambar deer, pangolins, slow loris, monitor lizards, hornbills and bear cats. Moreover, the island's rehabilitation centre provides a unique opportunity to come face-to-face with indigenous orangutans.
Witnessing one of nature's most dramatic backdrops can be done in many ways, either on foot, zip line, or – if you dare – high above ground in suspended bridges through the tree canopy. Here you can get a birds eye view of the spectacular scenery, while guided tours can teach you the secrets of its abundant living elements.
Rasa Ria Resort runs an orphaned orangutan rehabilitation programme in collaboration with Sabah Wildlife Department, welcoming groups of up to 70 to the wild ape nursery, where three to eight year-olds come swinging through the trees at feeding time. The apes are sent to Sepilok Orangutan Rehabilitation Centre in Sandakan upon graduation from this nursery.
Properties here usually have a heavy ecotourism focus. Part of the Preferred Hotel Group, Bunga Raya Island Resort & Spa is located on Gaya Island, a short ferry ride from the city of Kota Kinabalu. Here, a symbiosis between guests and the surroundings is encouraged. "The rainforest is part of Bunga Raya Resort's backyard. The resort is nestled in the forest, and was built into the terrain. Special care was taken to ensure that the resort was built around existing trees and boulders that have been there for centuries," says Gillian Tan, the owner of Bunga Raya Island Resort & Spa. In the property's garden alone you can view 60 different species of Hibiscus plants.
Shangri-La's Rasa Ria Resort is also located by a 64-acre coastal reserve and provides a "summit breakfast", where guests can trek through the jungle to the crest of a hill for an al fresco breakfast with a breathtaking panoramic view of the sea and surrounding wilderness. The "Night Animal Watch" allows groups to venture out into the darkness to look for nocturnal creatures such as barking deer, civet cats and porcupines.
This particular property also offers a variety of onsite team-building activities, including "fun sumo wrestling", "giant slipper" and "six senses" – which, respectively, involve wrestling in a fat suit, walking with teammates on planks, and smelling and identifying various exotic jungle smells and fruits while blindfolded.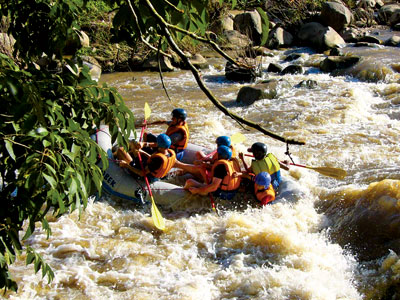 Conquer the Mountains
Encourage your team to reach new heights and challenge themselves in the mountainous terrain of Northern Thailand. Chiang Mai and the surrounding territory includes Doi Pui mountain, which at 1,600 metres is the highest point in Thailand, as well as Doi Chiang Dao mountain with its sub-alpine vegetation and the fierce rapids of Mae Taeng River.
The mountains can be conquered on foot, by bicycle, all terrain vehicle (ATV), zip line or even on the back of an elephant. Whichever way you choose, the journey will lead to the discovery of ethnic hill tribe villages and breathtaking panoramic views. Flight of the Gibbon Adventure Tour is a unique zip line canopy tour through 1,500-year-old rainforest in the pristine Mae Kampong area east of Chiang Mai. "Here, 18 platforms, sky bridges and lowering stations connect two kilometres of zip lines that take you through the different layers of the forest," says Jitsak Lim-Pakornkul, general manager of Sireeampan Boutique Resort & Spa.
Alternatively, you can float down the Mae Taeng River for some white water rafting, or try the more leisurely bamboo rafting and waterfall swims. These activities can be combined with events, meetings and team-building exercises.
For that added edge to your getaway, Sireeampan Boutique Resort & Spa suggests group fun such as paintball, or a 50-metre bungee jump. Anantara Chiang Mai Resort & Spa offers rock climbing at Mao On, plus more specialist activities such as flights aboard a microlight aircraft or paramotor.
Most hotels in Chiang Mai offer adventure excursions and can accommodate groups of different sizes and budgets. Sireeampan Boutique Resort & Spa quotes a full-day whitewater-rafting course at 1,400 baht (US$43) per person (including transfers and lunch) or a full day of mountain biking down Doi Pui Mountain at the same price. These activities can be combined with treks, elephant rides, bamboo rafting or waterfall and village visits. Half-day adventures including ATV rides through Mea Sa Valley (1,900 baht/US$43), jungle bungee jump (1,500 baht/US$46) and Flight of the Gibbon zipline (3,499 baht/US$108) can be integrated to your
schedule too.
The well-established Anantara Chiang Mai also offers a combined elephant trekking, hill tribe visit and water rafting experience at 3,800 baht (US$117), a day's mountain biking at 2,500 baht (US$77) and rock climbing activities, which, depending on the climbers' abilities, can cost between 2,000 and 5,000 baht (US$62-154).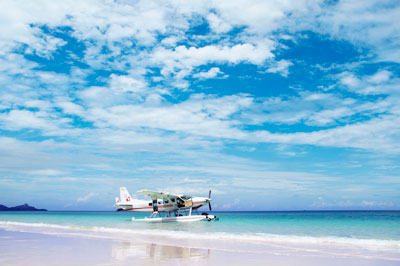 HOTEL HIGHLIGHTS
One & Only Hayman Island
The scenic and abundant waters surrounding the 74 islands that make up the Whitsundays are the corporate group's playground at One & Only Hayman Island, which has 160 rooms and can accommodate up to 300 guests for an event. It also has a range of indoor and outdoor settings suitable for private functions, and an entertainment centre with a fully equipped stage. Prices start from US$3,700 for four days, subject to quotation – including accommodation, daily meals, activities and a cocktail reception.
Shangri-La, The Marina, Cairns
The 255-room Shangri-La is situated on the marina with stunning views and great access to both the city and the sea. The ballroom can seat 330 people theatre-style, 220 for a banquet, and 400 for cocktails.
shangri-la.com/cairns/shangrila
Shangri-LA's Rasa Ria Resort, Kota Kinabalu
In addition to group adventure activities, this 416-room property offers five restaurant venues, and two bars that are ideal for functions and receptions, plus extensive conference facilities. A further 81 hotel bedrooms will open in March 2015. The spacious ballroom has 750 sqm of space and a seven metre high ceiling, and can host 600 for a dinner and up to 1,000 for cocktails. There are also eight other function rooms and boardrooms.
shangri-la.com/kotakinabalu/rasariaresort
Bunga Raya Island Resort & Spa
This property is located in a secluded bay on the northeastern side of Gaya Island, which is just off the coast of Kota Kinabalu city, and can be reached from Jesselton Point Ferry Terminal by six daily ferry services directly to the resort. Functions can be hosted in Gayana, Malohom and Jesselton meeting rooms, which can host between 70 to 200 delegates depending on the set-up.
Sireeampan Boutique Resort & Spa, Chiang Mai
Sireeampan Boutique features a business lounge and a meeting room that seats 22 in a boardroom setup, and is within walking distance from Chiang Mai International Convention and Exhibition Centre. The resort is only suitable for small groups, as when fully booked it can only accommodate up to 22 people. The cost of a buyout for four days, including all meals, accommodation and two activities (a day of trekking and a half day of zip line) is approximately 650,000-700,000 baht (US$19,000-20,000).
Anantara Chiang Mai Resort & Spa
The 84-room Anantara Chiang Mai is located on the banks of the Mae Ping River. The hotel has two business events spaces, including a 55 sqm meeting room that can accommodate between 30 and 49 delegates with flexible seating arrangements, and a 17 sqm boardroom that seats 12.
FAST FACTS
CAIRNS
Airport Cairns International Airport is located about 7 km from the city centre and receives both domestic and international flights from Auckland, Hong Kong, Guam, Shanghai and Guangzhou. Airlines servicing this airport include Air New Zealand, Cathay Pacific, China Eastern Airlines, China Southern Airlines, Jetstar Airways, Qantas, Tigerair Australia, United Airlines and Virgin Australia.
Visa All visitors to Australia must apply for a visa before arrival, regardless of length of stay. Applications can be made online at immi.gov.au.
Weather Australia, and Queensland in particular, is hot and humid during the southern hemisphere's summer months, from November to February.
KOTA KINABALU
Airport Kota Kinabalu International Airport is the second-busiest airport in Malaysia, with flights arriving from Brunei, Singapore, Hong Kong, Ho Chi Minh City, Kuala Lumpur, Manila, and several other cities around the region. Carriers include Air Asia, Asiana Airlines, China Airlines, Korean Air, Malaysia Airlines, SilkAir and Dragonair.
Visa Visa-free or visa on arrival entry is granted to some nationals entering Malaysia for under 30 days. Hong Kong and Chinese citizens, among others,
must apply for a visa before travel at their local Malaysian embassy. Visit imi.gov.my for details.
Weather Kota Kinabalu gets rain all year round. The wettest months are September to November, and the driest are January to April.
CHIANG MAI
Airport Chiang Mai International Airport is the major gateway to the north of Thailand, with flights to and from locations across Asia.
Visa Tourists from almost all countries can stay for 14-30 days visa free.
Weather Pleasant year-round temperatures, but more rain during May to October.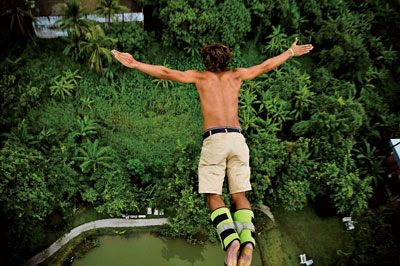 SAMPLE ITINERARY
Mountain Adventure
This four-day three-night itinerary takes delegates deep into the rugged mountains of Chiang Mai.
Organiser: Sireeampan Boutique Resort & Spa
Cost: Approximately US$1,128 per person
Recommended tour date: November or early December
Day 1
Welcome
• Cocktail reception
• "Adventure theme" evening dinner on the outdoor garden terraces of Sayomporn restaurant
Day 2
Conquer the mountain
• Breakfast at hotel
• Pick up 8am, drive north to Mae Taeng area
• Riverside elephant ride (1 hour)
• 8km mountain bike ride
• Lunch
• Safety briefing
• Whitewater rafting (2 hours)
• Return to hotel at 5:30pm
• Evening at leisure in Chiang Mai
Day 3
Brainstorm, bond and brave the bungee
• Breakfast at hotel
• Pick up 9:30am
• Safety briefing and tuition
• Bungee jump
• Return to hotel for lunch at 1pm
• Team-building exercises
• Two hours in meeting room from 3pm
• Evening at leisure in Chiang Mai
Day 4
Departure
• Breakfast at hotel
• Check out at 10am
THE PROFESSIONALS
Quicksilver Group
Tel: + 61 7 4052 7806
Email: mice@quicksilvergroup.com
Business Events Cairns & Great Barrier Reef
Tel: + 07 4015 1221
Email: rosie.douglas@ttnq.org.au
Destination Asia Thailand
Tel: + 66 2 272 1458
Email: thailand@destination-asia.com