ST REGIS BAR, THE ST REGIS MACAO, COTAI CENTRAL
What's special? The hotel's namesake bar gives life to post-meeting drinks by crafting interactive experiences. Bloody Mary fans can try their hand at preparing the brand's signature tipple in a 'Maria do Leste' cocktail-making class, and until April, groups are also being offered two limited edition tasting experiences – A Taste of 1904 Cognac and Port Aficionado.
For planners The venue houses three separate spaces for events: The Bar, memorable for its LED mural centerpiece, which can accommodate 60 standing or 48 for a sit-down dinner; The Vault, a private room with space for 30 standing or 20 seated; or Decanter wine cellar, stocked with the sommeliers' pick of sought vintages.
stregismacao.com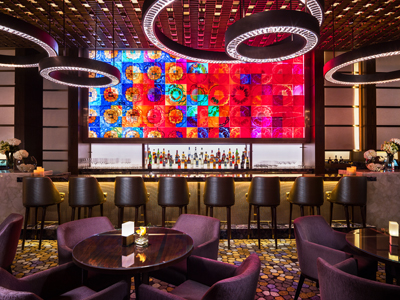 For more on tasting experiences at the St Regis Macao and other venues, see here
CITY OF DREAMS
What's special? The three-hotel resort is home to the world's largest water-based indoor show (The House of Dancing Water) and a 2,800 sqm nightclub (Club Cubic), fitted with a two-tier performance stage, laser-lit dance pool, Gothic style bar and Perrier-Jouet Champagne bar.
For planners VIP tickets for The House of Dancing Water performances are priced at HK$1,480 (about US$191) and include a complimentary drink and chocolate.
Besides tables, Club Cubic offers five themed VIP rooms for hire on the upper level. Rooms are equipped with karaoke systems and balconies, granting delegates a bird's-eye view of the dance floor below.
cityofdreamsmacau.com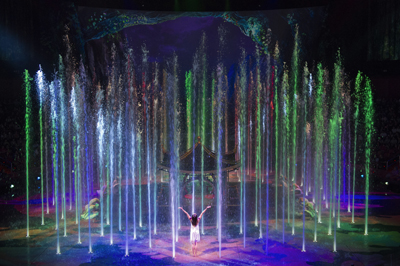 Compare with City of Dreams Manila's incentive offerings
GALAXY MACAU
What's special? Three main watering holes span the integrated resort: China Rouge, Galaxy's flagship nightlife venue that combines an art gallery, chill-out lounge, cabaret stage and nightclub; The Macallan Whisky Bar & Lounge (below), which houses over 400 different whiskies, and The Ritz-Carlton Bar & Lounge, atmospheric for its DJs, pop-up parties and skyline backdrop.
For planners At full capacity, China Rouge accommodates 400 standing across five separate spaces, including a showroom (200 guests maximum) and two VIP rooms (10-20 pax).
Neither Macallan nor The Ritz-Carlton Bar offer private rooms for events, but can fit 80 and 119 guests into their main bar areas respectively.
galaxymacau.com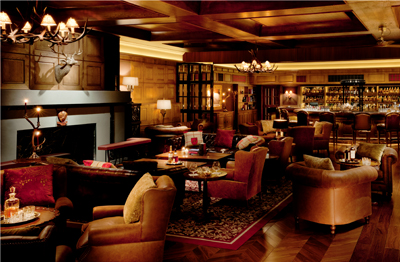 STUDIO CITY
What's special? Billed as 'Asia's Entertainment Capital', the Hollywood-themed resort offers unique attractions for groups. These include the 4D flight-simulation ride Batman Dark Flight, The Golden Reel figure-8 Ferris wheel and Franz Harary's The House of Magic (left). For event after-parties, Ibiza-style nightclub Pacha Macau – the region's largest – awaits.
For planners Batman Dark Flight seats up to 70 delegates; The House of Magic can accommodate up to 150 in one sitting. Prior to riding The Golden Reel, groups can also enjoy cocktails at the podium. Pacha Macau caters to both indoor and outdoor events with a total capacity of 2,500 pax. The club's main indoor area can take 450 people and also offers four breakout rooms each accommodating 25 pax, while an adjoining outdoor lounge, El Cielo, offers six cabanas with 120 seats.
studiocity-macau.com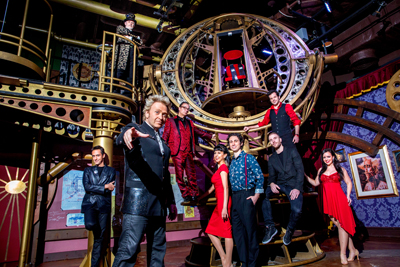 SKY 21
What's special? Towering over the harbour atop the AIA Tower, the 1,858 sqm venue combines a Pan-Asian dining area, a contemporary lounge (SKY B), clubbing zone (SKY Life) and outdoor rooftop deck over two floors.
For planners SKY Life is fitted with all the appropriate equipment to facilitate live acts at private events. Although planners must arrange the entertainment themselves, the venue offers custom and free-flow packages on request. At full capacity, the first floor restaurant area can take 80 guests; the second-floor lounge and club zone up to 70.
sky21macau.com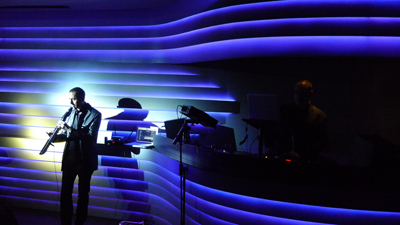 For more post-conference ideas for Macau, read our Explore feature on Macau's thriller incentives