Exciting corporate retreats are an event organiser's holy grail: as traditional off-sites begin to lose their lustre, it's 'out of the box' experiences that delegates remember. Flight Centre Australia was looking for a destination offering fun and exhilarating activities that would recharge, inspire and bond team members. Lake Wanaka fit the bill: an adventure resort in the heart of Mount Aspiring National Park on New Zealand's South Island, known for its beautiful alpine scenery and extensive outdoor activities.
Flight Centre Australia's executive general manager, Tom Walley, was clear in his brief: he was keen for his corporate team to be pushed out of their comfort zones with a high-octane itinerary. "We wanted the team to push themselves with real, physical challenges and to have them spend time with people they don't normally mix with," he says. Participants were split into teams outside of their regional divisions, encouraging new relationships and opportunities for collaboration.
British adventurer and presenter Bear Grylls had recently finished filming his reality TV show, Get Out Alive, in Wanaka, and scenarios presented to the show's contestants served as inspiration for those planning the Flight Centre trip. During the two-day excursion, staff from Lake Wanaka Tourism had all 55 executives jumping off waterfalls, abseiling into caves and flying over glaciers, among a host of more temperate activities such as hiking, jet boating and paddle boarding.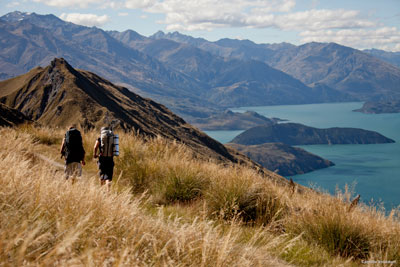 Swimming in Lake Wanaka's glacial-fed rivers and canyoning in the Matukituki valley were among the options for delegates with a taste for adrenalin-inducing exploits. Not least of the available activities was a scenic helicopter ride, run by local operators Aspiring Helicopters. Executives were flown across Mount Aspiring National Park's remarkable mountain landscape to a high altitude glacier, from where they embarked on a half-day hike to Rob Roy Glacier.
Having hosted corporate getaways for companies from pharmaceutical and tech industries to government bodies, Lake Wanaka is well equipped as a destination for both team building and incentive travel. Indeed, the two go hand in hand, with spectacular experiences often offered as a reward following these exercises. As a finale to the five-hour hike to Rob Roy Glacier, participants were met with an ice-cold beer or wine – chilled with ice from the very same glacier – and a barbecue, which offered a taste of local venison sourced from nearby Cattle
Flat Station.
Among the trip's more experimental activities was the Mystery Box Challenge, where each group was given a box of local ingredients and tasked with using only what was in the box to prepare and cook their evening meal. In a Master Chef-style contest, groups put their culinary skills to the test, competing for the best dish against their colleagues.
Geoff Marks, business development executive for Lake Wanaka Tourism, says the teams were surprised to find a freshly shot rabbit in the box. "Each group had to work together to skin and turn the wild rabbit into an edible dish – not easy in the rustic confines of a backcountry hut," he says. "This required a great deal of communication, as few people knew what they were doing. They had to ask each other questions like, 'Have you ever hunted or butchered anything?' or 'How do you feel about this?' It took them to a more primitive place."
There are a diverse range of accommodation options at Lake Wanaka, from serviced apartments to luxury lodges. Otago Boys' High School donated its backcountry lodge to Flight Centre Australia for the duration of their trip – a modest cabin in the middle of the National Park that sleeps approximately 30 people. Half of the team camped in tents outside, while the others slept indoors: a 'back to basics' alternative to usual hotel comforts and another way to encourage team building.
During and after the trip, the Flight Centre team's reactions to Lake Wanaka's natural beauty, people and activities were 'phenomenal' notes Flight Centre's Walley. "It was an incredible experience: the helicopter to the glacier, the jet boating followed by a freezing dip, and the canyoning – everyone who did that went through a few tears! But the friendliness of the people stood out the most. It's an amazing destination."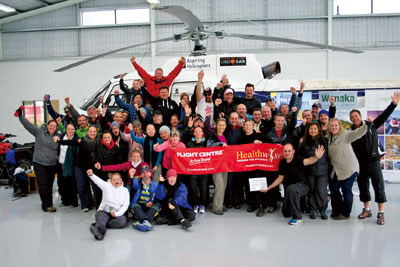 Organiser Lake Wanaka Tourism
Contact Geoff Marks
Tel +64 3 443 1581
Email geoff@lakewanaka.co.nz
Website lakewanaka.co.nz