EXCITEMENT among soccer fans as the European Championships kicked off  was harnessed by Pico as the brand activation agency blended artistic elegance and football fandom to launch the new Volvo XC60 in Shanghai.
Volvo, a brand with its origins in Sweden, saw the potential of connecting the launch with the Euros and Pico integrated a "football carnival" into the event at the Ansa International Convention Centre in Shanghai.
The event was held in a venue of nearly 15,000 square metres with Pico responsible for turnkey event management and on-site operations for the June 11 launch.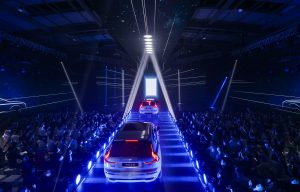 Highlights
The immersive nature of the event began even before the launch conference, with guests invited to a "mingle area" to enjoy interactive experiences designed to stimulate different combination of the senses while building anticipation for the new XC60.
A popular activity was the 360-degree panoramic photo experience – a hit among guests who wanted to capture the moment, and everything that was happening.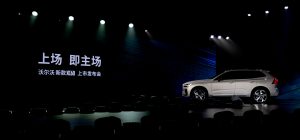 Guests could explore details of the Volvo brand at a series of display areas. One display focused on the brand's environmental protection philosophy and commitment to customer wellbeing, with a combination screen projection, scents and audio effects highlighting Volvo's interior materials and how it strives for balanced relationship with the natural world.
Holographic
Meanwhile, the performance and impressive technologies of the new XC60 were showcased with a stunning holographic projection.
A stunning holographic projection also showed the XC60's performance capabilities and technologies.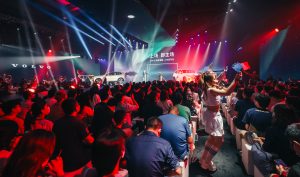 The experiential journey for guests culminated in the product launch conference which saw the latest XC60 unveiled with striking lighting effects on a metallic and futuristic-designed stage.
Music, including hits by singer-songwriter Jane Zhang, and dance performances add to the impact of the launch. A live band led guests outdoors to the football carnival featuring food stations, the new XC60 and a DJ who took over the audio elements and added to the Euro championship atmosphere.
Some 430 people participated in the event, including representatives from more than 260 media outlets, while 30-plus media took part in the live broadcast of the launch.