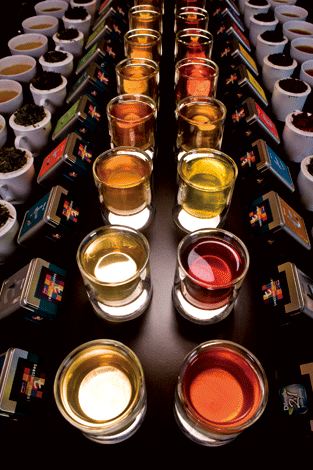 Tea may not be the most obvious starting place for a team-building incentive, but then Dilmah, a family-owned tea company with its own charitable foundation, is not your average tea company.
Activities for groups include the opportunity to drink some of the rarest handpicked tea in the world in breathtaking locations across Sri Lanka, and the chance to learn a thing or two about tea tasting, picking and processing – plus tea pairing and mixology.
TOURING AND TASTING
The programme typically begins in the Sri Lankan capital, Colombo, with an educational visit to headquaters where delegates meet either Dilmah founder Merrill J. Fernando or one of his sons, Dilhan and Malik (the word Dilmah is a combination of their names).
After the tour, which takes in various tea packaging processes, groups are introduced to a key skill needed when tea tasting: slurping the beverage from a spoon with noisy vigour, which makes a perfect group ice breaker. There's also a tea-inspired welcome dinner.
DISCOVERING TEA'S ORIGINS
Groups then travel out to the hill station town of Nuwara Eliya – renowned as the most important location in the country for tea production – for a plantation visit. Small groups can fly via seaplane, while larger delegations can take the scenic bus trip from Colombo, which takes around eight hours depending on traffic and road conditions. This picturesque journey takes in rural landscapes, charming towns and villages. Once beyond Kandy, the second largest city in Sri Lanka, the 1,868-metre climb above sea level has a rustic ambience, taking in rolling hills, houses teetering on hillsides, and stunning verdant tea plantations.
Accommodation is at the aptly named Grand Hotel, which was once the summer mansion of Sir Edward Barnes, a former British army officer who governed Ceylon from 1824 to 1831. Its historical character – think teak furniture and traditional English décor plus award-winning gardens home to rare roses – is complementary to the programme, which highlights the time-honoured practices of the plantation. The 18-hole Nuwara Eliya Golf Course lies adjacent to the hotel and offers some of the best golf in the country, at one of Sri Lanka's oldest clubs.
The best time to visit the plantation is in the morning as the sun begins to stream onto the slopes. After a short bus journey from the hotel, groups watch tea being handpicked and then try to pick the leaves and buds themselves.
Seeing the care that goes into each production process and drinking tea from the estate is an immersive experience. It highlights the extensive team effort required to create a good cup of tea, and may inspire groups to view their own team efforts in a new light.
TEA TERROIR
After experiencing the intricacies of tea growing and manufacture, groups return to Colombo – perhaps stopping at Kandy on the return for sightseeing or shopping – for educational tea seminars.
Here, delegates learn about the difference terroir makes to tea by sampling a tea grown in three different locations to enable an experiential application of the theory. Other team-building activities that planner can consider include a tea-paired lunch, a tea cocktail competition and how to brew the perfect cup of tea. Additional options that can be added are seminars on the science behind tea's status as a health drink, and how to profile tea like a professional. To provide further motivation, organisers can arrange for gifts for teams that make the best tea cocktail, for example.
Groups involved in the food and beverage industry can further enrich their tea knowledge by signing up for a more comprehensive "Train the Trainers"-style programme. Delegates not affiliated with food and beverage, meanwhile, will find value in team-building sessions that are such fun you forget that you've not had a cup of coffee.
CONTACT
Grand Hotel, Nuwara Eliya
grand-hotel-nuwara-eliya-sri-lanka.ww.lk
Dilmah