WHEN the authorities in Hong Kong decided to close local libraries as the Omicron wave gripped the city, it threatened arts and culture exhibitions such as Ink Global 2021.
The Brief
Due to renewed of social-distancing restrictions, the physical exhibition came to a premature halt. With the help of brand experiential experts Pico, the event based at Hong Kong Central Library was soon transformed into a virtual exhibition tour which enabled online visitors from around the world learn about ink artwork using an immersive experience.
InsightPico needed to create something more than simply a substitute for the physical event, which had opened on Christmas Day, but forced to close to in-person visitors a month later as the city's fifth wave of Covid struck.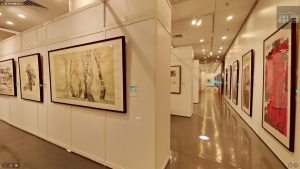 The team used 4D-mapping technology to develop a 360-degree virtual exhibition hall. As well as providing visitors with an engaging, immersive experience, the virtual exhibition offered 24/7 accessibility across geographical boundaries, opening it to a potentially larger number of visitors.
Solution
Pico was initially appointed to provide design and build services for the physical exhibition hall. To create the basis of a virtual exhibition, the team carried out a 4D scan of the hall. Visitors could take a virtual tour which "walked" them through the exhibition's five collection categories. Pico also provided website services to facilitate the online visitor experience.
More… How digital mapping enhances events
As in a physical tour, visitors could pause at individual works to view them more closely and move their cursor to an artwork's information plate to learn more. Visitors could also re-enter the exhibition at any time over its duration.
By transforming a physical exhibition into a virtual event, Ink Global 2021 continued to run and was offered to a potentially wider and larger audience than may have been possible in a solely physical format.