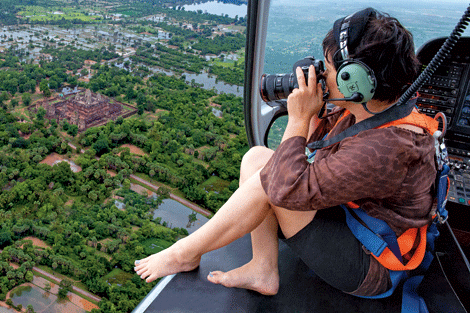 It's only natural that Angkor Wat is the first thing that springs to mind when Siem Reap is mentioned. While the impressive temple ruins are reason enough to visit, there is so much more to the destination. With this in mind, the management of La Résidence d'Angkor, an Orient-Express hotel, has put together a range of stimulating, often exclusive, off-site activities for small groups, designed to provide a more immersive experience of this upcoming Cambodian hot-spot.
GOLDEN TICKET
One tour that is sure to entertain delegates is a trip to silk farm Golden Silk, which begins with a scenic drive from La Résidence past verdant fields, rice paddies and through tiny villages, giving participants a glimpse of local life. Golden Silk founder, Sophea Oum, former director of the National Centre of Cambodian Silk, only opened the farm to the public in 2010, and even then by arrangement only. Using a rare golden silk worm that produces a finer silk than those normally used, Golden Silk make eco-friendly, hand-dyed products that are sought after by royalty and celebrities. The company is helping keep this cultural art form alive, and the farm has empowered more than 100 women by providing them with skills and an income. Sophea personally guides small groups through all the stages, from the moth to the finished product. At the end of the tour, there is the opportunity to attempt weaving – not as easy as it appears, but a fun team-building activity nevertheless.
EATING OUT
After the Golden Silk tour, the hotel sets up a champagne and canapé reception on an open air terrace. The pièce de résistance, however, is the return journey via helicopter, which delivers stunning views of Angkor and the surrounding area.
Also new is the hotel's "Dine Around Tour", perfect for foodie groups short on time but who want to explore local cuisine. It begins with an amuse-bouche at the hotel's Martini Bar. Guests then take to the streets in a motorised tuk tuk, stopping at three restaurants, each serving Khmer cuisine with its own signature twist. The evening ends with a cocktail in the vintage Shanghai-inspired Miss Wong cocktail bar – try a lemongrass collins or an apricot and Kaffir lime martini – which is just around the corner from the city's nightlife hub, known as Pub Street. The drivers then return groups back to the hotel.
FOR THE INTREPID EXPLORER
For groups interested in photography, the hotel has recently introduced a thrilling heli-tour that takes to the skies for stellar photo opportunities.
The hotel is also working with the recently established Indochine Ex, an eco-tour company, which provides kayaking, hiking and cycling tours catering to all fitness levels. A must-try is the countryside walks to hidden temples, where groups can channel their inner Indiana Jones or Lara Croft and are likely to be the only people at these stunning Angkorian sites. Groups can expect to be delivered by tuk tuk then make their way through picturesque rice paddies and through jungle-like terrain to a clearing with an ancient temple that would be otherwise impossible to find. Other walks can lead to a lakeside for a Khmer cuisine picnic, provided by the hotel, among temple ruins. More action-packed options organised by the hotel include quad biking, zip lining and golf.
GIVING BACK
Helping an NGO can inspire a group and encourage team-building – and it doesn't need to involve any money for planners. The hotel works closely with two NGOs including Together for Cambodia, which provides orphans with a home, and disadvantaged children with educational opportunites. Twice a week, children visit the hotel to practice their English with organisation's president and founder, Lidia Ginesta.
VISA MATTERS
Visitors who require a visa can apply on arrival at Siem Reap. The cost is US$20 per person and a passport photo is required. There is a simple form to complete and the process is quick.
MEETING FACILITIES
The hotel has a meeting room that can accommodate 18, and meetings can also be held in outdoor areas for up to 30. Cocktail receptions for up to 80 and sit-down dinners for up to 70 (indoor/outdoor combo) can also be arranged.
THE PROFESSIONALS
Golden Silk
HNZ (Helicopters Cambodia)
Indochine EX
Together for Cambodia