CREATIVES and technicians from the world of television and theatre have long been finding new opportunities in live corporate events by drawing upon their experience in producing live broadcasts.
Peter Pecotic and Mark Lucas decided to combine their talents in live shows and TV studio production at a time when the Covid pandemic prompted a shift to online livestreaming with participants in multiple locations.
Winning Pitch
Pecotic, managing director of Turning Point Solutions and Lucas of LucasMinghella, recently produced and delivered Australia's first live online interactive campaign launch for clients the Australian Labor Party.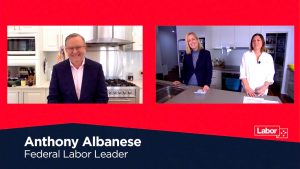 "The idea was borne first of all from necessity – how do you launch a campaign under lockdown conditions?" This part of the brief from clients New South Wales Labor required Pecotic to find a new format for political rallies – and it proved to be a winner, especially in helping Labor to an historic byelection win.
The community-based launch developed by Lucas and Pecotic could be used beyond lockdown.
"Instead of crowds being bussed to big halls to listen to set-piece speeches, the campaign launch of the future will connect local people with political parties and the media in a genuinely interactive and community-led way," Pecotic said.
Highlights
A mobile broadcasting unit was set up in the garage of candidate Kristy McBain's home, bringing together Zoom, Twitter, Skype and Facebook formats as well as traditional TV cameras and production values to create more than an hour of live TV.
Some 800 community activists and supporters were live on screen as McBain introduced the campaign from her own kitchen.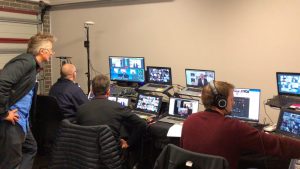 "We then cut live to various business and community groups around the area who were able to contribute live from their own homes, workplaces and even the Tathra Pub to the event," said Pecotic.
"Pre-recorded VTs and a live piece from ALP Federal Leader Anthony Albanese from his own kitchen added to the rich mix of content.
"On the same day that President Trump held a lacklustre traditional event to a half-empty hall, Australian Labor offered a vibrant, accessible and community-focused event that was TV and web friendly."
Upshot
Kirsty McBain, who won the by-election for the Eden-Monaro parliamentary, said: "For me, it's all about the community, and here in Eden-Monaro we have such a geographic spread that launching online like this was the best way to include everyone and really bring everyone together."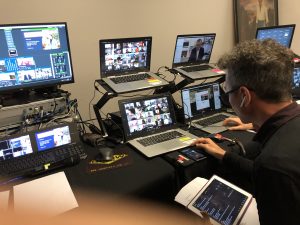 Lucas said of the production: "We cannot go back to the old ways. New times require imagination and a new way of thinking. Our online campaign format delivers a high level of engagement using an exciting new platform."
Pecotic added: "I am very proud to have put together a world first. We have learnt a lot along the way in developing this format. It is not just about the technology, but about moulding a format that can engage and inspire. It was great to see Kristy's face when hundreds of waving community members appeared on screen at once."