KOREA'S coastal event capital Busan recently pulled out all the stops to provide meeting industry influencers from Taiwan with a first-hand experience of the city's rapidly growing business event infrastructure through a four-day familiarisation tour.
Running from August 28-September 1 and hosted by the Busan Tourism Organisation (BTO), the packed tour included visits to some of the city's newest unique venues, as well as some of the more well-established facilities, and the opportunity to get hands-on with Korean cuisine.
BARBEQUE
Specially invited by BTO organisers, the six participants included travel agency executives and also journalists from major Taiwanese meeting industry magazines such as Xinmedia and TravelRich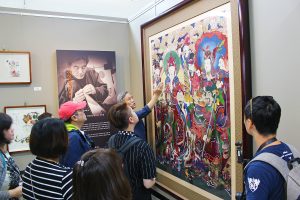 Unique venues featured in the tour included art spaces the Busan Traditional Gallery of Art and Museum DAH – which both opened in 2019 – as well as dining facilities such as seaside restaurant La Bella Citta and Korean barbeque favourite Pungwon Jang. Stops were also made at Busan's top convention centres BEXCO and the Busan Port International Convention Centre, as well as new hotels the Centum Premier and the Asti.
Popular local sightseeing attractions also featured, with participants welcomed by a special LED sign at Hwangnyeongsan Observatory, stepping into traditional Korean clothing at Yongdusan Park, and the chance to come up close with one of Busan's newest community-driven ecotourism projects at Hocheon Village.
A particular highlight for the group was the opportunity to try their hand at cooking authentic Korean cuisine competition-style under the supervision of a local chef.
DEEP HISTORY
Commenting on the tour's core goals, Jun Sanghun, director at the BTO's Convention Bureau division, said: "We really wanted to show participants Busan's unique – and in some cases 'hidden' – side, hence our decision to focus mainly on new venues and attractions only just becoming popular even with the locals.
"Busan has a deep history while at the same time is undergoing a rapid phase of new development, and so we were keen to show both these aspects," Jun said.
Tour participant and Taiwan travel agent incentive manager Chan Yiyu enjoyed the unique itinerary, saying: "I really enjoyed this fam tour a lot because of all the new and unique venues and tourist attractions on the schedule. Usually, I find fam tours quite boring because they often take me to places I already know and can easily find by myself on Google."
WEEKLY FLIGHTS
Xinmedia journalist Fu Xiufu agreed. "I've been to Busan and Korea in general many times, but this fam tour was the best, since we got to see many new venues and tourist spots. The effort by BTO to mix Busan's past, present, and future was great."
The familiarisation tour is the latest example of ongoing BTO efforts to engage the Taiwanese meetings market, following on most recently by a special Busan roadshow hosted at the W Taipei in the island's capital from July 1-4.
In response to increased inbound travel from Taiwan, local low cost-carrier and tour co-sponsor Air Busan now offers 17 weekly flights between the Korean port city and Taipei, as well as nine weekly flights between Busan and Kaohsiung.