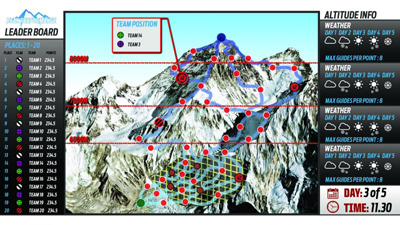 Scaling the world's tallest mountain is a far-off fantasy for most, let alone as part of a corporate bonding effort.
Malaysia-based teambuilding provider Asia Ability has yet to get groups on the actual slopes of Mount Everest, but organised a virtual expedition for more than 500 conference guests to in April.
The company worked with three different clients in Kuala Lumpur, Bangkok and Singapore to launch its newest teambuilding solution – Peak Performance.
Winning Pitch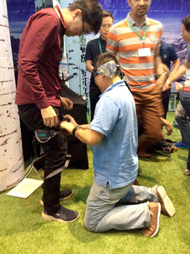 The tablet-based game takes teams on a simulated 20-day climb to mountain's summit, incorporating challenges en route.
The three participating conference groups, whose identities were not disclosed, are leaders within the IT hardware and services, financial services and telecoms sectors.
"We are grateful and appreciative of the long-term working relationship with all three clients," said Paul Russell, senior consultant at Asia Ability.
Highlights
Russell said Peak Performance has "benefited from significant investment and development to include client requirements for both hi-tech and active components".
The three groups tackled "Everest's perils" from the somewhat less treacherous settings of the Intercontinental Hotel Kuala Lumpur, Amari Watergate Bangkok and the Huone Events Hotel Singapore.
Teams aimed to guide their clients to the peak and back to base camp, completing a series of tasks along the way. There were 511 participants in total, with group sizes ranging from 50 to over 340 people.
Delegates were encouraged to consider client fitness levels, weather, best route, acclimatisation, use of oxygen, pitching tents – and strategies to outwit other teams. The activity also featured mountaineering related challenges.
"There was much energy and loud laughter as participants took part in unfamiliar cold weather tasks that included: racing to put on heavy winter clothing, hats and goggles to pose for a photo on the summit, struggling to put on bulky climbing harnesses blindfolded, tying knots in climbing ropes or putting away complex tents as quickly as possible," said Russell.
Upshot
Russell said Asia Ability was "proud" to have launched Peak Performance in "three major conference destinations".
"We look forward to delivering this exclusive event to more of our clients across Asia in the near future as a member of the Catalyst Global Team building network."
CHECKLIST
Event: Peak Performance launch
Organiser: Asia Ability
Attendees: 511
Big moments: Mountaineering challenges: timed tent packing ups, blindfold climbing harness challenges, sleeping bag stuffing
DATE: April 4, 6-7, 2017