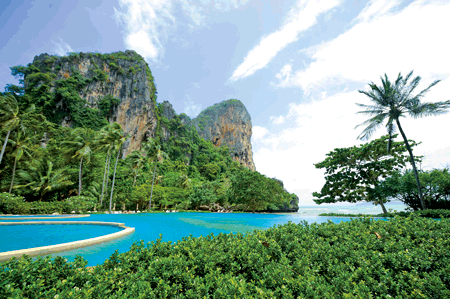 According to official figures published by the Thailand Convention and Exhibition Bureau (TCEB), Thailand saw more than 800,000 MICE visitors in 2012, exceeding the country's annual target by 19 per cent. A strong mix of accessibility, business facilities, exceptional incentives and world-class hotel brands, such as Sofitel, Ritz-Carlton, Amari and Thailand's own, Centara, complement the country's events infrastructure. The challenge, then, for TCEB and others promoting the country, is keeping the destination fresh and bringing groups back for repeat business.
The Andaman Cluster is just an hour's flight away from Bangkok and is currently being promoted as an adventurous destination for business events visitors to Thailand. Phuket is the most prominent destination among the cluster of islands on the Andaman coast. Even among infrequent travellers, the island is a familiar name. Tourists and holidaymakers regularly flock to its pristine beaches and sun-drenched coastlines and the the exciting nightlife. As one of Thailand's four official MICE cities – the others being Chiang Mai, Pattaya and Khon Kaen – event planners also know that Phuket is capable of delivering. Such familiarity unfortunately detracts somewhat from the spirit of adventure.
Krabi is a relative newcomer to the business events scene, but is an ideal pre- and post-meeting destination. Over the last few years, many honeymooners and other smitten couples have snuggled up at one of the many resorts offering escapism, legendary Thai hospitality and value for money. Brands that can be found along this gorgeous stretch of coast include Outrigger, Centara, Sofitel and the Ritz-Carlton Reserve – one of only four of the brand's elite reserve properties.
Even with its portfolio of established hotels, Krabi epitomises adventure. The excitement is largely thanks to the local environment, a beautiful network of 200 or so islands, limestone outcrops and, beneath the waves, rich marine life. Naturally, this is a haven for those who love to explore, climb, dive and discover.
TCEB recently arranged an incentive trip for a group of 20 delegates from Asia, Europe, Australia and New Zealand. The three-day, two-night trip came after a large conference in Bangkok and showcased Krabi's potential as an adventurous destination.
A one-hour flight transferred the group from Bangkok to Krabi International Airport. The airport itself is well serviced, with Thai Airways operating daily flights from the Thai capital. Air Asia also flies in from Kuala Lumpur, while Tiger Airways has regular services from Singapore.
The first port of call on the group's itinerary was Beyond Resort Krabi. Here, the group enjoyed a candlelit meal on the beach. Opened in 2012, this contemporary resort on Klong Muang Beach has 170 rooms and a large ballroom that can host 350 guests theatre-style.
After dinner, the group moved on to the Sofitel Krabi Phokeethra Golf and Spa Resort, which would serve as a base for the duration of the trip. With 276 rooms, 26 suites and a neighbouring golf course, the resort is ideal for business groups visiting Krabi. Upon arrival a candlelit path led to the reception foyer and, while group check-in took place, the delegates were distracted by a James Bond-themed performance. Vodka martinis were distributed while an operatic performance of the latest Bond theme held the group's attention. To complete the experience an actor dressed as Britain's favourite spy mingled with the group – complete with Bond girl.
Check-in complete, the group was given free time, but armed with the advice that a packed schedule was arranged for the following day, most retired for the evening. The early start led to a high-speed boat ride out to Koh Kai, or Chicken Island as it's known, thanks to the namesake resemblance.
Here, the group took part in a CSR activity called Releasing Nemo. Under the watchful eye of conservation professionals, clownfish fry were released into the coral reef. Vital to the wellbeing of local marine life, supporting the population of this endangered species is a worthwhile activity.
For lunch, the boat took the group across the Andaman Sea to Rayavadee Resort on Railay Beach where they enjoyed a Thai buffet. A high-end retreat popular with couples, the resort has 100 private pavilions and its own private beach. For incentive groups, Railay Beach is an ideal location for activities, particularly rock climbing and kayaking. Around the cove, groups can discover countless limestone caves and other geological formations, which can be navigated on the sea or conquered by climbing. Rayavadee Resort offers lessons, and a number of other organisations can also facilitate such activities.
Another high-speed boat ride delivered the group back to their origin. The evening was spent enjoying a Thai banquet at the Ritz-Carlton Reserve, one of the most luxurious properties available in Krabi and, indeed, Thailand. Suitable for high-end incentive groups, the resort comprises 54 one-bedroom villas, each with outdoor bathing facilities and exceptional views over Phulay Bay. Although each villa is secluded, groups can come together for events on the hotel's lawn and the TCEB group enjoyed a cocktail reception here during sunset. Another popular activity is the elephant encounter, where groups have the daily opportunity to meet with a baby elephant, brought in by handlers who explain the role they play in traditional Thai farming methods.
The group's final day gave them a choice of activities. Those captivated by the spirit of Andaman adventure had the opportunity to go rock climbing or canoeing. Delegeates could choose a more sedate experience, however, and indulge in one of Thailand's most famous exports – a massage.
With the incentive component complete, a final business meeting dovetailed into a beachfront barbecue and farewell dinner at the Sheraton Krabi. This 240-room resort hotel also features event facilities with the largest indoor venue capable of hosting more than 220 guests. Its beachfront location, however, means that large outdoor functions are a speciality.
Krabi's coastal offerings mean that beach-based activities can form the core of any incentive trip here. Although meetings and accommodation can be well catered for by the large number of established brand resorts, Krabi's real draw is its adventurous environment. From vital CSR activities to exhilirating exploration by canoe and adventurous rock climbing, a trip to Krabi is an invigorating experience.even for those who know Thailand well.