CHINA's biggest international business event is preparing to welcome its first overseas buyers and suppliers since Covid forced the exhibition into mainly online formats for the past two years.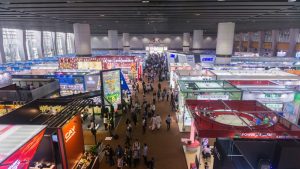 More than 500 companies from nearly 40 countries and regions are expected to participate at the import sections of the Canton Fair, which runs in Guangzhou in three phases from April 15 to May 5, and will see expanded space is. An autumn edition of the fair is held in October.
The first batch of imported exhibits for the fair, which is officially titled the 133rd China Import and Export Fair, arrived from Thailand on Sunday, Xinhua reported. The Thai-made products include pruning machines, air coolers, spray machines and other products suitable for agricultural production, the news agency said.
China's Ministry of Commerce spokesperson, Shu Jueting, said a new venue at the Canton Fair complex called Area D will be used for the first time. This would expand the exhibition area from 1.18 million to a record-breaking 1.5 million square metres.
Backgrounder… Hope rising in southern China
Organisers estimate that more than 30,000 Chinese and overseas enterprises will take part in the trade fair. The Chinese enterprises will include more than 5,000 leading manufacturing and high-tech enterprises, according to the Xinhua report.
The Canton Fair has been held twice a year since 1957, and is considered an important window for China's opening up and a premium foreign-trade platform for Chinese companies to develop international markets.
Main picture: Digitally enhanced image of the Canton Fair site in Guangzhou