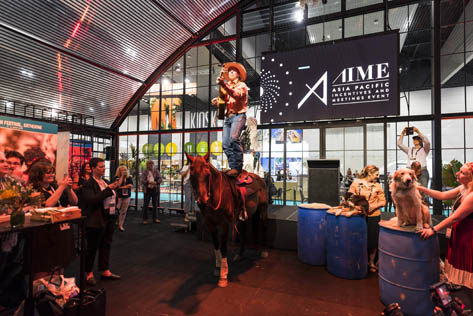 AIME 2019 drew to a close with new faces among the buyer contingent, a horse and working dogs taking centre stage and a commitment by show owners Melbourne Convention Bureau to adopt a more community-focused approach.
The Asia-Pacific Incentive and Meetings Event, on February 18-20, saw a freshly overhauled show managed by Talk2 Media, which took the reins of what is regarded as the region's foremost gathering for organisers of business events, incentives and conference travel.
The annual event had previously been managed by Reed Travel Exhibitions as part of a portfolio that included the Ibtm show business travel and meetings shows.
Melbourne-based Talk2 Media promised a newly revamped show with the most striking design change being a Victorian-style pavilion dominating the showfloor. The space on either side of the structure was used to host the twice-daily networking breaks with the main pavilion reserved for special events.
Star of the pavilion, however, was Australian country music singer Tom Curtain who rode in one of his trusty steads complete with guitar.
Curtain led the Northern Territory Convention Bureau's showcase lunch featuring aboriginal cuisine alongside morsels that included crocodile and mud crab.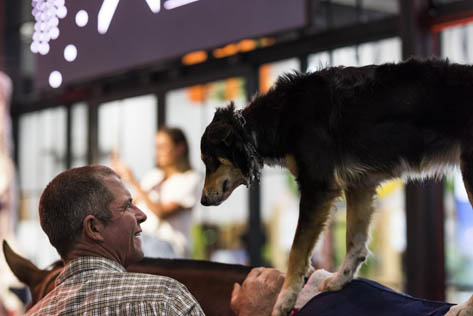 But Curtain's working dogs and horse stole the show by highlighting another attraction in the Northern Territory for visiting groups with his outback performance being available to organisers of business event itineraries.
Working animals – this time for the visually impaired – were also the subject of a community cause adopted by AIME with Dialogue in the Dark hosting a Knowledge Program workshop in which delegates experienced the daily challenges faced by people with blindness.
At a press conference hosted by Melbourne Convention Bureau and Dialogue in the Dark, bureau chief executive Karen Bolinger said: "We felt really strongly to integrate something like this into AIME to showcase how business events can benefit causes and have a real sense of purpose in communities long after you've left the destination.
"Working with guide dogs has started to open up a new way of thinking. We want to raise awareness in the business event community about disability awareness, especially for those with low or even no visibility."
More from AIME: MCEC calls shots on coffee, apples and beer filters
Bolinger said the raising of awareness among business event organisers would include the removing of physical barriers, beacon-based phone apps to alert the visually impaired to road construction or obstacles, and menus with larger fonts.
"When we sat down to talk about AIME, a lot of people say it's the first time of the year when we get together, but they want something more [like] looking at things such as inclusivity and accessibility,
"So we wanted to immerse ourselves into something that would make a change – and it's a good change. It's only the first step in our journey going forward."
Take 5: Unique venues in Melbourne
One of the new hosted buyers at the show was Papat Prajyabhorn, general manager of Marwin Tours (Asia) and a member of the Thailand Incentive and Convention Association. He told MIX that he gave AIME 2019 at "70 per cent" rating in his "personal satisfaction score".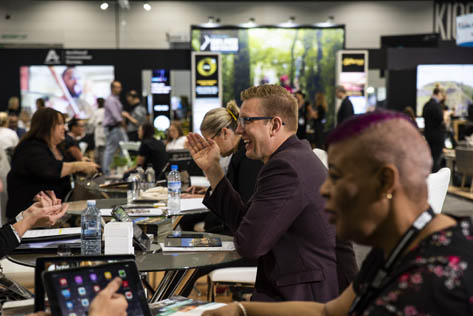 "More Thais are going abroad, so I came to seek businesses that I can work with in future," said Papat, who previously worked with Marriott in Phuket before returning to Bangkok to help run the family business.
"The exhibitors and fellow buyers seem well chosen and I particularly liked the products in Australia and New Zealand where there's an opportunity for golf, as that is getting more popular with corporates in Thailand right now, but we're also interested in Asia destinations such as Japan."
He said the "30 per cent area for improvement would probably come in the show reflecting the Asia marketplace more".