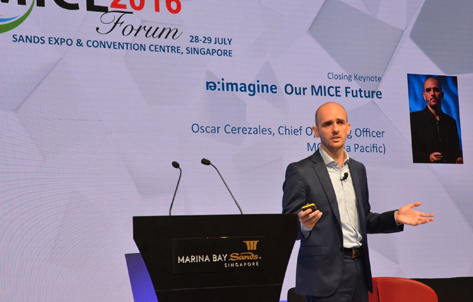 SINGAPORE MICE Forum will be encouraging community building under the theme of "wired to connect".
SMF2018 takes place at Victoria Theatre and The Arts House, July 24-25, with an event that MCI's Oscar Cerezales says will provoke, surprise and inspire.
Cerezales, who is organising chairman of SMF2018, says this year's forum will feature more breakout sessions, to encourage different levels of interaction and fresh ideas.
Organisers promise that delegates will be challenged to "unlearn old structures" while adopting "new approaches as they explore the world of community building".
"The old ways of peer-to-peer interaction are no longer enough. We want to fundamentally change the way we've been meeting," says Cerezales.
"We are defying status quo in the way we learn and interact. This is an unconventional convention, an intersection of multi-disciplines. It is time for us to meet outside our industry, to learn a different way of thinking, connecting and engaging communities."