SILKE CALDER has moved from Messe Frankfurt to become AIME event director to lead the Melbourne show's first hybrid event taking place from March 15, 2021.
She joins  Talk2 Media & Events, which manages Asia Pacific Incentives Meetings Event,  to spearhead the show's new digital and hybrid model.
Silke brings more than 20 years of experience across creative agencies, international trade conventions and venues,
Talk2 Media & Events CEO Matt Pearce said Silke's appointment showed a commitment to accelerating the show's growth into next year.
"It's undoubtedly been one of the toughest years for our community that we've experienced in a generation," said Pearce.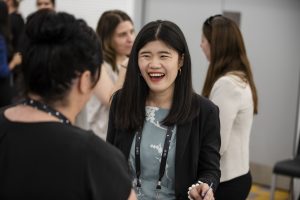 "The appointment of a strong leader, particularly as we look to launch AIME's new hybrid model, means we are strengthening our mission to grow business for those attending the event – both physically and virtually."
With a recent role as head of sales guest events at one of the world's largest trade fairs and venues, Messe Frankfurt Venue, Silke will help deliver AIME's first hybrid event as the business events industry seeks recovery.
"The opportunity to deliver the event's new format and pave the way for more innovative means for our industry to conduct business is incredibly exciting," Calder said.
AIME 2021 reveals new dates, hybrid format
"Now more than ever, we must harness the power of technology to come together and get business back on track.
"AIME's DNA of connecting quality buyers and exhibitors to create meaningful connections has not changed, but rather adapted, and I am honoured to be able to deliver what I know is sure to be a stellar event for those attending," she said.
More… AIME breathes sigh of relief
Calder's experience leading international events goes hand-in-hand with AIME's new hybrid model, with 2021 presenting more opportunities for international delegates to attend without any geographical barriers.
AIME is touted the first event to kick off the 2021 business events calendar live at Melbourne Convention and Exhibition Centre March 15-17 and available until March 26.
For more details or to submit interest in attending AIME in 2021, visit aime.com.au.