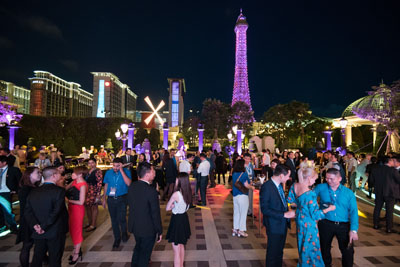 Sands Resorts Macao hosted a four-day familiarisation experience entitled "The Ultimate Download – Asia's Leading Meetings & Events Destination" for 150 international convention and exhibition professionals including 20 media from around the world to highlight the latest range of impressive offerings at the integrated resorts' seven hotels, as well as Macau's wider cultural and heritage attractions.
Meeting professionals and media from Australia, USA, New Zealand, Europe, Japan, Korea, Singapore, India, Israel, the United Arab Emirates and Greater China were invited to attend the initiative, held between June 26-29, where they could experience Sands Resorts Macao's extensive range of meeting packages, facilities and services first-hand.
The event, which was two years in the planning, incorporated numerous activities across the four days, including sales presentations from The Venetian Macao; The Parisian Macao; Four Seasons Hotel Macao, Cotai Strip; The St. Regis Macao, Cotai Central; Conrad Macao, Cotai Central; Holiday Inn Macao, Cotai Central; and Sheraton Grand Macao Hotel, Cotai Central. Topics included updates on all of the entertainment, dining, transportation, retail, audio-visual available to meeting organisers.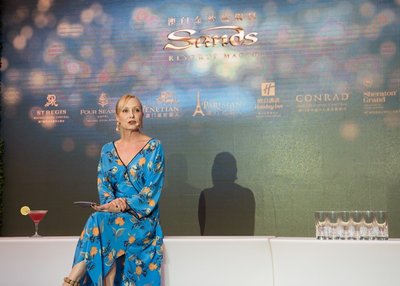 Ruth Boston (above), SVP, marketing and brand management, Sands China said: "The Ultimate Download – Asia's Leading Meetings & Events Destination has offered a great opportunity to showcase not only our world-class hotels, but also everything we can deliver in the meetings, conference and incentives arena. Nowhere else will you find seven international hotels with 13,000 guest rooms and suites, 850 stores, 150 restaurants, three theatres, an arena and 150,000 sqm of meeting space all under one roof.
"One of the other key messages we wanted to get across to the participants was the wonderful culture and heritage of Macau, including its Unesco world heritage sites. The event also allowed us to strengthen our ongoing relationships and future cooperation with this influential group of convention and exhibition professionals from around the globe."
The Ultimate Download kicked off with Bon Vivant – a French-themed welcome cocktail party (main picture) at The Parisian Macao poolside area. It also included Ultimate Connect, a mini-conference with Q&A sessions covering a range of meetings and events industry hot topics, Ulti-Mart which showcased Sands Resorts Macao's properties and other offerings as well as Macau itself as a destination and Ultimate Chef, which saw delegates form teams to take part in a thrilling cooking competition.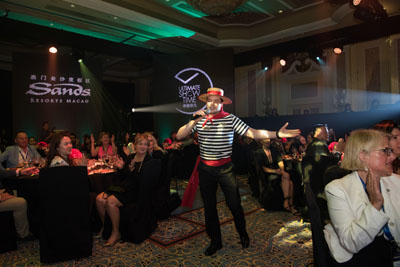 The final event was Ultimate Show Time – a gala dinner which demonstrated Sands Resorts Macao's range of products and services, including gourmet dining, world-class entertainment acts and audiovisual displays.
The Ultimate Download – Asia's Leading Meetings & Events Destination also focused on green meetings programme, Sands ECO360˚, offering delegates environmentally responsible choices.
Dining at Sands Resorts Macao was also showcased across the event, from a Macanese and Portuguese fiesta luncheon at Sheraton Grand Macao Hotel, Cotai Central, to The St Regis Macao, Cotai Central's signature Midnight Supper, a Gala Dinner at The Venetian Macao, and a Michelin Experience lunch at Four Seasons Hotel Macao, Cotai Strip.
Another of the integrated resort's key pillars is entertainment, as well as meeting professionals and the media enjoyed the Michael Jackson tribute show Thriller Live currently being performed at The Parisian Theatre, and a unique cocktail party set in Ice World, Asia's largest indoor frozen wonderland, now taking place at The Venetian Macao, which features a host of colourful new DreamWorks Animation characters.
The event also catered to the fitness fans with morning yoga, tai chi, boot camp and pool activities, as well as other bespoke activities such as:
• Discover Macau via a Skywalk on the top of the 338-metre Macau Tower;
• Get back to nature with a Macau trail hike and trek;
• Traditional Macanese/Portuguese egg tart culinary class;
• Learn about Macau's history and culture with a guided walking tour.
For more about the event, read Ultimate Connect