GLOBAL business travel and events costs are set to climb higher through the remainder of 2023 and into 2024 – but at a much more moderate pace than the steep increases seen last year.
These are among the findings in the 2024 Global Business Travel Forecast, published by CWT, the business travel and meetings specialist, and the Global Business Travel Association (GBTA), the world's largest business travel trade organisation. 
Rising fuel prices, labour shortages, and supply chain challenges, coupled with high demand, caused travel prices to skyrocket in 2022, while lingering economic uncertainty and a gradual easing of supply-side constraints are expected to result in more subdued price increases over the next 12-18 months, according to the report.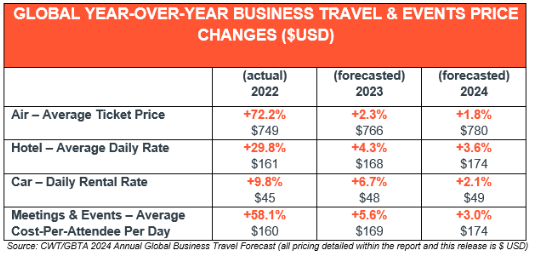 "A potent combination of demand and supply-side pressures propelled travel prices higher than expected last year," said Patrick Andersen, CWT chief executive.
"Looking forward, prices seem to be levelling off with much milder increases projected over the next 12 to 18 months. We could now be looking at the true new cost of travel. Our focus remains on helping our customers find the right strategies and solutions to get the most out of their travel budgets, meet their ESG commitments, and maximise the ROI on their travel spend," Andersen said. 
INSIGHTS: MEETINGS & EVENTS
In-person meetings and events have rebounded more robustly than many had expected. Client acquisition and relationship building are key business goals that are not easily executed virtually. There has also been exceptionally strong demand for incentive trips, as companies seek to motivate and reward employees. CWT Meetings & Events has observed these trips becoming longer and more frequent and expects the trend to continue.
The average daily cost per attendee was US$160 in 2022. This is expected to increase to $169 in 2023 and then $174 in 2024.
Lead times for events remain short in this post-pandemic world. However, organisers should now look at 2024 with a 12-month planning cycle if they want to keep prices at a reasonable level. At the same time, consolidating transient travel and M&E spend can give buyers more leverage when it comes to negotiating pricing.
Suzanne Neufang, GBTA chief executive, said: "As this research outlines, it's clear that rising costs and pricing pressures will likely continue to be a significant factor in business travel for the foreseeable future. And as we experienced over the past few years, we may also continue to see different pricing fluctuations across industry verticals, business sectors and global regions. 
"While business travel continues to rebound, there will be a continuing balancing act among demand, cost, and ESG concerns. So, with a forecast ahead for more volatility, our goal is to provide insights like these to help travel buyers, suppliers, intermediaries and finance executives continue to understand, evaluate and adjust their business travel strategies."
The report sourced anonymised data generated by CWT and GBTA, along with publicly available industry information, and econometric and statistical modelling developed by the Avrio Institute.
For further details, including regional breakdowns along with insights and analysis on pricing trends, the full report can be read online, or download a PDF version here.