SYDNEY scored another success as soccer fans around the world cheered on the FIFA Women's World Cup with the hosting of a thousand delegates attending a conference dedicated to the global development of the sport.
The FIFA Women's Football Convention at ICC Sydney, held over the two days before the world cup final between England and Spain, delivered an estimated A$1.2 million to the New South Wales economy, according to Business Events Sydney.
Leaders from the world of football gathered on August 18-19 to discuss the development of women's football, while showcasing best practices to further inspire the growth of the women's game.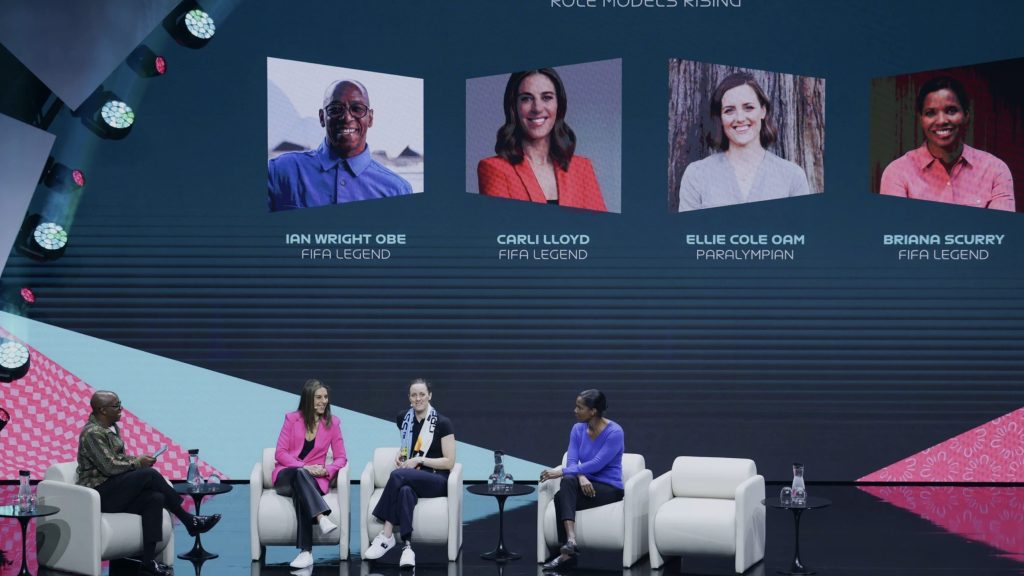 Among the big names at the conference was former England striker turned TV soccer pundit Ian Wright who hosted the opening panel on "Role Models Rising" with Paralympic superstar Ellie Cole, plus FIFA Women's World Cup-winners Carli Lloyd and Briana Scurry
The "Cultural Movement of Women's Football: The Investors" was moderated by former international and Football Australia board member Amy Duggan with a discussion featuring Andrea Fairchild, from Visa, David Neal, Fox Sports USA and Christine Holgate, of Team Global Express on the massive commercial opportunities available through women's football.
"Women's footballers are one of the biggest voices in women's inequality around the world. We can provide a stage to amplify those voices to fight all of those inequalities," Fairchild said.
Backgrounder… Australia sets goal with Fifa win
"To be able to do that gives us the greatest pleasure, to be able to move things forward and give young girls the ability to have those idols and icons to grow up to, and understand they have something to strive for and to be."
Panel discussions concluded with a preview of that weekend's FIFA Women's World Cup Final with Amy Duggan hosting two-time Women's World Cup-winning coach Jill Ellis, Ian Wright and FIFA Legend Melissa Ortiz. The trio reflected on their tournament highlights, on-field developments, expectations for the tournament finale and how England and Spain shape up ahead of the big match, which Spain won 1-0.
FIFA Secretary General Fatma Samoura signed off the convention and called on global football's leaders and stakeholders to invest in women's football following on from the 2023 tournament, which was hosted by Australia and New Zealand.
More… Sydney shines as Australia welcomes Asia buyers
She also thanked the Australian Government after Prime Minister Anthony Albanese promised to invest A$200 million to develop women's football in the country.
BESydney CEO Lyn Lewis-Smith said: "While the FIFA Women's World Cup has been an incredible event to entertain global audiences and showcase women's sporting excellence, the FIFA Women's Football Convention 2023 in Sydney is where advances in the business and the human sides of the world game will be made, creating a legacy to embrace, educate and empower women around the world through football."
Main picture credit: photographer Andy MacFarlane