A further deal has been struck between two convention and exhibition centres on either side of the Pearl River Delta to pave the way for a closer co-operation when a bridge linking Hong Kong with Zhuhai and Macau opens.
Allen Ha, chief executive of Hong Kong's AsiaWorld-Expo, told MIX that Zhuhai local government officials have given their backing to a "MICE expotainment belt" concept in the areas served by the bridge, which is expected to be completed in 2017.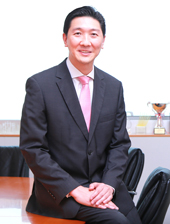 Ha was speaking between sessions at a leaders forum at Zhuhai International Convention and Exhibition Centre that culminated in the signing of the agreement.
The Hong Kong side of 29.6km tunnel and sea-bridge link across the delta starts near AWE and the city's international airport, and leads to the new Shizimen central business district where Zhicec stands alongside a Sheraton and a St Regis, which is due to open in June 2017. The sea link will also give better access to nearby Hengqin island, which is being developed as a business and tourism destination with close links to neighbouring Macau.
Allen Ha, who also sits on the Chinese People's Political Consultative Conference for Zhuhai, recommended to officials at the beginning of the year that the cooperation formed after an initial MOU was signed between the two venues in 2014 be built upon.
"Another hat I wear is as a member of the CPCC of the Zhuhai government, and what I proposed in January to the [local] government was to develop what we call a 'bridgehead MICE expotainment belt', which was very favourably received," said Ha.
AWE has hosted mega-incentive gatherings for the likes of Herbalife and Nu Skin as well events ranging from trade shows to pop concerts. Since opening in October 2013, Zhicec has become a major venue for conferences and exhibitions drawing attendees from across China.
"We are anticipating that when the bridge between Zhuhai and Macau is connected it will really link the two regions, which have a lot of advantages on both sides," said Ha. "When we look at collaboration, we can both increase our footprint and especially attract overseas MICE organisers and visitors to come not only to Lantau and Zhuhai, but come to an increased area with a variety of offerings. We're exploring the concept of one event, two destinations."
Ha also chairs the Lantau Development Alliance, which consists of business and local representatives on the island. Lantau has AWE and Hong Kong International Airport to its north, and country parks to the south. He said development in the north has been welcomed, but environmental concerns about "green tourism" were being addressed.
More hotels and commercial projects that will serve the new bridge are being planned for north Lantau along with a road link through Hong Kong's New Territories to Shenzhen.
The signing on April 11 was the culmination of the CCEES 2016, a conference to highlight the Pearl River Delta economic zone designated in China's 13th Five-year Plan. The conference culminated in an agreement signed by Enid Low, chief strategy officer at AWE, and Draper Fu, general manager of Zhicec.
The use of words in the phrase "MICE bridgehead expotainment belt" resembles the terms adopted by President Xi Jinping and his promotion of a "New Silk Road and Maritime Belt" strategy to create new international trading partnerships between China and its neighbours.