Six thousand delegates from skin care and dietary supplement selling company NU SKIN descended on The Venetian Macao between 16 to 18 December 2014 to celebrate the direct-sales company's 30th anniversary. Included in the celebrations was a three-day training programme which saw employees attend from across mainland China, Taiwan and Hong Kong.
'Fly to your dream' was the event's theme, which was complemented by a teambuilding activity that broke the Guinness World Record for the 'most people flying papercopters'. Since breaking a Guinness World Record in 2012 for the 'World's longest DNA chain model' in 2012, Nu Skin has fostered a tradition of teambuilding through breaking records, and has since broken 10 Guinness World Records. The 'paper-copter' record saw 4,500 delegates simultaneously flying paper helicopters on which they had written their greatest ambitions.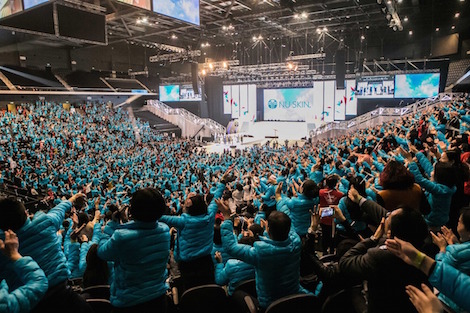 During the program, regional president of Nu Skin, Andrew Fan released his autobiography, which details his experiences at the helm of NU SKIN. Nu Skin raised US$71,000 from sales of the autobiography along with sales of distilled water. Proceeds will go to the company's Greater China Force for Good foundation, which partners with health and educational NGOs, sustainable projects and disaster relief organisations around the world.