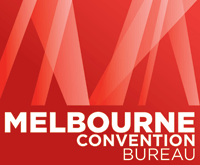 The city's convention bureau has a new name. The organisation, formerly known as the Melbourne Convention & Visitors Bureau, is now the Melbourne Convention Bureau (MCB).
"As part of our strategic business plan launched in May last year, we decided to go a complete rebrand in order to form a more holistic approach to our visual identity to assist us in creating clear and increased brand awareness, both domestically and internationally," said MCB chief executive Karen Bolinger.
The word "Visitors" is taken out to adequately reflect the organisation's core business. "We have to dissociate ourselves with leisure tourism, as MCB's sole responsibility is for the procurement of business events that attract delegates to Victoria," Bolinger explained, adding that "the new brand now clearly aligns us with our vision, mission and values".
Furthermore, the logo has been modernised, keeping the "M" silhouette but refreshing it with a vibrant and energetic red – adding colour gradients to create a spotlight effect and using a new, more contemporary font.
MCB's new branding has now been rolled out across all colaterals. More details of the rebranding will be revealed next week during Australia's inaugural Business Events Week, which will be running concurrently with the annual Asia-Pacific Incentives & Meetings Expo (AIME).
Gigi Onag