IBTM has announced first details of its Knowledge Programme for IBTM World Barcelona, due to take place at Fira Barcelona from November 30 to 2 December.
Designed to provide tangible learnings and innovative solutions for attendees in a post-pandemic world, the conference programme includes three keynote speakers, as well as a packed schedule of sessions around four topical themes: Trends and technology; gamification and engagement; the future of event planning (including sustainability, safety and security and government support); and career and personal development.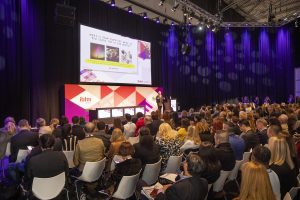 Keynote speakers are drawn from complementary industries outside of meetings and events, and include  Alba del Villa Olano, expert in digitisation and internationalisation who has addressed more than 20 international conferences and founded and directed several digital projects.
Villa Olano is a visiting professor at the University of Navarra and consultant for several leading Spanish companies. She will discuss how the digitalisation process affects the events industry and offer ideas on how event organisers can adapt to the changing landscape.
On day two, ex-Deutsche Bank and PwC executive Gian Power, who founded TLC Lions, will present an interactive and educational keynote session on the power of storytelling. Power will share his inspiring story and explore what he has learned about happiness and authenticity in the workplace.
More… It's elbow-bump etiquette for IBTM World
On the final day, Darren Coleman – the founder of Wavelength Marketing – will explore how event organisers can harness the power of experiences to make their events stand out. With over 20 years' brand marketing experience spanning both B2B and B2C, keynote speaker Coleman has helped organisations such as Orange, Nikon, Standard Life, Pepsi, BUPA, and UK Trade & Investment address a range of brand-related issues.
A further 65 Knowledge Programme sessions will be delivered by a diverse range of expert speakers from organisations including the United Nations Climate Change, LinkedIn, CrowdComms, American Express Meetings and Events, ICCA, VisitScotland, BBC Creative and more.
The programme also includes a specially curated Association Programme which will follow three core themes: inspire, exchange and solve.
David Thompson, event director, said: "Alongside quality face-to-face meetings and exciting networking opportunities, we know that knowledge acquisition is a key driver for attendance at IBTM World.
"We are also delighted to confirm that the Knowledge Programme will be fully CMP accredited."