International PCO and association management company Kenes Group is expanding its regional footprint with the opening of four Asia-Pacific offices.
The group has partnered with companies in South Korea, mainland China, Hong Kong and the Philippines to form the new offices.
Partners include: travel agency Kim's Travel for South Korea (Seoul office); event management company Global Link MP for the Philippines (Manila office); and destination management company Destination China for Hong Kong and mainland China.
Eric Ben-Harrous of Kenes on creating a global conference brand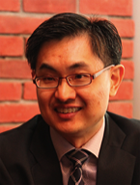 "With the representative programme, we build ideal environments for our events, where our representatives ensure our operations onsite are impeccable," said Jason Ng (right), managing director Kenes Asia.
"We make use of the purchasing power of Kenes Group complimented by the positioning of Kim's Travel, Global Link MP, and Destination China in their respective destinations."
Kenes Group has been operating in the region since 2008 through its offices in Bangkok and Singapore.
Long-term clients and events include Annual Asia Pacific Dental Congress (APDC) and the Congress of the Asia Pacific Initiative on Reproduction. APDC 2017 is being held in Macau, May 22-15, and the 7th Aspire 2017 – the annual initiative on reproduction congress – will be held in Kuala Lumpur, March 30 to April 2.