TURKEY hosted its first international business event in six months with a beauty and wellness exhibition held in Istanbul under government safety guidelines.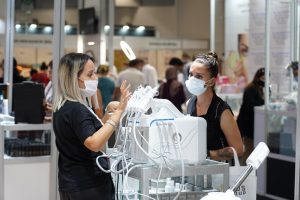 Some 25,000 participants are expected to attend the three-day CNR Beauty & Wellness Fair at Istanbul Expo Center. Organised for the third time, the fair brings together beauty, healthcare and cosmetics sectors under one roof with more than 500 brands exhibited.
The show is seen by Turkey's tourism chiefs as helping lead the return of business events and the re-opening of the country's tourism industry.
Turkey's Ministry of Culture and Tourism has been supervising the Safe Tourism Certification Program while the Union of Chambers and Commodity Exchanges of Turkey is implementing health and safety protocols for all business events.
Both these programs are aimed at enabling visitors for fly, book accommodation and participate in business meetings in Turkey under advanced health and safety standards.
A spokesman for Turkey Tourism Promotion and Development Agency said the country's meetings industry increased at a fast pace over the past 20 years and was ideally located between the European Union, North Africa and the Middle East.
"Istanbul has established itself as a 'premier league' player in the international meetings market. Trade shows in Turkey bring partners together from all around the world," he said, adding Tukey was an experienced host destination and would continue to be a "preferred meeting point for international events".