IBTM World opens today in Barcelona riding high on a record for pre-arranged meetings at the first stage of its bespoke appointment matching process.
Reed Travel Exhibitions says its annual international business travel and meetings show has seen buyer-supplier appointment numbers up 6 per cent up on last year's total at this stage. There has also been an increase in the average number of appointments per exhibitor compared to last year.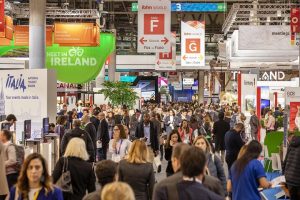 Latest figures show that 50 per cent of hosted buyers so far confirmed are new to the IBTM portfolio and 61 per cent are new to IBTM World, giving exhibitors more opportunities to do business with completely new contacts.
"All indicators are that we're going to have another record-breaking event in terms of the number of high-quality opportunities for our customers to do business," said exhibition director David Thompson.
"We continue to work hard to secure the highest calibre buyers for IBTM World, and to bring new buyers to the event to give our exhibitors a wealth of potential new business opportunities. We're committed to building on the success of previous years to deliver more, even better quality meetings for our customers."
So far buyers representing 77 countries have been confirmed, with delegates from companies and associations such as Google, Adobe, ICBC Bank, La Caja Seguras, BBVA France, Dell, Whirlpool, BMW, European Society of Cardiology and International Association for Enterprise Information Security.
An Elite Corporate Buyers programme that brings senior event planners from a FTSE 500 or equivalent company to the event has also been launched this year. It provides additional opportunities for exhibitors to connect with high-level event planners.
Trade-show rivalry set to hot-up with IBTM Asia Pacific
The Elite Corporate programme was created in association with American Express Meeting & Events, supported by Event Marketing Association and sponsored by London & Partners and Hilton. It includes four sessions addressing some of the key challenges facing senior corporate event organisers.
Created in partnership with the Association of Association Executives (AAE), the Association programme returns this year and includes eight topical sessions addressing some of the key challenges facing association event organisers. The afternoon concludes with Associations Connect, a peer-to-peer networking event, in association with conference organiser association ICCA.
Trade shows battle to stay in the game
Event planners can also be inspired by the event's new IBTM Accelerate zone. Designed to attract and nurture entrepreneurial talent, the zone will incorporate exhibitors and education sessions that will give delegates the opportunity to learn from other successful MICE entrepreneurs and share ideas with their peers.
IBTM Accelerate will feature several interactive discussions for the next generation of event planners; an 'Influencers of MICE' series led by ex-MPI president and Founder of Word of MICE Mariska Kesteloo; Future Focus – a series of sessions focusing on the future of the MICE industry, and the IBTM World Tech Watch Awards which will be presented in the zone.
Buyers can also attend tailored education sessions in the Knowledge Programme, which this year includes a packed three-day schedule designed to enhance events expertise and keep attendees on the cutting-edge of industry trends.
IBTM World 2019 continues until November 21