REED Travel Exhibitions is expanding its incentive, business travel and meetings trade-show portfolio with the launch of IBTM Asia Pacific – a move that signals competition for another Singapore-based show, Messe Berlin's ITB Asia.
The new IBTM show, scheduled to take place at Marina Bay Sands Expo & Convention Centre, April 6-8, 2020 comes as research identifies Asia as the fastest growing region in the global MICE industry.
A forecast published by Allied Market Research says Asia Pacific will show the world's highest growth rate of 8.6 per cent through to 2023 for meetings and incentive travel.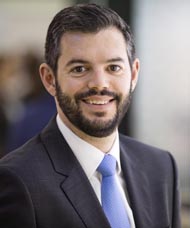 Shane Hannam (right), IBTM portfolio director, said: "Launching a new event for the Asia Pacific market is not only exciting for the IBTM brand, it is also supported by the fact that the region's business events industry is expected to see the highest growth rate in the world to reach US$441.1 billion by 2025."
The announcement of IBTM Asia Pacific means two major business travel and conference shows will be located in Singapore. For the past 11 years, ITB Asia has taken place in the city state and organisers Messe Berlin recently announced a specialist MICE show to be run alongside the next event in October.
The move by Reed Travel Exhibitions also marks a return to Asia Pacific for its incentive, business travel and meetings portfolio after it ended its management of AIME in Melbourne two years ago.
Reed Travel still holds the annual IBTM China in Beijing, but Messe Berlin launched ITB China in Shanghai three years ago with the latest event boasting record numbers of buyers and exhibitors.
Hannam says the new show will allow IBTM to make a "strategic shift" with IBTM China by gathering high-quality Chinese buyers and exhibitors with their international counterparts.
Analysis: Trade shows battle to stay in the game…
"We're confident that IBTM Asia Pacific will give us a focused platform from which we can service the ever-increasing demand both from the inbound and outbound APAC markets," he says.
IBTM organisers say the two-day event in Singapore will be "underpinned by IBTM's sophisticated, industry-leading hosted buyer programme, which creates personalised appointment diaries for hosted buyers and exhibitors to ensure that delegates only meet people with whom there's a very good chance of doing business".
Singapore is seen as the hub of the business events and incentive segments in Asia Pacific, with IBTM's Hannam adding: "It's a market we know very well, and our research has shown that there's genuine demand for a regionally focused event both from our existing customer base but also from the industry in general. It's an exciting new addition to the industry calendar not only for IBTM, but also for the wider business events market."
Opinion: Trade shows all at sea…
IBTM has gained early endorsement from ICCA, with chief executive Senthil Gopianth saying: "ICCA's global membership is always looking for new opportunities to meet international associations and key stakeholders in the meetings industry and we are delighted to collaborate with ICCA's long-term business partner on IBTM Asia Pacific. We wish the team all the best with the expansion."
IBTM Asia Pacific will be helmed by event manager Michael Jones, who has been with Reed Exhibitions for almost six years. The marketing and hosted-buyer programme will be managed by IBTM's team in Richmond, London, supported by Reed Exhibition's offices in Singapore and Japan.
IBTM's portfolio also includes IBTM World in Barcelona; IBTM Americas in Mexico City; IBTM Arabia in the UAE and IBTM Africa, in Cape Town.