A FLIGHT between Hong Kong and Los Angeles is the latest to successfully trial a coronavirus digital-health pass aimed at enabling a "seamless and stress-free" journey for passengers.
Cathay Pacific air crew volunteered to play the role of passengers on flight CX880 on Monday using the CommonPass app. Crew took the Covid-19 test at Hong Kong International Airport's testing centre with the results sent to the mobile apps in the form of a digital health pass to present to check-in staff.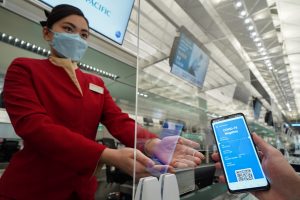 On arrival at Los Angeles International Airport, the role-playing passengers presented their digital health pass to local staff for validation and entered the city successfully.
Airport authorities in Hong Kong and Los Angeles teamed up with Cathay Pacific, digital health-pass developer The Commons Project Foundation and Prenetics, a Covid-19 test provider.
"Resumption of air travel in a safe way is our top priority," said Vivian Cheung, executive director of airport operations at Hong Kong Airport Authority.
"Traffic recovery is hard to [sustain] with manual handling of the paper records without error to match the requirements of each country, which could also be changed from time to time," Cheung said, adding that the authority will continue to work within industry partners and the Hong Kong government to by one of the first airports in the world to adopt digital health pass solutions.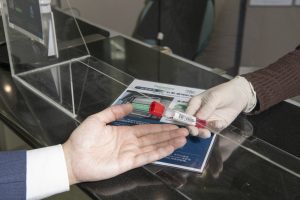 Vivian Lo, Cathay's general manager customer experience and design, said: "For borders to reopen fully once again, travellers may need to provide Covid-19 test and vaccination records that meet government requirements in order to travel.
"We believe that digital travel passes will play an important role in helping facilitate the safe, progressive return of international travel," Lo said.
CommonPass was first successfully trialled last October on Cathay and United Airlines flights between Hong Kong, Singapore, London, and New York, The Commons Project Foundation said.
More… Australia, Singapore eye travel bubble
Government observers of those trials included officials from United States Customs and Border Protection; Center for Disease Control & Prevention the UK's Border Force and Ministry for Transport.
Cathay said the pre-departure rapid PCR test records would be used to create a digital pass that included a passenger's name, travel document number, and confirmation that their negative Covid-19 PCR test result was within the prescribed timeframe and conducted at accredited labs, as required by authorities.
More on recovery… Thai travel leaders urge re-opening by July
"Adoption of digital travel passes will make the pre-departure journey more seamless and stress-free for passengers in the post-Covid world, while also delivering a sustainable solution that will allow airport operations to scale up as travel resumes," a Cathay spokesman said.
"In future, this verification process can also be used to support border control processes to help enable the safe reopening of borders."
Meanwhile, the European Union is expected to have a vaccine passport ready by June to support the ailing travel sector despite wrangling between states over scheme.