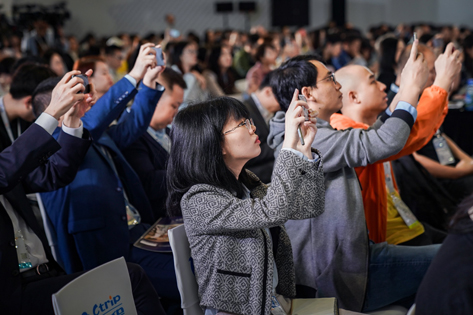 DIPLOMATIC relations with China, a rising interest among incentive travel organisers for niche destinations and a revival of ancient Silk Route trading ties are among the trends buyers and exhibitors at ITB China say have encouraged them to seek more business, writes Martin Donovan.
The three-day B2B travel business expo in Shanghai closed on May 17 with a total of 17,000 attendees – 2,000 up from last year – including 850 buyers from China and 4,000 attending the show's conferences, according to organisers Messe Berlin.
ITB China's third edition saw an increased presence from United States destinations representing Los Angeles, New York City and the Great Lakes region among others. The largest stand at the show was from Italy, the official destination partner for ITB China 2019.
Italy follows Belt & Road with largest stand at ITB China
Another notable presence was a large stand for the Dominican Republic, one of the nations that has switched diplomatic allegiance from Taipei to Beijing in recent years.
Manuel Ferrer, a Singapore-based consultant working with Spanish-speaking hotel operators and destinations, said new diplomatic relations with Beijing were reaping dividends for the likes of the Dominican Republic and Panama.
"It's the first time the Dominicans have had a large booth; they are making the effort because of new diplomatic relations with Beijing. This has been good for engineering infrastructure, agriculture and now tourism," said Ferrer.
"My role is to help them understand China as there are still shortfalls and gaps in understanding between operators in Spanish-speaking countries and the China market.
"There is still a lack of understanding in the Americas and Europe with regards to Asia and China; there is still a disconnect, though a lot of that is changing, so ITB helps a lot," he said.
Azerbaijan Tourism Board was based in another impressive stand with Kamran Dashdamirov, an exhibition marketing specialist for the former Soviet republic crediting a restructuring of government departments for making it easier to highlight Azerbaijan to buyers.
Belt & Road equals 'parties, product launches… event travel'
"We've been operating as a single national tourism board for the past year," Dashdamirov. "The difference now is that we can bring the brand worldwide and it's also a new destination for the China market."
Dashdamirov said the hosting of Formula 1 in the capital Baku has also made Azerbaijan "more noticeable", but he also pointed to the Belt and Road initiative helping the oil- and energy-rich country.
"Throughout history Azerbaijan and China have been friends because of the Silk Road trading route going from China through Azerbaijan to Europe. Now we are trying it again and that's so interesting.
The show also received a positive response when MIX spoke to a selection of hosted buyers.
Simmy Huang, from Guangzhou, was at ITB China for the first time, but her colleagues at GZL International Travel Service had attended the previous two editions.
"It's professional and controlled with the topics at the conferences reflecting the development of the travel industry," Huang said.
ITB China 2017 wraps up with calls for bigger and better
"As I am focused on MICE with clients in pharmacy it's about getting to know hotels and resorts, though my but events are mainly in China."
She added that the show was also becoming a model for homegrown B2B travel events in China, including an event in Guangzhou co-operated by her company.
Niche travel options ranging from Polar exploration and emerging destinations such as Ethiopia, Iran and Myanmar also had a significant presence at the show.
One of the buyers specialising in customised overseas travel was Iris Cai Yuu, of Unique Way, in Beijing, who has been attending since ITB China's inception in 2017.
"We can use resorts but also handle niche places that are interesting, including Iran and Myanmar, but we can also use a lot of resorts. For me it's also about new information and building relationships with suppliers mainly in Europe, Japan, the United States and now looking at Australia and New Zealand."