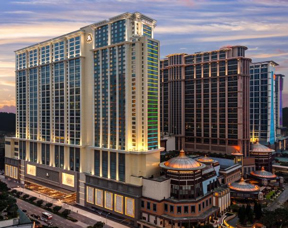 Sheraton Grand Macao and The St Regis Macao (pictured above) are the first hotels in Macau to launch Event Portfolio – a new digital event-planning tool that helps planners go green.
In addition, both hotels will soon provide complimentary Handy phone devices in every room, loaded with unlimited data and voice minutes.
Event Portfolio is designed to aid collaboration between planners, managers and clients. The app has a centralised system: all documents and correspondences are stored on the server in time order.
The app is optimised for PCs, Mac Tablets and mobile devices, meaning that planners can access the system from anywhere and connect to other users remotely.
The tool is being offered to meeting planners free of charge.
"Sheraton Grand Macao Hotel and The St. Regis Macao are the first Starwood hotels to adopt Event Portfolio in Macau and the Greater China region," says Daniella Tonetto, general manager of sales and marketing for Sheraton Grand Macao Hotel and The St Regis Macao.
"Our goal is to integrate cutting-edge technology into our offerings in order to set new standards in the hospitality industry and create unforgettable guest experiences."
The technology is an environmentally friendly alternative to paper documenting. A distinct feature of the app is the sustainability tab, which tracks how much paper, energy and waste is being reduced during meetings.
The Handy phone devices, available soon to both business and leisure travellers, will allow delegates to stay connected at all times throughout their stay.
"To ensure that guests can make full use of their time in Macau, Handy phones will offer guests a new level of convenience and peace of mind while exploring Macau," Tonetto says.
"Guests can discover the city on their own using Google Maps or follow the suggestions on offer through the dedicated Handy app. And in case they get lost, unlimited voice and data access ensure that they can call the hotel or connect with friends."