AS MALAYSIA announces a lifting of self-isolation restrictions for fully vaccinated international visitors from April 1, the country's convention bureau has secured another medical congress.
The World Union of Wound Healing Society (WUWHS) Congress 2026 is expected to bring about 5,000 delegates to Kuala Lumpur. Malaysia's successful bid was revealed in Abu Dhabi, United Arab Emirates, where the WUWHS held its general assembly.
Malaysia Convention and Exhibition Bureau (MyCEB)'s announcement comes as the country's prime minister, Ismail Sabri, outlined a new border policy following an 80 per cent vaccination rate among eligible sections of the population.
More… Informa, ICCA, PCMA urge Malaysia to reopen biz events
Government policy is now shifting from pandemic response to one that treats Covid as an endemic, which is in line with neighbouring nations including Singapore, Thailand and the Philippines.
Vaccinated travellers will need to take a PCR test two days before arriving in Malaysia and an antigen test in the 24 hours after entry.
"We believe this decision will boost our economy and help revive our ailing tourism sector," said Sabri.
The reopening plans offer a much needed boost to Malaysia's conference and incentive organisers who have been hit hard commercially since Covid with venues threatened with closure.
Backgrounder… Plea for Malaysia venues
MyCEB worked on the bid with the Malaysian Society of Wound Care Professionals whose president, Professor Harikrishna KR Nair, said he hoped the congress would make the country "the centre of excellence in would healing in Asia and create a legacy for the future".
Nancy Shukri, Malaysia's tourism, arts and culture minister, said: "We acknowledge that business events are an important economic activity that can help the country's economic recovery. More importantly, we believe that business events activities such as WUWHSC 2026, will bring profound benefits to our nation, especially to those in the wound healing profession and the patients as well."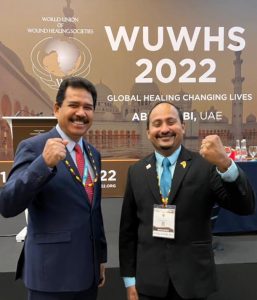 The congress is expected to bring and estimated economic impact of RM108.7 million (about US$25.9m) with visitors spending worth some US$11m to the local economy.
MyCEB chief executive Abdul Khani Daud, who headed the 11-member bid delegation with Professor Nair in Abu Dhabi, said: "MyCEB will continue to work closely with all associations and stakeholders in Malaysia to attract more international business events to our country.
"This partnership with MSWCP is very important for Malaysia because we need to address the challenges that Malaysia is facing today: the ever-increasing number of diabetic populations that needs urgent care from wound specialists.
"We not only presented what Malaysia could offer as a business events destination, but more importantly, our long-term strategic action plan to help Malaysia and other under-developed countries to have access to wound care, just like others in the developed nations. MyCEB will ensure that the WUWHS 2026 will be successfully organised and delegates will have the most unique experience coupled with Malaysian hospitality."