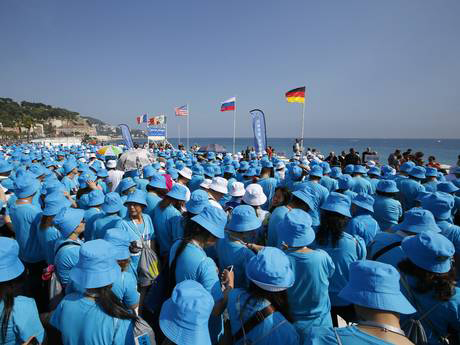 A Chinese billionaire has treated 6,400 employees to a four-day incentive in France, marking the single largest group to ever visit the country say reports in the European press.
Sponsoring over half of his 12,000-strong workforce, Li Jinyuan, owner of multinational Tiens Group, booked out hotels 140 hotels across Paris and 7,600 train tickets on France's high-speed rail TGV to transport delegates to destinations on the French Riviera.
Around 4,760 hotel rooms were reserved for the group in Monaco and Cannes, where the group celebrated the company's twentieth anniversary by spelling out the Guinness World Records' longest human-made phrase, "Tiens' dream is Nice in the Côte d'Azur". It is expected that the group will have spent US$37m over the course of the trip.
At US$40 billion, France's tourism revenue ranks third in the world ahead and accounts for 6.5 per cent of the country's GDP.