LEADING conference and networking platform Branded is anticipating the bounce back of Asia's live events industry with an online conference featuring leaders from the worlds of media, sporting events, gaming, music and more.
LIVE! MATTERS 2021 is aimed at supporting the business events and event sponsorship communities across Asia Pacific by encouraging those in the industry hit over the past year by the Covid downturn.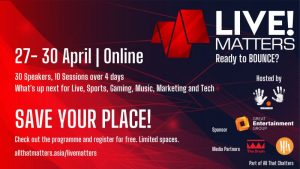 Organisers Branded have advised that places or the online event on April 27-30 are complimentary but are expected to go quickly. You can register here…
"This an online series features over 30 speakers over four days and 10 sessions. and is designed for anyone interested in the evolution of live sports, music, gaming and entertainment, and more," said Branded CEO Jasper Donat.
More… CEO's story: From Branded to Great European Carnival
"The Asian event industry is creeping back, but while some cities are partying the night away others are starting to gingerly look and see if it's safe to go out again," Donat said, adding that he hopes Live Matters would give a confidence boost to Asia's events industry as it looked to a revival in business.
Content will be delivered by brands, venues, promoters, rights holders, media and tech companies, with topics covering music, sports, gaming and new technologies at online and physical events.
More on recovery… The Grounds for hope
Sponsorship in a new hybrid world, plus insurance, health and safe distancing measures will also be discussed by leaders from the world's most innovative entertainment organisations, sponsors and technologies.
Speaker Lineup:
David Aikman,

Chief Representative Officer, Greater China,

World Economic Forum
Carlos Alimurung,

CEO,

ONE Esports
Aloysius Arlando,

Chief Executive, Venues,

SingEx-Sphere Holdings
Chris B,

BOSS,

The Underground HK
Swaroop Banerjee,

COO & Business Head,

Zee Live
Chris Burke,

Managing Director Asia,

Creative Technology Asia Pacific
Damian Bush,

Managing Director, Spectra Venue Management,

Singapore Sports Hub
Tenniel Chu,

Vice Chairman,

Mission Hills Group
Michael Chugg,

Executive Chairman,

Chugg Entertainment
Michael Corcoran,

Director, Brand Activation, Sponsorship & Events,

UBS
Caroline Darcy,

Global Head of Sponsorship & Events,

Standard Chartered Bank
Michael Denmark,

Chairman,

Great Entertainment Group
Willem Dinger,

Head of Brand Partnerships,

Unilever
Jasper Donat,

CEO,

Branded
Martin Donovan,

Publisher,

MIX Meetings
Jason Fielding,

Managing Director,

TSC Consulting
Alvin Graylin,

China President,

HTC
G. Justin Hulog,

General Manager, SEA, Hong Kong & Taiwan,

Riot Games
Robyn Joseph,

COO,

Great Entertainment Group
Teck Yin Lim,

CEO,

Sport Singapore
Adie Lin,

Executive, Music,

Creative Artist Agency China
Charlotte McEleny,

Publisher, APAC,

The Drum
Robbie McRobbie,

CEO,

Hong Kong Rugby Union
Holly Millward,

Regional Director, Asia Pacific,

CSM
Patrick Murphy,

CEO,

Football Marketing Asia
Julia Robinson,

General Manager,

Australian Festival Association
Anand Roy,

Regional Director, Music & Live Entertainment,

The Walt Disney Company
Justin Sweeting,

Music Director,

Magnetic Asia
Neil Thompson,

Deputy Managing Director,

Tero Entertainment 
Tim Thornhill,

Global Head of Development,

Tysers 
Nick Vanzetti,

SVP, Managing Director,

ESL Gaming
Adam Wilkes,

President & CEO,

AEG Asia