MINISTERS and leaders across Asia Pacific economies are making a commitment to make the resumption of travel in the region a priority, says a senior Thai official who is chairing the APEC Safe Passage Taskforce.
The taskforce held under the Asia Pacific Economic Cooperation forum has been meeting online this week to thrash out ways of co-ordinating cross-border travel in the region and to find ways in which vaccine certificates can be used to reconnect international "business mobility".
"Reconnecting the region is a priority, an urgent task for us all," said Cherdchai Chaivaivid, the chair of APEC Safe Passage Taskforce who is also Thailand's APEC senior official.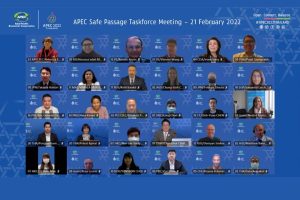 "Restarting cross-border travel will no doubt support economic recovery, and at the same, time reemphasise APEC's relevancy and efficiency in the midst of the ever-changing global landscape.
"It is crucial that we coordinate our policies and move towards harmonisation," Cherdchai added. "We need to make certain that we deliver something meaningful and practical by at least this May, otherwise, it will be too late."
Thailand is hosting meetings that will form the APEC Framework which will lead to the APEC Summit 2022 at Queen Sirikit National Convention Centre, Bangkok, October 30 to November 3.
More… Lift Covid travel bans, says World Health Organisation
In their first meeting on Monday evening, the Safe Passage Taskforce assessed several proposals and policy actions to support global travel initiatives, an APEC spokesman said.
"These proposals will lay a solid foundation in safe passage for APEC for long-term resilience," Cherdchai said. "Having a set of principles will guide APEC to work towards interoperability and safe and sustainable travel as well as enhance connectivity.
"Leaders and ministers have been extremely clear in their directives for APEC to facilitate safe and seamless resumption of cross-border travel, especially through promoting information exchange and coordinating measures related to cross-border movement of people, including in relation to air and maritime crew, and Covid-19 testing and vaccination certificates.
Backgrounder… Thailand to resume quarantine-free travel
"APEC ministers also committed to explore specific initiatives, solutions, and best practices to facilitate safe travel in the region, paving the way for a return to people moving across borders for business, tourism as well as for educational purposes."
Speakers from the World Health Organisation and International Civil Aviation Organisation shared policy and technical advice with the taskforce. Regional groups also told of their own travel plans including how the Asean Travel Corridor Arrangement Framework would operate.
"We also recognise that there is still a gap in our work in regards to facilitating essential travellers, including aircrew and seafarers," Cherdchai said. "We have to step up our efforts in these areas and move ahead in getting proposed actions and initiatives going."
The taskforce is due to report the outcomes and progress of their policy discussions to senior officials during a two-day meeting this week.
The Safe Passage process begun during APEC 2021 with strong support from member economies and the business community. As host of APEC 2022, Thailand has vowed to strengthen the  initiative.